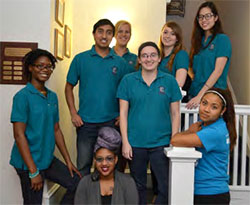 Diversity Team
The Diversity Team is comprised of a group of Elizabethtown College students who have an interest in a multi-cultural and diverse campus at Elizabethtown College. These students come from a variety of ethnic, cultural, religious, and socioeconomic backgrounds and epitomize "Diversity" in every sense of the definition. They, however, share a common goal that is not only consistent with one of Elizabethtown College's signature attribute that recognizes the value of international and cross-cultural perspectives - they seek to enrich the campus community with a diverse student body. Welcome to E-town!
What does the team do?
The Diversity Team, as a component of the Office of Admissions, primary focus is to assist in the recruitment efforts of underrepresented prospective students from various cultural and ethnic backgrounds.
The Diversity Team will provide an opportunity to serve as a resource for information and to share their own unique experiences as students of color on the campus of Elizabethtown College.
Mosaic Scholarship
The Mosaic Award is offered to students who bring to Elizabethtown an important perspective on the many aspects of diversity, as demonstrated by their experiences and activities.  The hope and expectation is that Mosaic Award winners will continue to contribute to the fostering of Inclusive Excellence at Elizabethtown College. more about the Mosaic Scholarship
Success so far
6 year graduation rate of under-represented domestic diversity
State Average: 56%
Elizabethtown: 78%
Related Links