Monday, November 12
Schedules are subject to change very slightly in the coming weeks
8:15-9:00 a.m.
Registration and Continental Breakfast (Hoover 110)
Dr. Jay Buffenmyer, Jeremy Matula
9:00-9:05 a.m.
Welcome to the College (Hoover 110)
Dr. E. Fletcher McClellan, Dean of Faculty
9:05-10:10 a.m.
Introduction to the Department/Business and Society Classroom Experience (Hoover 110)
Dr. Sylvester Williams, Chair of the Department of Business
10:10-11:05 a.m.
Creative Exercise: The Marshmallow Challenge (Hoover 110)
Dr. Cristina Ciocirlan
11:05-11:20 a.m.
11:20 a.m.-12:25 p.m.
Discussion with Recent Alumni (Hoover 110)
Moderator – Dr. Jay Buffenmyer, Department of Business Alumni
12:25 p.m.
Escort of Alumnus & Prospective Student Group to the Marketplace
(Tables are not reserved; each group should pick a table when entering the Marketplace)
Escort of parents to the Marketplace to pick up lunch
Parents will be escorted to reserved rooms for seating (BC200, BC211, or BC258)
12:30-1:25 p.m.
Lunch (The Marketplace)
After lunch prospective students and parents will be escorted to Hoover 110
1:30-1:50 p.m.
Admissions/Financial Aid Process (Hoover 212)
Paul Cramer, VP of Enrollment, Elizabeth McCloud, Director of Financial Aid
1:50 p.m.
Wrap-up & Survey Distribution (Hoover 212)
Business Day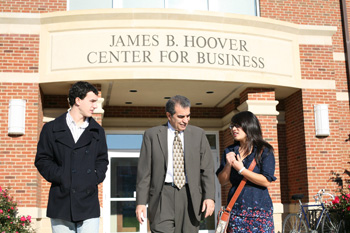 Register for Business Day
Check out the Business Department
You are invited to Elizabethtown College's Business Expo! This day is an opportunity for high school seniors who are considering majoring in accounting, business administration, international business or economics to explore everything Elizabethtown College has to offer.
Elizabethtown's outstanding business faculty, staff and students have put together a special program designed to answer any questions you may have, including:
What is it like to live and study at Elizabethtown?
What makes Elizabethtown's business programs different from others?
What courses will I be required to take to graduate?
Will my professors be friendly and helpful?
What is offered in terms of financial aid and merit-based scholarships?
What type of career or educational opportunities can I look forward to after graduation?
For more information about the day contact Jeremy Matula at 717-361-1161 or matulaj@etown.edu.
The overnight visit, campus tour, and other campus appointments must be scheduled in advance when registering for the event. You will receive a confirmation letter, directions to campus, campus map and lodging information for your parents prior to the Expo.
NOTE: If you would like to set up an overnight visit as part of your participation for Business Day, you must register for the event and indicate your request for an overnight host by Monday, Oct. 22.