AmeriCorps: Scholars in Service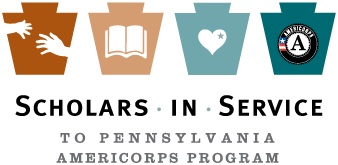 AmeriCorps: Scholars in Service:
Scholars in Service to Pennsylvania is an AmeriCorps Education Award Only program. This means that participating students enroll as AmeriCorps member on a minimum time basis completing 300 hours of service and receive an $1175.00Education Award at the end of their term.The term is a calendar year from August  to August.The award may be used to pay for any legitimate educational expense at their current undergraduate institution or to pay for future educational expenses, as well as to re-pay student loans. Please note that the Education Award is taxable.
Benefits of AmeriCorps:
There are as many reasons to serve as there are people who serve -- from solving problems in your community to sharing your skills to serving your country. Volunteering is not just an altruistic act. It's an opportunity to advance in all areas of your life. Through its programs, AmeriCorps provides opportunities for Americans to make an ongoing, intensive commitment to service. The intangible benefits alone—such as pride, satisfaction and accomplishment—are worthwhile reasons to serve.  Perhaps the biggest benefit you will experience when you join AmeriCorps is the satisfaction of incorporating service into your life and making a difference in your community and your country.  Whether you are tutoring kids, building homes, clearing trails or helping to start a local health clinic you will see the direct results of your work.
2012-2013 AmeriCorps Scholars in Service
Caitlin (Cali) Clarke: 1st year scholar
Sophomore, Occupational Therapy major
My interests include working with the special needs population, particularly children with autism. My favorite area of service is therapeutic horseback riding. I also enjoy participating in the Moving Forward Together Program and service trips.
Sarah Creme: 2nd year scholar
Senior, Occupational Therapy major, Human Services minor
My interests include working with inner city students and military personal. I like working in nontraditional settings and working to break down stereotypes. I hope to continue building our partnership with the American Red Cross.
Dajone Fairell: 1st year scholar
Junior, Social Work major
My interests include helping victims of human trafficking. I also plan to be involved in youth after school programs.
Marcella Jones: 1st year scholar
Junior, Psychology major with a Human Services minor
I am focusing on working with children. Half of my time will be spent working with Samara, an organization based in Harrisburg that focuses on strengthening family interactions, especially interactions between parentst and children. While there, I will focus on the child care program, which involves planning therapeutic activities and games. I will also volunteer at the Elizabethtown Public Library.
Amanda Latshaw: 3rd year scholar
Senior, Psychology major and Human Services minor
My service interests include working with children and special needs populations. My current focus is Hunger and Homelessness Awareness. My service efforts include coordinating food drives, the hunger homelessness trip, and other poverty awareness programs.
Jessica Leidy: 1st year scholar
Sophomore, Secondary Mathematics Education and Human Services minor
My interests include mentoring middle and high school students by promoting academic achievement and building quality relationships with the students. I look forward to taking students on service trips in the community to open their eyes to the power of community service.
Amanda Pluta: 1st year scholar
Junior, Early Childhood Education Major with a Concentration is Special Education
I will be focusing my service work on children, specifically girls, in need of role models. I am a Daisy Girl Scout Troop leader and I am working with the Girl Scouts organization to create an event for local area troops. I am also working with the Elizabethtown Public Library to host "Saturday Stories", a fun literacy activity for children ages 4-10.
Apply to be an AmeriCorps Scholar
The Office of Community and Civic Engagement is accepting AmeriCorps Scholar applications for the August 2013-August 2014 service period. If you are interested in committing your time to this program, please complete the forms listed below. Submit all completed forms to the Director of the Center for Community and Civic Engagement, Nancy Valkenburg.