AmeriCorps: Scholars in Service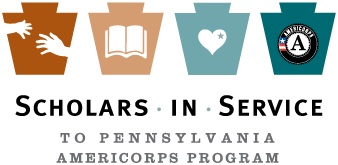 AmeriCorps: Scholars in Service:
Scholars in Service to Pennsylvania is an AmeriCorps Education Award Only program. This means that participating students enroll as AmeriCorps member on a minimum time basis completing 300 hours of service and receive an $1175.00Education Award at the end of their term.The term is a calendar year from August  to August.The award may be used to pay for any legitimate educational expense at their current undergraduate institution or to pay for future educational expenses, as well as to re-pay student loans. Please note that the Education Award is taxable.
Benefits of AmeriCorps:
There are as many reasons to serve as there are people who serve -- from solving problems in your community to sharing your skills to serving your country. Volunteering is not just an altruistic act. It's an opportunity to advance in all areas of your life. Through its programs, AmeriCorps provides opportunities for Americans to make an ongoing, intensive commitment to service. The intangible benefits alone—such as pride, satisfaction and accomplishment—are worthwhile reasons to serve.  Perhaps the biggest benefit you will experience when you join AmeriCorps is the satisfaction of incorporating service into your life and making a difference in your community and your country.  Whether you are tutoring kids, building homes, clearing trails or helping to start a local health clinic you will see the direct results of your work.
Apply to be an AmeriCorps Scholar
The Office of Community and Civic Engagement is accepting AmeriCorps Scholar applications for the August 2013-August 2014 service period. If you are interested in committing your time to this program, please complete the forms listed below. Submit all completed forms to the Director of the Center for Community and Civic Engagement, Nancy Valkenburg.