Meet Judy S. and Paul W. Ware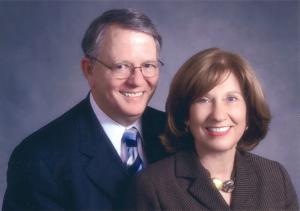 Judy S. Ware '68 is an active volunteer, leader and philanthropist. She is involved with LancasterHistory.org and St. James Episcopal Church. Mrs. Ware serves the community as a board member for Elizabethtown College, the Ferree Foundation, the Pennsylvania College of Art and Design, the Lancaster Country Club, the Lancaster General Health Care Foundation as well as the Mayor's Office of Special Events.
Mrs. Ware earned her bachelor's degree in elementary education from Elizabethtown College in 1968, has studied painting with Sam Feinstein in Philadelphia, and has taken graduate courses at the University of Virginia and Millersville University. She retired in 1997 as an art teacher at Lancaster Country Day School, which honored her service by naming her as a fellow in May 2002 and an honorary alumna in October 2005.
Paul W. Ware is president and chairman of the board of directors of the Ferree Foundation and chairman-retired of Penn Fuel Gas, Inc. He also is director of Emerald Asset Management, Inc., and InnerLink, Inc.
Mr. Ware is active with numerous community organizations as well. He serves as board president of the World of Scouting Museum and remains active with the Boy Scouts of America serving on the board of the Pennsylvania Dutch Council and as a vice president of the Northeast Region Area 6 committee. Mr. Ware gives his time to St. James Episcopal Church and serves as a director for Water for People. His efforts have been recognized with a variety of awards and honors.
Mr. Ware is a trustee at Franklin & Marshall College, from which he earned a bachelor's degree.