Quick links: Rehearsal | Day of | Speaker | FAQs | Proper Academic Attire
School of Continuing and Professional Studies (SCPS) Graduation
Saturday, May 14, 2016 4 p.m.

Pictures of Leffler Chapel and Performing Arts Center


Location: Leffler Chapel and Performing Arts Center
A reception will follow by Lake Placida.
Tickets are required.Graduates who have informed the School they will be attending commencement will receive tickets to the ceremony. Tickets will be mailed to student's homes in mid-April.
Rehearsal
May 11, 2016 from 5:00-7:30 p.m.
Leffler Chapel and Performing Arts Center
There will be a Commencement rehearsal on Wednesday, May 11 at Leffler Chapel and Performance Center. You are strongly encouraged to attend. If you have class that evening, it is understood that you cannot be there. There will be a mini-fair prior to rehearsal where graduates can check out items from the College Store, connect with Career Services and Financial Aid, and sign up to become part of the Elizabethtown College alumni network.
5:00-6:00 p.m. - Mini-Fair
6:00-7:30 p.m. - Rehearsal
The official graduation invitation will be mailed to you in the beginning of April.
Day of Commencement
Parking will be at a premium on and near campus. Campus Security will be directing traffic on campus.  
Photos by Island Photography – visit the Island Photography website at  http://orders.islandphoto.com/Apps/RegisterGraduates.aspx for information.
A reception immediately follows the ceremony.
FLOWERS: half-dozen roses with greens and colorful wrapping ($20), a dozen roses with greens and wrapping ($30).
Flowers available at 3 p.m. just prior to the beginning of the Commencement ceremony in the lobby. Quantities are limited, so plan to get your flowers early. Sorry, no advance orders.
Speaker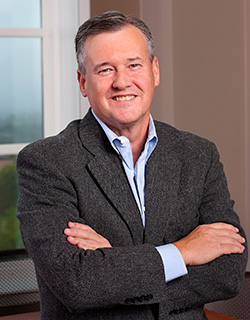 John "J.P." Bilbrey, chairman of the board, president and chief executive officer of The Hershey Company, is this year's Commencement speaker for the Elizabethtown College School of Continuing and Professional Studies at the Edward R. Murphy Center.
Bilbrey has more than 30 years of consumer packaged goods experience and has been instrumental in the growth of some of the world's largest and best-known brands. He has broad international experience working in more than 50 countries and has lived in the Middle East, North America, North Africa and Asia.
The Hershey Company is the largest producer of quality chocolate in North America and a global leader in chocolate and sugar confectionery. Since April 2015, Bilbrey has been responsible for the company's global operations and commercial activities. He is an industry thought leader on consumers' changing relationship with food, the competitive differentiator of consumer knowledge and insights as well as the power of social commerce.
Bilbrey joined The Hershey Company in 2003 from Mission Foods, where he served as senior vice president. Before joining Mission Foods, he was president and chief executive officer with Danone Waters of North America Inc., a division of Groupe Danone, Paris, France. Previously, he served in positions of increasing responsibility in the United States as well as numerous international assignments during his 22 years at the Procter & Gamble Company.  
Bilbrey serves on the board of directors of The Hershey Company as well as serving as a director for the Colgate-Palmolive Company since March 2015. Previously he was director of McCormick & Company Inc. from November 2005 to May 2015.
He is a member of President Obama's Advisory Committee for Trade Policy and Negotiations and is a U.S. private sector member of the President's Advisory Council on Doing Business in Africa. Bilbrey serves as chairman of the Grocery Manufacturers Association Executive Board and on the Kansas State University Business School Advisory Council.
Bilbrey earned his bachelor's degree in psychology from Kansas State University. In recognition of his achievements, Elizabethtown College will award Bilbrey with an honorary doctoral degree.
Frequently Asked Questions
How do I order my cap and gown?
Order regalia at collegegrad.herffjones.com prior to March 30. If you are not planning to attend Commencement, please email Cristie Dry at dryc@etown.edu.
Are tickets required?
Yes, Commencement is a ticketed event. Further information regarding the total number of tickets and when they will be available will be communicated to students in mid-April. Ordering your regalia on time, or notifying our office that you do not plan to attend, helps us to determine the number of tickets available for each student.
What honors are awarded by SCPS?
Latin honors are awarded to students who have completed 60 or more credits at Elizabethtown College and have earned a GPA of 3.6 or higher. If a learner has earned a GPA of 3.6 or higher and completed between 30 and 60 credits at Elizabethtown College, then the learner will be awarded SCPS Honors. Honors will not be announced for graduates participating in Commencement as Early Participants.
Students who have been invited and inducted into Alpha Sigma Lambda will be given a stole to be included with Commencement regalia. Further questions regarding honors and Alpha Sigma Lambda should be directed to your Academic Advisor.
How are the student speakers chosen?
Recommendations are solicited from our faculty for student speakers. We have one speaker at the undergraduate level and one at the graduate level. Our faculty know our students well and can share their recommendations based on a student's academic achievements and presentation abilities. Once we have a list of recommended students, we reach out to ask if they are interested in submitting their name and a draft of their speech to the committee for consideration. From this group of interested students, two final student speakers are chosen.
Is it mandatory to attend commencement rehearsal?
It is not mandatory, however, you are strongly encouraged to attend. Rehearsal is an essential piece to assure a smooth commencement ceremony for all students. Cords are distributed and critical information is provided regarding parking and processional order.
Is special needs seating available?
If you need to request special needs seating, please contact Cristie Dry at dryc@etown.edu.