Research. Discover. Share.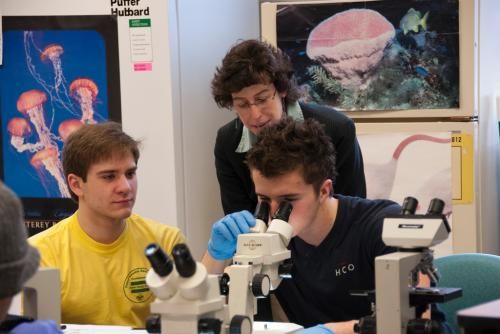 Biology students at Elizabethtown College pursue faculty-mentored research projects on a wide variety of topics.
These research findings are presented at various scientific meetings throughout the year. ere is a look at recent research projects:
Amphibian use of agricultural streams
Michael Torre and Dr. David Bowne
Amphibian populations are declining worldwide. Agriculture is a leading cause of this decline due to habitat conversion and resulting alteration of stream characteristics. Streams in agricultural settings in the northeastern Unites States often consist of a single, deeply incised channel, surrounded by steep banks, composed of fine-grained sediments that rapidly erode. These stream characteristics may not be suitable to amphibians. Our goals were to document amphibian use of agricultural streams and determine which variables influence that use. We sampled eight streams in the Mill Watershed of Lancaster County, PA for the presence of amphibians and took measurements of physical stream variables (channel morphology, water conditions, and vegetation), biological stream variables (macroinvertebrates), and surrounding landscape characteristics. Based on macroinvertebrate surveys, all of the sampled streams had poor water quality. We found larval Eurycea longicauda (long-tailed salamanders) in five streams and E. bislineata (northern two-lined salamanders) in two streams. None of the measured variables were statistically significantly related to salamander presence. When salamanders were present in a stream, we found substrate size to be a likely factor affecting their distribution along the channel bed. Salamanders preferred larger substrate sizes, with larger interstitial spaces. This preference is likely due to foraging and predator avoidance behavior. Salamander populations do exist in a subset of impaired agricultural streams but we have not yet identified associated stream and landscape variables. This research is a step towards better understanding amphibian ecology and conservation in agricultural systems.
Increasing the Immunogenicity of A Tumor Rejection Antigen
Stephen Hurst and Dr. Jodi Yorty
Cells transfected with the oncoprotein from Simian Virus 40 (SV40), large tumor antigen (Tag), can form tumors in Balb/c mice due to the weak immune response generated against amino acid residues 499-507 of Tag. This peptide binds to MHC I (H2-Kd) and is presented on the tumor cell surface. The complex is then recognized by cyto-toxic CD8+ T lymphocytes which kill the tumor cell. Previous studies have demonstrated that the anchor residues of this peptide (positions 2, 5 and 9) are not ideal for binding to MHC I. It was hypothesized that changing the anchor residues to the ideal amino ac-ids would stabilize the MHC I:peptide complex and therefore in-crease the immunogenicity of the tumor cells. However, purified peptides containing the altered anchor residues, did not exhibit in-creased binding affinity to MHC I. These altered peptides also failed to stabilize MHC I on the cell surface. Current studies are examining the in vivo response to the various purified peptides. Additionally, the role of antigen processing is being examined by immunizing mice with cells transfected with full-length Tag containing altered anchor residues.
Screening of an Arrayed Human Genomic Library in the PAC Shuttle Vector pJCPAC-Mam2
John Fuesler, Stephanie Bireley and Dr. Jonathon Coren
Human genomic libraries constructed in the PAC shuttle vector pJCPAC-Mam2 allow scientists to recover ample quantities of DNA from any clone in bacteria, and then introduce the PAC clone into a variety of human cell lines for functional genomic studies. We have constructed an arrayed 115,000 member library housed in twelve hundred 96 well plates. The library was then pooled in a columns and rows fashion. Each column (12 clones) was pooled into a single well of a second-generation plate (100 total). Next, entire second-generation plates were pooled. Two additional rounds of pooling resulted in the production of 19 cryovials containing ~6,000 PAC clones/vial. PCR screening with oligonucleotides representing nine genes (p53, DNA ligase, Beta-polymerase, AP endonuclease, HPRT, BRCA2, Pax6, HSA and c-myc) was employed in order to determine library coverage. It appears that this library represents a two to three-fold coverage of the genome.