The Carper Lecture
Nobel Laureate Muhammad Yunus
April 5, 2012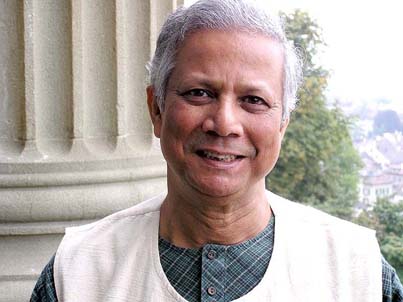 Dr. Yunus originated the concept of Grameen Bank—banking without collateral—for the poorest of the poor in Bangladesh. In 2006, Yunus and the bank were jointly awarded the Nobel Peace Prize. 
Yunus studied economics at Vanderbilt University, earning his doctorate in 1970. He taught economics at Middle Tennessee University from 1969 to 1972. Returning to Bangladesh in 1972, he joined the University of Chittagong as head of the Economics Department. He started the Grameen Bank Project in 1976, transforming it into a formal bank in 1983. The Grameen Bank offers small loans supporting self-employment for the rural poor, especially poor women.
The Carper Lecture and Panel Discussion
Hoover Center for Business 212

Program
Carper Lecture
9:15 am
Introduction by Carl Strikwerda, President, Elizabethtown College
 
Muhammad Yunus
"Microfinance and Corporate Social Responsibility"
Panel Sessions
10:00 am
Welcome by Panel Moderator Jim Shreiner
Senior Executive Vice President, Fulton Financial Corporation
10:05 am
Session 1
 
Patrick Jinks, President and CEO, United Way
"Advancing the Common Good"
 
Sanjay Paul, Elizabethtown College
"How Effective is the UN Global Compact?"
 
Henry Yaeger, Director of Corporate Strategy, The Hershey Company
"CSR in Practice"
Coffee Break
 11:00 am
Session 2
 
Cristina Ciocirlan, Elizabethtown College
"Small Family Businesses and Social Responsibility"
 
Jeff Rutt, CEO, Keystone Custom Homes and Founder of Hope International
"Family Based Corporate Responsibility"
 
J. Nathan Matias, MIT Media Lab
"Open Brands, Funding, and Code as Social Responsibility"
12:00 noon
Closing remarks by Hossein Varamini, Elizabethtown College
Registration for the event has ended.  The seating capacity has been reached.
Muhammad Yunus will also be keynote speaker for the 2012 Ware Lecture on Peacemaking on April 4, 2012.
---
The Carper Lecture on Ethics, Business and Society honors the legacy of the late Rev. Dr. Frank S. Carper, College alumnus and trustee. The Rev. Dr. Carper graduated from Elizabethtown College in 1913. He served as president of the Valley Trust Company of Palmyra, Pa, and for more than 50 years, also as pastor of the Palmyra Church of the Brethren, one of the denomination's largest congregations. He was respected for his high ethical standards and visionary leadership, and in 1980, his family and friends created the Carper Lecture to promote dialogue about ethics and business at Elizabethtown College and in central Pennsylvania.