Excel in a Challenging Curriculum
As a business major at Elizabethtown College, you can write your own business plan for life. You will enjoy both the advantages of a comprehensive business program and the benefits of a selective, private, highly-ranked comprehensive college. We offer baccalaureate degrees in:
Join a Nationally Recognized Program
We've been listed in Barron's Guide to the Most Prestigious Colleges, Peterson's Competitive Colleges and Princeton Review's Best Mid-Atlantic Colleges because our students augment their academic requirements in myriad ways, by: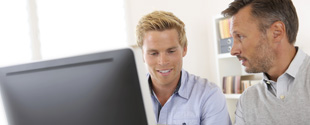 Intern Locally & Globally
Employers are increasingly interested in hiring graduates who have had meaningful "hands-on" business experience during their college career. Elizabethtown College works closely with businesses, accounting firms and Fortune 500 companies located in central Pennsylvania, throughout the East Coast and around the world to place students into internships during their junior and senior years.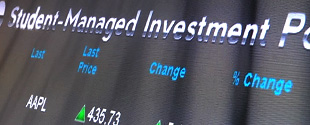 Manage Real Money
The Trostle Investment Portfolio (TIP) is a student-managed investment fund designed to provide Elizabethtown College students a real-world experience in the management of an investment company. Students create and manage a diversified portfolio of stocks that maximizes long-term expected returns with acceptable risk.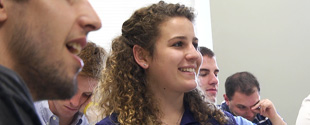 Get Involved 
For 21 consecutive years, the Elizabethtown Students in Free Enterprise (SIFE) team has won the Northeastern Regional Finalist Award at the national competition. Other related student organizations include the Accounting/Finance Club, a chapter of the American Marketing Association, the Management Club, the International Club, Delta Mu Delta (business honor society) and Omicron Delta Epsilon (international honor society for economics).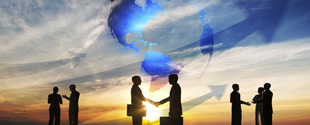 Business Trip: Study Abroad
Elizabethtown College offers flexible, short-term study tour programs in Geneva, Prague, Beijing and Tokyo.
Or, you may choose to study abroad for a semester at programs offered by our partner universities in several countries including Spain, Ireland, France, Germany, Mexico, Japan and England.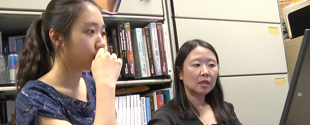 Collaborative Research
You can carry out Independent Study or participate in the Honors-in-the-Discipline program. You will get a chance to work with faculty, present your findings at the annual Student Conference in Business and Economics and get published in the Department's annual digest. You may also work as a student research assistant in the Department of Business, collecting data and assisting with articles.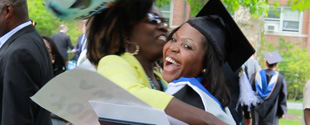 Success after Graduation
Business majors at Elizabethtown College enjoy high placement rates. According to our latest alumni survey, 99.4% of our graduates were employed full-time or enrolled full-time in graduate school within 8 months of graduation.
Nationally, we are ranked in the top 40 of institutions for how well our students perform on the CPA exam. And our passing rate for all exam takers exceed the national and state averages.
Learn from Business Executives
The Department of Business maintains close links with regional businesses and executives. The Sara Lodge Executive-in-Residence program provides for a visiting professor, usually a senior business executive, in the fall semester.
A large number of executives serve on the Accounting, Business and International Business Advisory committees. They meet students on campus, provide mentoring services, and help with generating internships and jobs.
The faculty in the Department of Business have earned the highest academic credentials -- most have attained terminal degrees in their fields. Several also have garnered significant corporate-sector experience. Members of the business faculty are fluent in several languages and have taught or lived in Europe, Asia, the Middle East, the Pacific Rim and Africa.
About Us
Our Mission statement describes goals and student learning outcomes for each of the four majors in the Department of Business. The Business SPEs (PDF) describe the Standard Professional Expectations of the business faculty.
The pro

grams in Accounting, Business Administration, and International Business are accredited by the Accreditation Council for Business Schools and Programs (ACBSP).
For more info
Tel: 717-361-1270
Fax: 717-361-1487
Hoover Center for Business, Elizabethtown College, 1 Alpha Dr, Elizabethtown, PA 17022