Sean Duetsch '12
I am always trying to push myself to become better, which sometimes means stretching myself outside my comfort zone. --Sean Duestch
Marlton, N.J., native Sean Duetsch originally decided to come to Elizabethtown College because he was looking for a smaller liberal arts school but ended up expanding his horizons once he got here.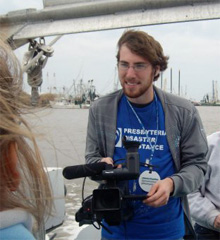 "I am always trying to push myself to become better, which sometimes means stretching myself outside my comfort zone," said Duetsch. "I used to be shy in high school but Elizabethtown has made me very outgoing."
Duetsch is now a producer for WWEC-FM, E-town's student-run radio station and also a Peer Mentor. He originally was drawn to communications due to his interest in how people communicate through different mediums and found that what he liked most about E-town's Communications department is…well, the communication between professors and students.
"At Elizabethtown you are not just another number as a student. Your professors get to know you and you get to know your professors, which makes the learning experience so much better. The relationships you develop with your professors allow you to tap into their experience and knowledge of the communication field and use it for yourself."
In addition to Sean's communications major, he also is pursuing a minor in business administration.
"Business makes the world go round," said Duetsch. "It was very important for me to have a background in business as well as my major in Communications. It will make me a well-rounded candidate for any job and hopefully will give me more options for jobs when I am older."
Sean hopes to work for a production company after graduating from Elizabethtown and is hopeful he will open his own production company in the future, using his knowledge and experience from his two fields of study. 
--by Nate Derr '11