Four Pillars of Learning
Student Learning Outcomes
 The Education Department requires that every student demonstrate the following:
A thorough knowledge of the content and pedagogical skills in planning, preparation, and assessment.
An ability to establish and maintain a purposeful and equitable environment for learning.
An ability to deliver instruction that engages students in learning by using a variety of instructional strategies, including technology.
Qualities and dispositions that characterize a professional person in aspects that occur in and beyond the classroom/building.
An awareness of, and adherence to, the professional, ethical, and legal responsibilities of being a certified teacher.
An ongoing commitment to lifelong learning and professional development through field-related clubs, conferences, and organizations.
Teaching and advocacy for principles of social justice and civic competence.
Click here to read the Social Justice Course Integration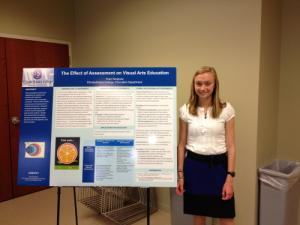 A junior year Education Student presents her
Undergraduate Research in the form of a
poster presentation.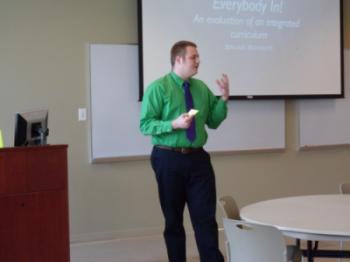 A senior Education Student presents his
Undergraduate Research
in the form of an oral presentation.