Scott Wright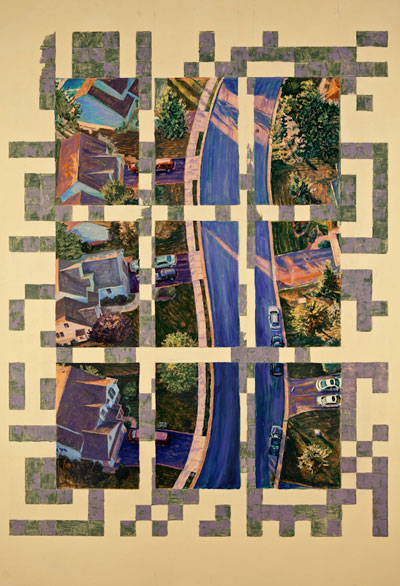 Scott Wright received an MFA from PennDesign in Philadelphia and a BFA from Purchase College, SUNY in New York. He received the Hazell award for painters from the Samuel S. Fleisher Art Memorial and the Philadelphia Museum of Art. Feature articles about his art have appeared in the Philadelphia Inquirer, and the New York Times.
His artwork has been exhibited internationally in gallery and museum shows including, The Mulligan Shanosky Gallery in San Francisco, The Hann Gallery in Philadelphia, The Delaware Center for Contemporary Art, The Westchester Arts Council, White Plains, NY, The State Museum Harrisburg, Pa., The Michener Art Museum, Doylestown, Pa, and The University of Edinborough, Scotland. In 2009 the Lancaster Museum of Art held a retrospective exhibition of his work featuring more than forty paintings and works on paper; a 64-page color catalog was published in conjunction with this exhibition. In January and February of 2013 there will be a solo exhibition of his artwork entitled "Altered States" at the Villanova University Art Gallery.
Wright has taught studio painting, drawing and photography at Temple University's Tyler School of Art, Purchase College, SUNY, and Franklin and Marshall College, Lancaster, Pa.
Presently he lives in eastern Pennsylvania with his wife and son. His studio is located in a restored 19th century factory building.
Artist Statement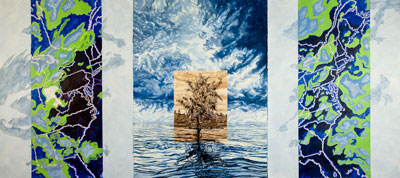 In my paintings I explore our complex and often fractious relationship with the land by contrasting timeless natural cycles with the footprints made by our industry and patterns of habitation. If landscape is a slice of the world as we envision it then my work explores the scope of what this might mean over time.
Computer glitches mixed with sunlight on cirrus clouds, digital data bending juxtaposed with brushwork on canvas, and satellite weather radar accompanying allusions to antique photographic methods name just a few of the scenarios I have focused on. Weather is an important theme as it now serves as a gage for witnessing our interference with natural planetary cycles. Also important is the double edge of "progress" itself. My painting entitled "Subdivision" references contemporary society's preoccupation with technology and the blurring of boundaries between the "virtual" and material worlds we presently inhabit and psychically straddle. It features a QR barcode that literally translates into the word – subdivision, a direct reference to the codification and commodification of everything we touch from grass seed to dimensional lumber.
In my most recent artwork I have been fascinated by a sense of nostalgia for the present day. There is fragility to the status quo. This is especially true as I factor-in the planet's limited resources such as clean water and energy, environmental degradation, and climate change. Sometimes when making my work I feel as though I am looking backwards in time from a very precarious future to the start of an unraveling calamity. As an artist I feel very strongly about spotlighting these issues.