Tom Yurkovic '08
Tom Yurkovic, '08 recently completed his MFA in Sculpture from the Pennsylvania Academy of the Fine Arts (PAFA) after graduating with a degree in Fine Arts from Elizabethtown College.
He was the recipient of PAFA's prestigious "One Year Out" Award which grants promising graduate students a show at the Academy one year after graduation. Yurkovic was chosen for 5-into-1, an exhibition of emerging artists selected by the Philadelphia Sculptors Organization at Moore College of Art and Design. His work has been included in the group exhibitions Scale at Osvaldo Romberg Studio, The Western Lands at Little Berlin Gallery, and Violence and Glitter at Indoor Rooftop Studios in Philadelphia. His sculpture "Flags in Red" is on display at Burlington County College, Pemberton, New Jersey.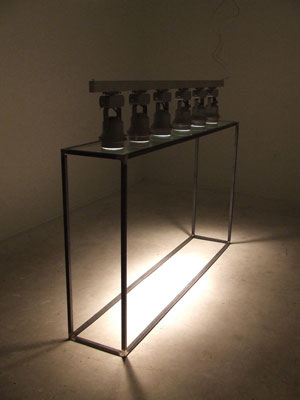 Yurkovic was co-curator, installer, and participant in The Handprint Identity Project, a group exhibition of collaborations between artists and poets organized by Prof. Milt Friedly and shown at Elizabethtown College in 2008 and West Chester University in 2009.
Your Front Door, 2011. Welded steel, acrylic and hardware. (top)
Untitled, bottom