Matthew Butera '12
I never considered studying abroad until I came to E-town and realized how easy it was. --Matthew Butera
When Matthew Butera, '12, of Collegeville, Pa., was looking at majors to take in college, he decided to look at published lists of the best jobs. Almost all had an actuary listed.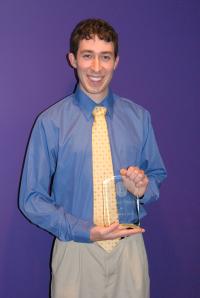 "I had never heard of [actuarial science]. I looked more into it and I liked its combination of math, economics, and finance; this happened to be everything I was interested in. The way you become an actuary is to pass a series of exams outside of the classroom. Elizabethtown prepares you to take three of these exams, and passing one is a requirement for graduation," said Matthew, adding that In August of 2011, he passed the financial mathematics actuarial exam.
When Matthew takes prospective students on tours of the Elizabethtown College campus as part of his on-campus job, he often gets asked, "What made you originally choose E-town?" With a grin on his face he responds, "When I first came to visit E-town I noticed there was such a friendly atmosphere where I could see myself doing many things and stepping outside of my comfort zone. I really wanted to experience that. The friendships that you build are what make the E-town experience.""
During his time at E-town, Matthew has stepped outside of his comfort zone by becoming involved in a multitude of activities. Matthew is the photography editor for the Etownian, president of Honors Council, treasurer of Math Club, Peer Mentor trainer, Admissions tour guide, as well as an intramural sports captain. It is in these activities that he realized the essence of the E-town experience. Not only has Matthew grown through his activities on campus, but also has grown through his experiences off campus, including his participation in the Ireland study-abroad program.
"I never considered studying abroad until I came to E-town and realized how easy it was," adding it was during this trip that he realized the interconnectedness of the world. "People often say, 'oh, what do events in Europe or in other parts of the world have to do with us?' Through my experiences abroad, I realized that we are all the same, that we are one."
Along with this, Matthew recently participated in a service learning trip to Immokalee, Fla. where he and multiple E-town students fixed trailers that were damaged in hurricanes. Extracurriculars aside, Matthew was drawn to the challenges presented by the Elizabethtown College Honors Program.
"I was able to take courses such as Amish in Modern Society and The Chemistry and Politics of AIDS and Cancer which I would not be able to take anywhere else. I served as the Honors Council president this spring semester, and it was a great leadership experience. The extra credits required for classes gave me a higher course load than normal, but this has helped me greatly with time management and given me the opportunity to get as much out of the college experience as possible," Matthew said.
Continuing in challenging himself academically, Matthew took his minor in economics to the next level: he added it as a second major. Through his experiences at E-town, Matthew has truly stepped outside of his comfort zone and fully experienced all the College has to offer.
--Allison Rohland, 14