Emily Ulrich '12
We have the opportunity to do research with faculty (members), obtain amazing internships and travel all over the world while remaining close to friends and faculty in a small community-like campus. --Emily Ulrich
As Baltimore, Md., native Emily Ulrich enters her final year at Elizabethtown, her accomplishments have been fostered through the school she claims "feels like home."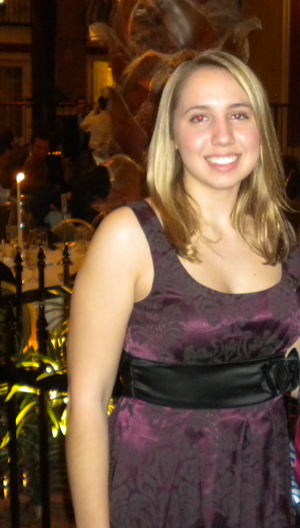 "I have truly come out of my shell at E-town! That feat, in itself, has surprised me!" she said.
As an Occupational Therapy (OT) major with a minor in Cognitive Neuroscience, Emily holds honors in Pi Theta Epsilon, the Occupational Therapy Honor Society; Psi Chi, the Psychology Honor Society; and Alpha Lambda Delta, the First-Year Honor Society. This year, she takes on the task of being the club council representative of the Student Occupational Therapy Association (SOTA). In addition, she also works in Admissions as a Jay Walker and in Learning Services as a writing consultant. Recently, she was selected to complete an Honors in the Discipline for OT.
Emily said she chose E-town because of the impressive five-year Masters in Occupational Therapy program but also because she felt completely at home when she set foot on campus.
"I love that it is a small college and it's been a huge change of pace when compared to life in Baltimore!" she said, adding that the close-knit community has provided her with a comfortable place to express herself. "I believe I have excelled because of how at ease I feel when on campus."
Emily says she'd recommend Elizabethtown because of the unique environment of a small relationship-focused school that also provides many academic opportunities.
"We have the opportunity to do research with faculty (members), obtain amazing internships and travel all over the world while remaining close to friends and faculty in a small community-like campus. It truly is the best of both worlds!" said Emily.
--by Brianna Wiest '14