Patrick Smith '96
"I can honestly say that (during my time at) Elizabethtown I began to realize the importance of intrinsic motivation. I learned very quickly that, in order to be successful (in whatever avenue that might be), you have to put your heart into your pursuits." – Patrick Smith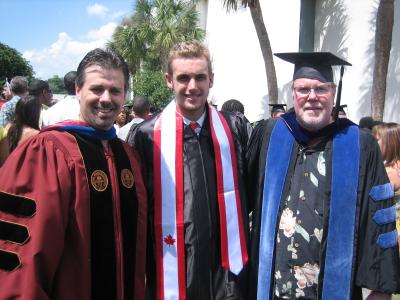 Dr. Patrick Smith, on left, at graduation with a colleague and a new graduate from the psychology department at Florida Southern College, where he is chair and a professor.
Shaped by his experiences at Elizabethtown College, Patrick Smith is passing on his expertise to the next generation as an associate professor and chair of the psychology department at Florida Southern College in Lakeland, Fla. Patrick credits much of his success to the various mentors he had at E-town, and he tries to model his own teaching on their example.
"I can honestly say that (during my time at) Elizabethtown I began to realize the importance of intrinsic motivation," he says. "I learned very quickly that, in order to be successful (in whatever avenue that might be), you have to put your heart into your pursuits, and this was very much instilled by curricular and extracurricular mentorships at Elizabethtown."
Among Patrick's experiences at E-town, one that stands out is his behavioral neuroscience research experience at the The Pennsylvania State University Milton S. Hershey Medical Center, based on connections and moral support from the Psychology Department mentors, Dr. Catherine Lemley and Dr. Caroline Dillon.
"This resulted in my first research project at a regional psychological meeting hosted by the Eastern Psychological Association. It was this experience that helped me 'get my professional foot in the door and opened doors that I thought I would never reach."
As a mentor, now, Patrick strives to provide similar guidance and opportunities to his students.
"I feel that every aspect of my job is to help my students better themselves. By providing myriad opportunities that tap into their interests/strengths, my students hopefully gain a level of self-exploration that gets "the fires burning" and allows them to boldly strive toward their personal and professional goals, while in the process shaping their integrity in these pursuits," he said.
-- Nate Derr ' 11