About Social Work at E-town
The Department of Social Work at Elizabethtown College takes to heart the College's motto, "Educate for Service."  From students' very first social work class, they are out "in the field" working with people through service learning.  In the junior year, each major completes a 40-hour internship each semester to introduce students to the role of a professional social worker.  Students are placed in agencies related to their field of interest.  In the senior year, students complete a 200-hour internship in the fall and a 400-hour internship in the spring.  When students graduate, they are fully qualified entry-level social workers due to their extensive experience.  Approximately 95% of our graduates each year have job offers or are accepted to graduate school upon graduation.
The Social Work Program at Elizabethtown College was first accredited in 1977.  Our Social Work Program was one of the earliest programs to be accredited.  We have maintained continuous accreditation since then.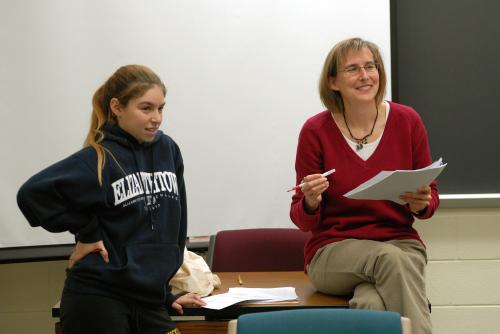 The mission of the Elizabethtown College Social Work Program is to prepare competent and committed social workers who have integrated social work knowledge, values and skills, and who work for social and economic justice locally, nationally, and globally. Consistent with the Elizabethtown College motto, "Educate for Service," we strive to provide a generalist social work education that is based upon a strong liberal arts foundation integrated with extensive field experience.
Goal One:
To develop competent and committed entry-level generalist social workers grounded in a liberal arts perspective and a professional foundation, whose practice is guided by social work knowledge, professional values, and ethical standards of behavior, and who can work with multi-level systems in serving diverse and oppressed populations.
Goal Two:
To develop social workers who, recognizing the strengths inherent in human diversity, advocate for social and economic justice and empower clients within a global context.
Student Learning Outcomes 
Identify as a professional social worker and conduct oneself accordingly.
Apply social work ethical principles to guide professional practice.
Apply critical thinking to inform and communicate professional judgments.
Engage diversity and difference in practice.
Advance human rights and social and economic justice.
Engage in research-informed practice and practice-informed research.
Apply knowledge of human behavior and the social environment.
Engage in policy practice to advance social and economic well-being and to deliver effective social work services.
Respond to contexts that shape practice.
Engage, assess, intervene, and evaluate with individuals, families, groups, organizations, and communities.
Assessment of Student Learning Outcomes