About Social Work at E-town
The Department of Social Work at Elizabethtown College is committed to helping others. Social workers help individuals, groups, and communities find solutions to problems in areas such as education, employment, health care, drug and alcohol abuse, personal relationships, and aging. The most common reasons our students cite for joining the department is a desire to work with, and help, other people, and contribute positively to the world.
The Social Work program was first accredited in 1977. It was one of the earliest programs to be accredited, and we have maintained continuous accreditation since then. Our students stay involved on campus and in the world by participating in numerous on campus Department clubs and activities, as well as international service and internship experiences.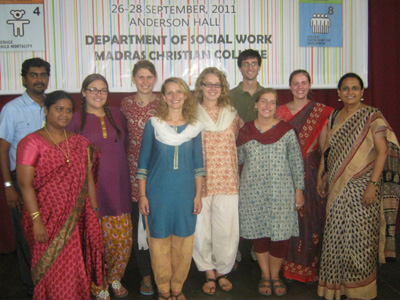 According the Bureau of Labor Statistics, the need for social workers is expected to grow twice as fast as other occupations, especially in gerontology, home healthcare, substance abuse, and school social work. Our students get field experience starting in their first year, and will ultimately graduate with almost twice the experience the accrediting agency requires at over 700 hours in the field by graduation. This is a true advantage when it comes to applying for jobs post-graduation, as few applicants have the varied, and quantity of, experience that our graduates do.
We take to heart the College's motto of "Educate for Service." From students' very first social work class, they are working with people through service learning opportunities. In the junior year, each major completes a 40-hour internship each semester to introduce students to the role of a professional social worker, and students are placed in agencies related to their field of interest. In the senior year, students complete a 200-hour internship in the fall and a 400-hour internship in the spring. When students graduate, they are fully qualified entry-level social workers due to their extensive experience. 
The vast majority of our graduates go on to earn their Master's in Social Work (MSW), either immediately after graduation, or after earning a few years of experience. As Elizabethtown College is an accredited social work program, you can be eligible for advanced standing for your MSW, which can allow you to complete your MSW in just one year instead of two. Our graduates have been accepted at some of the top schools in the country including Columbia University, University of Pennsylvania, Washington University in St. Louis, and University of Pittsburgh.