Fieldwork and Internships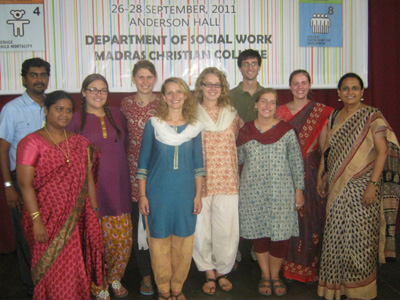 Social work students at Elizabethtown College are engaged with clients from their very first social work class. Although CSWE accreditation requirements mandate only 400 hours of field experience, our students graduate with over 700 hours of experience. This depth of experience makes them highly desired by graduate schools and employers.
Service Learning
In their three lower level classes, students complete a total of 45 hours of service learning in an urban environment. Sites vary and include elementary schools, low-income housing for the elderly, a parenting program in Harrisburg and working with juvenile delinquents in Lancaster.
Junior Internships
In their junior year, students complete a 40-hour internship each semester in which they shadow a social worker in an area of social work that they select. This introduces them to professional social work and provides experiences that can help determine future career interests. Placements have included elementary schools, nursing homes, foster care agencies and working with victims of domestic violence and sexual assault.
Senior Internships
Students interview with agencies they select for a 600-hour internship – 200 hours in the fall and 400 hours in the spring. Alternatively, students can complete their fall internship in another country through our BCA study abroad partner and return to campus for their spring internship (see our Study Abroad page for more information).  Students have interned at Children and Youth Services (paid), Mental Health/Mental retardation (paid), Masonic Village retirement community, The Bair Foundation adoption and foster care services, Milton Hershey School, Dauphin County prison, and York Hospital.