Jasmine Gollup '09
I probably carry on the E-town mission most when I volunteer with animal rescue groups. Most of the time this involves events that are meant to educate the public on current animal rights issues, usually focused on helping abandoned and neglected pets. - Jasmine Gollup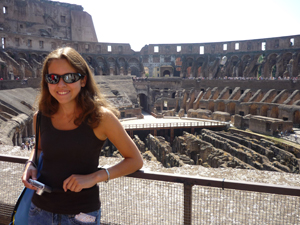 Inspired by the experiences offered to her at Elizabethtown College, Jasmine Gollup is enjoying success as a field archaeologist in Lexington Park, Md., After graduating in 2009 with a double major in History and Sociology/Anthropology-Archaeology, Jasmine went on to earn her MA just a year later from Cornell (N.Y.) University.
At her current job in Historic St. Mary's City, she spends her days outside doing the physical labor necessary to "uncover our past," as she phrases it.
"I absolutely love my job and I love interacting with site visitors and school tours, explaining the significance of our past and the importance of preserving it," she said.
Aside from her work in archaeology, Jasmine carries the Elizabethtown mission of "Educate for Service" into the world through her work with animal rescue groups. She is involved with events designed to educate the public on current animal rights issues, which usually focuses on helping abandoned and neglected pets. Her passion for animals was truly fostered at E-town, where she served in the K9 Club for two years as secretary and one as president.
While at E-town, she received a Collaborative Interdisciplinary Scholarship grant which allowed her to conduct independent research based on an archaeological excavation, as well as independent research in Stockholm, Sweden.
"Not only did this project show me that I wanted to be an archaeologist, it also gave me the experience necessary to achieve that goal through internships and graduate school."
It was through E-town that Jasmine was given the tools that lead to her success; her four years at the College truly were life-shaping.
--by Brianna Wiest, '14