Barbara Prince '12
When I first started college, I was painfully shy and talked to very few people. Over the past few years, I have grown and changed into a much more confident and happy individual. -- Barbara Prince
Originally from Seaford, N.Y., Barbara Prince '12 was attracted to Elizabethtown College because of the campus' beauty and small size, as well as "how friendly everyone was."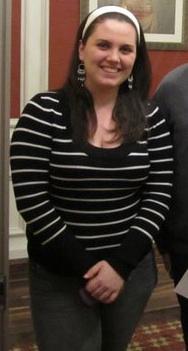 Prince entered E-town as a history major, but is a Sociology/Anthropology major with an Art History minor.
"When I first came to E-town I had no clue what I wanted to do," Prince said. "I had taken Sociology 101 in high school and absolutely loved everything about the class."
In addition to her studies, Prince is a choreographer for Emotion, the College's dance group, and is a member of the Campus Residence Association. She also works in High Library as a circulation assistant as well as a teaching assistant for the Sociology/Anthropology Department.
In the fall of 2011, Prince became a member of the Sugar Shack Student Directed Learning Community (SDLC).
"Our mission is to provide education and spread awareness about diabetes to the campus community through our work with the American Diabetes Association," she said.
Prince has grown as a person and surprised herself in many ways since she arrived on campus as a first-year student.
"When I first started college, I was painfully shy and talked to very few people. Over the past few years, I have grown and changed into a much more confident and happy individual," Prince said. "I have had the opportunity to present my research at conferences, work closely with faculty (members), make amazing friends and learn many new things about myself."
After graduation, Prince plans to attend graduate school to obtain her doctorate in Sociology and Demography. Her ultimate goal is to become a professor.
--by Tara B. Hayes '13