Why Study Theatre and Dance at E-town?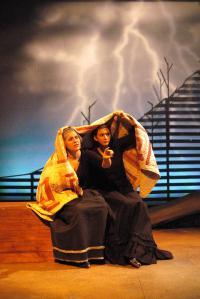 Tempest Theatre
Tempest Theatre is a versatile black box theatre. You'll to watch this impressive space transform into a new setting, performance after performance. The theatre is also home to other impressive facilities including a costume shop, a paint and electronics shop and a control booth.
Be on the cast or crew. Or both.
During your time at Elizabethtown, you'll get to enjoy and participate in a number of productions. Typically, the Theatre and Dance Division puts on three major shows per year. Every other year, staged readings of student work are presented.
The New Playwrights Festival
See your work live on stage or direct a classmates play! Student written and directed plays are featured each spring at the New Playwrights Fest. This is a combined effort between the Playwriting class and the Directing class.
Variety of Classes
With classes spanning theatre, art, literature and dance, you'll receive a great mix of theory and practical experience. You can choose to focus on performance or theatre technology.
Gain Valuable Skills for On or Off the Stage
Participating in theatre classes and productions is a great way to learn skills in communicating with others, analyzing texts, and thinking creatively and outside of the box. Working on stage is excellent training for theatre careers in acting, directing, and stage managing, but also for jobs in film, television, public speaking, law, sales, public relations, arts administration, and the ministry. And working on theatre technology and design is a big boost to those interested in theatre design, interior design, art direction, architecture, art, and computer-aided graphics.