Tag the 'Town
As you walked through campus this spring, you might have noticed blue and white tags on equipment, walls, buildings or even people...
April 22 was "Tag the 'Town Day, a day dedicated to an all-out illustration of the many ways in which our campus, students, faculty, and staff benefit from donor contributions. More than 200 tags were proudly hung to thank our donors for their kindness and to show the world just how much their generosity makes a difference on our campus!
While the 22nd was the official "Tag the 'Town" day, tags have remained on display throughout the weeks as a reminder of the generosity of donors.
Also check out the list of featured items below amd learn first hand how donor support directly impacts by reading the stories of a few students below.
Meet the Taggers
Elizabethtown students contribute to the world in immeasurable ways during their years on campus, and future endeavors. Yet they can't do it on ambition, intellect and creativity alone. Donor contributions play a significant role in supporting our students – from providing grants and scholarships, to funding research projects and fulfilling unexpected needs such as building enhancements and more. It's your support that makes their dreams a reality.
Our Tag the 'Town video follows students as they tag hundreds of items made possible by the generosity of our donors. Below you will learn more about these students who directly benefit from your gifts. If you've yet to view the video featuring these students, you can watch it now.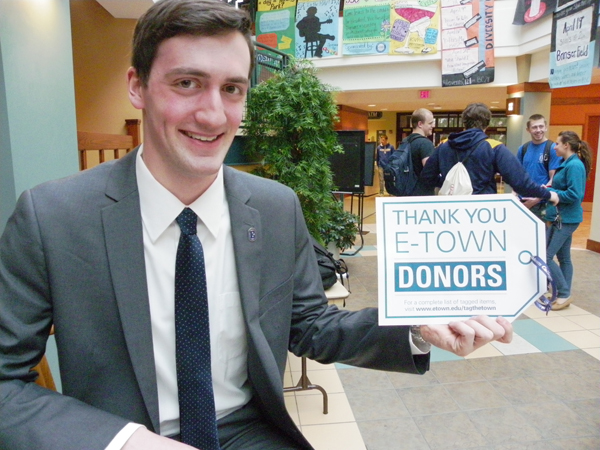 Nicholas Clemens '13
Political Science major
Recipient of the R. Kent Replogle Scholarship
What he loves about E-town:
I love the dedication to service and doing your part to be a bigger part of the world. I like having the freedom to do what I wanted in academics and outside the classroom (and sometimes merging the two). I wanted a personalized education in a friendly atmosphere that promoted relationships for life-long learning and achievement.
His thoughts on E-town academics:
I really enjoyed the liberal arts education. As a political science major there's a million different ways to apply what I've learned in my major to what I've learned in core classes. Professors encourage that connection and they enjoy seeing you expand your view of these subjects. You can learn in and out of the classroom and the College had real world experience/learning as a requirement. I was required to do this only once but I gladly did so many times.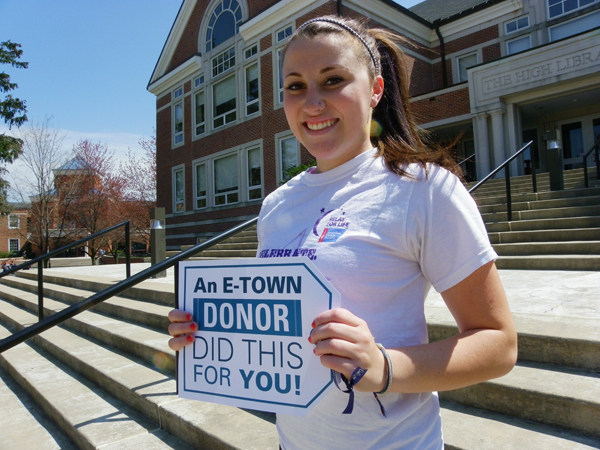 Audrey Barrett '16
Occupational Therapy
Recipient of the Ruth L. Ripley Non-Traditional Occupational Therapy Scholarship
Why she chose E-town
:
I was really drawn to the close community of E-town, as well as their stellar OT program! I love how we call the professors by their first names in the OT department; it really builds closeness. I love that there are so many options of things to do on campus that anyone can get involved in regardless of their major.
How E-town helped her grow:
E-town has been a great experience so far, the environment is ideal for learning how to grow up and live on your own in a safe way. The faculty and staff are always there to ensure your success and put you back on your feet if you stumble, but they really do encourage you to be your own person which is exactly what college should be. I wouldn't want to be anywhere else!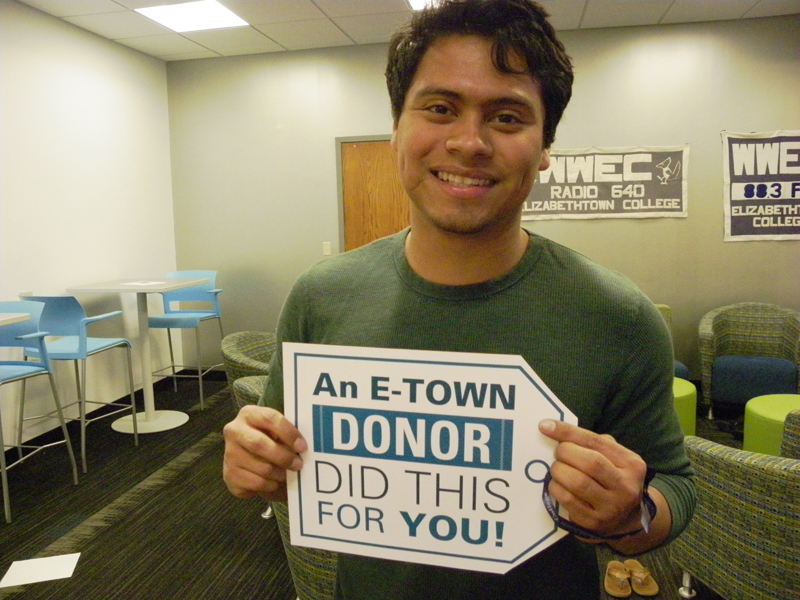 Samuel Ceron '13
Mass Communications
Recipient of the John P. Shepherd, Jr. Scholarship
How E-town helped him grow:
Elizabethtown College has allowed me to reach new heights, especially in the Communications department. We have WWEC 88.3, which allows students to have their own radio show. We also have ECTV 40, the student-run television station on campus, which gives students an opportunity to work behind the scenes or on camera, which has been valuable experience in my internships.  I have obtained various internships, which have allowed me to increase my knowledge in television and radio. It has also helped my interview and resume skills which are going to become beneficial when I graduate.
What he does when he's not in the classroom:
I have been a part of EMOTION, the dance club on campus, which is a great way to meet people of different majors and backgrounds. You do not need to have dance experience to be a part of the club, which is why so many people enjoy it. I am also a writer for the Etownian, the campus newspaper. The Etownian has allowed me to enhance my writing through the diverse articles I have written as well as learning time management with deadlines.
His proudest E-town moment:
My proudest moment was being a part of the Homecoming Court my senior year. The parade and interacting with the town was one of the greatest experiences I have been a part of.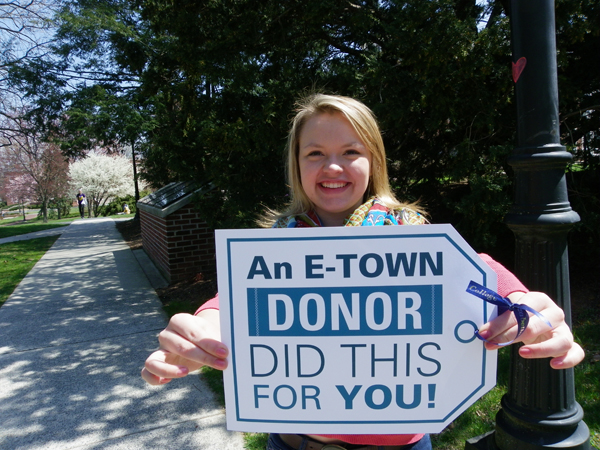 Liz Rall '14
Occupational Therapy
Enjoys the new study lounge in Meyer Hall
Why she chose Elizabethtown
:
I chose Elizabethtown College for the Occupational Therapy program; however, I also loved the campus. I love how the professors make themselves available to students when it comes to academics and how many resources we have on campus in order to get help if needed.
Her proudest moment in college
:
My proudest moment by far at Elizabethtown has just been the fact that I continue to succeed. The OT department has done so much for us students in order for us to flourish and become very professional in practice settings, especially when we are sent out on Fieldwork assignments.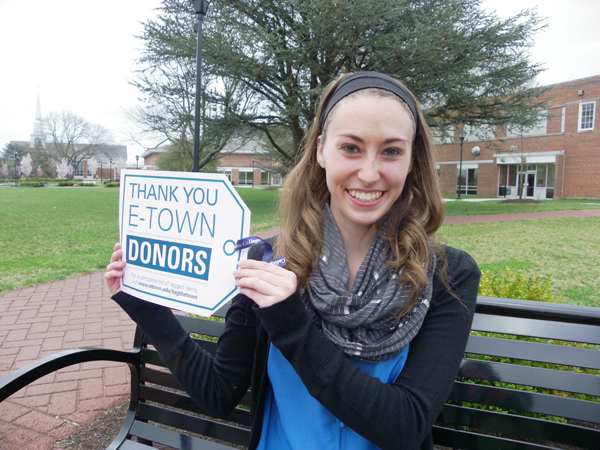 Kim Welker '13
Occupational Therapy
Recipient of the Robert F. and Annette (Mumma) Nation Scholarship Fund
What she likes most about E-town academics
:
I like that the professors really seem to care about us. I have always been a name, not a number at E-town, and it has made all the difference in my academic career. The professors are also very passionate about what they are teaching, which is always refreshing to see in class.
Proudest E-town achievement:
[My proudest achievement was] being a peer mentor for three years. The program had such a wonderful influence on me as a first year student, and it has been an honor to give back to three other classes of first year students.
Featured Tagged Items
Scroll through the list below to see all of the tagged items, or you also may search by keyword!
| Item | Area |
| --- | --- |
| Bricked College sign | Admissions |
| Leffler House | Admissions |
| J.G. Francis Statue | Alpha |
| Raffensperger Alumni House | Alumni House |
| Light Posts (5-10) | Around Campus |
| Soccer Ball | Athletics |
| Wolf Field | Athletics |
| Boyd Stadium | Athletics |
| Wrestling Coach (Walker) | Athletics |
| Basketball Net | Athletics |
| Jay Walk | Athletics |
| Athletics Hall of Fame | Athletics |
| Coaches Offices | Athletics |
| Wrestling Room/Mats | Athletics |
| Volleyball | Athletics |
| Alumni Pool | Athletics |
| The Blue Jay Mascot | Athletics |
| Tennis Courts | Athletics |
| Softball Field | Athletics |
| Track | Athletics |
| Athletics Classroom | Athletics |
| Athletics AV Room | Athletics |
| Locker Rooms | Athletics |
| Brinser Lounge | Brinser |
| Brinser Residential Room | Brinser |
| Dance Studio | Brossman |
| Marketplace | Brossman |
| Blue Bean Café lounge area | Brossman |
| Brezovec Conference Room | Brossman |
| Brossman Commons | Brossman |
| 24-hour Computer Lab | Brossman |
| 2005 Clock | Brossman |
| The Body Shop | Brossman |
| Student Activities | Brossman |
| Koons Activity Venue | Brossman |
| The Bird Cage game area | Brossman |
| Bike Rack in front of Student Center | Brossman |
| Outdoor tables and chairs near student center | Brossman |
| Learning Services | Brossman |
| Disability Services | Brossman |
| Career Services | Brossman |
| Student Mailbox | Brossman |
| Mail Services - General | Brossman |
| Tempest Theater | Brossman |
| Chaplain's Office | Brossman |
| Called to Lead | Brossman |
| Center for Student Involvement | Brossman |
| Campus Security Office | Campus Security |
| Campus Security Vehicle | Campus Security |
| Campus Security Officer | Campus Security |
| Digital cameras/projector - Esbenshade Classroom | Esbenshade |
| Founders Lounge | Founders |
| Founders Residential Room (A) | Founders |
| Founders Residential Room (B) | Founders |
| Founders Residential Room (C) | Founders |
| Founders Residential Room (D) | Founders |
| Hackman Apartments - North | Hackman |
| Hackman Apartments - South | Hackman |
| Computers in computer lab | High Library |
| Library Books | High Library |
| Westminster chimes (plaque on front landing) | High Library |
| High Library (front door) | High Library |
| Large Globe | High Library |
| Fireplace Alcove | High Library |
| Study area on main floor | High Library |
| McCormick Lab | High Library |
| Brethren Heritage Room | High Library |
| Printers - Library | High Library |
| DVD/Books sponsored by Senate/Gibble endowed funds | High Library |
| School of Continuing and Professional Studies (SCPS) | Hoover |
| Center for Family Business | Hoover |
| Hoover Center | Hoover |
| Elevator | Hoover |
| Digital cameras/projector - Hoover Classroom | Hoover |
| Bitting Case Study Room | Hoover |
| Business Department Mural | Hoover |
| VITA Room | Hoover |
| Room 110 (Large room on first floor) | Hoover |
| Stock Ticker | Hoover |
| Newcomb/Murphy Endowed Scholarship | Hoover |
| Family Business Library | Hoover |
| Steinway Piano | Leffler |
| The Dam on Lake Placida | Leffler |
| Ware Lecture Series | Leffler |
| Leffler Chapel | Leffler |
| Brick entrance to the Chapel | Leffler |
| Lake Placida | Leffler |
| Gazebo near Lake Placida | Leffler |
| Biology Lab | Masters |
| Biology 2nd-Floor Lounge | Masters |
| OT Kids Zone | Masters |
| Chemistry Lab | Masters |
| Engineering Area | Masters |
| Masters Center | Masters |
| Masters Mineral Galley | Masters |
| Gibble Auditorium | Masters |
| Benches on Academic Quad | Masters |
| Esbenshade Classroom 1st Floor | Masters |
| Esbenshade Classroom 2nd Floor | Masters |
| Esbenshade Classroom 3rd Floor | Masters |
| Chemistry Research Students | Masters |
| Spectrofulroimeter | Masters |
| High-Performance Liquid Chromatograph | Masters |
| Summer Student Research Students | Masters |
| Musser Classroom | Musser |
| Susquehanna Room | Myer |
| Myer Lounge | Myer |
| Myer Residential Room | Myer |
| ITS | Nicarry |
| Express Printing Lab | Nicarry |
| Center for Global Understanding | Nicarry |
| Study Abroad (Send to student) | Nicarry |
| Nicarry 1st Floor Classroom Room #127 | Nicarry |
| Nicarry 2nd Floor Classroom Room #201 | Nicarry |
| Center for Community and Civic Engagement | Nicarry |
| Science in Motion | Nicarry |
| Moving Forward Together w/ Milton Hershey | Nicarry |
| Education classroom | Nicarry |
| Education workroom | Nicarry |
| Social Work Classroom | Nicarry |
| Brittany's Hope Endowment | Nicarry |
| Science/Math Education Lab | Nicarry |
| Special Education Lab | Nicarry |
| Education Conference/Seminar Room | Nicarry |
| Mock/Model Classroom for Elementary Education | Nicarry |
| Lend a Hand Trip Participants/Fogelsanger Award | Nicarry |
| Social Work student conference | Nicarry |
| Ober Lounge | Ober |
| Ober Residential Room | Ober |
| Residence Life House | Res Life |
| Royer Lounge | Royer |
| Royer Residential Room | Royer |
| Schlosser Lounge | Schlosser |
| Schlosser Residential Room | Schlosser |
| SDLC | SDLC |
| TV Station | Steinman |
| Mac Lab  | Steinman |
| Mobile Production van | Steinman |
| Radio Station | Steinman |
| Steinman - Big Columns | Steinman |
| Brinser Lecture Room | Steinman |
| Art Studios | Steinman |
| Stamps Scholarship | Students |
| Scholarship Recipients (20-30) | Students |
| The Dell Gazebo | The Dell |
| Honors Center | Wenger |
| Honors Center Classroom | Wenger |
| History Department | Wenger |
| R. W. Schlosser Professor of English (Downing) | Wenger |
| Fetzer Lounge | Wenger |
| Asian Studies Minor | Wenger |
| Modern Languages Department | Wenger |
| Wenger 3rd Floor Classroom | Wenger |
| Wenger 4th Floor Classroom | Wenger |
| Peace and Conflict Studies Minor | Wenger |
| Writers House | Writers House |
| Young Center | Young Center |
| Young Center Classroom | Young Center |
| Young Center Historical Documents | Young Center |
| Zug Recital Hall | Zug |
| Hess Art Gallery | Zug |
| Practice Rooms on first floor | Zug |
| Zug Performance Room | Zug |
| Financial Aid Office | Zug |
| Class of 2009/2012 outdoor classroom | Zug |