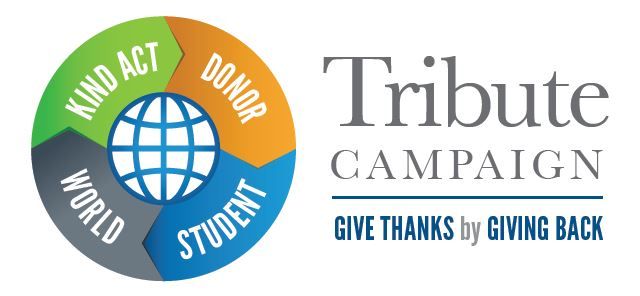 Elizabethtown College's Tribute Campaign is a unique opportunity for our donors, friends and the world at large to pay tribute to special people in their lives by making a gift to the College in their honor or memory. Gifts to all College funds, which will span thousands of individuals by fiscal year end on June 30, 2014, will be included once the College is notified of the recipient.
Our Tribute Campaign is a special way to recognize those in your life, who make a difference by doing so in their name with a gift to E-town -- a place where our mission is to educate students for lives of service so that they can give back to the world too.
Who to Lift Up?
Whether a family member, child or grandchild, E-town student, colleague, boss, friend, professor, or another special individual- the possibilities are endless as to whom you can pay tribute.
Below lists the names of our donors and their chosen tribute recipients. You may search by name as well as read the list in it's entirety.
Where to Join?
If you haven't had a chance to do so, we hope that you too will consider joining thousands of others by making a contribution to the College in the name of someone who made a difference for you.

E-town is an institution of higher learning that strives for excellence and educating our students for service to humanity. Thank you to all those listed below who have joined us in our pursuits.
For more information contact Ben Osterhout, Associate Director of the Annual Fund at            
717-361-3749 or
osterhoutb@etown.edu
.

Tribute and Donor Listings
Search the Tribute and Donor Listings by typing names below:
Tribute
Donor
In memory/In honor
Charles R. Achenbach
Chris Achenbach '86
In memory
To honor a student needing financial aid
Judith A. Bollinger
In Honor
Patrick Albor
Meda Hilfiger
In honor
Les Albor
Mr. Patrick W. Albor
In memory
Vincent & Lynn Alessandri
Angeline Alessandri '09
In honor 
Angeline Alessandri
Mr. and Mrs. Alessandri
In honor
Craig Anderson
Dr. Brandon and Mrs. Caroline Fiedler
In memory
Lynne Anderson
Ms. Karen Nagyiski
In honor
Robert I. Baldwin
Robin S. Baldwin
In memory
Philip Beamer
Amy S. Beamer
In memory
Larry Bekelja
Amy S. Beamer
In memory
Larry Bekelja
Dr. Theodore E. H'11 and Ms. Betty G. H'11 Long
In memory
Larry Bekelja
Mr. and Mrs. James Hilton
In memory
Dolores "Lori" Bernek (Mom)
Donna Talarico-Beerman
In memory
Adriana Bertolino
Mr. Michael and Mrs. Andrea Bertolino
In honor
Jessica Besecker
Karen Nagyiski
In honor
Kenneth I Betsker
Faye J Betsker
In memory
Mr. and Mrs. Stewart Bitkoff 
Melody Bitkoff 
In honor
Dr. Terry W. Blue
Amy Saporetti
In honor
David Boretti
Mr. and Mrs. Kenneth Boretti
In honr
Daniel '01 and Kara M. Borneman
Mr. and Mrs. James Borneman
In honor
Dr. Thomas J. Bowersox  
Elaine A. Bowersox
In honor 
Hannah Bowman
Donald Crumbling
In honor
 Jon Bowser
 Dr. and Mrs. James P. Borneman
 In honor
Carla Eigenbrode Brandenberger '68
Dane Brandenberger
In memory
Madison Brown
Mr. and Mrs. David Brown
In honor
Mr. and Mrs. Bard Brubaker
James Brubaker
In memory
Edward Brunner
Barbara Brunner
In memory
David Connor Burdge
Mr. and Mrs. Christopher Burdge
In honor
John Buyer
Jodi Musser
In memory
Arthur L. Calnon
Kathy C. Schwab
In memory
William Carmint
Mrs. Holly Dender
In memory
Elizabeth D. Carras '13
Robert Black, Jr. '68
In honor 
Violet Irene Cassel '33
Dr. Philip Swarr
In memory
Class of 2003
Kathryn Thomas '03
In honor
Chemistry and Bio Chemistry Departments
Geraldine and George Wolverton
In honor
Kathryn Claffey
Mr. and Mrs. Claffey
In honor
In memory of Classmates from Class of '59
Yvonne Jugan
In honor
Classmates from Class of '59
 Yvonne Jugan
In memory
Class of 1978, 35th Reunion
Mark and Dorothy Koernig
In honor
Class of 1968
The Hall Foundation
In honor
Class of 1968
Joel and Gerry Sechrist
In honor
 Class of 2014
Janet Fasnacht 
 In honor
Gene Clemens
Brian C. Albrecht, Jr. '04
In honor
Gene Clemens
Jeffrey R Mullen
In honor 
Gene Clemens
Mary Ann Kiser
In honor
Gene Clemens
Dr. Jay and Annette Varrato
In honor
Annette Cooper
Geraldine Hava
In honor
Ernest Cooper
Geraldine Hava
In memory
Frankie Copeland
Bruce and Rebecca Copeland
In honor
Sel Copeland
Bruce and Rebecca Copeland
In memory
Jamie Hudzik Coughlin
Mr. and Mrs. James Hudzik
In honor
Ashley Marie Cox '16
Stanford F Cox '51
In honor 
Paul Cramer and Admission Staff
Jeremy Ebersole
In honor
Richard Crocker
John Leaman and Elizabeth Barley
In honor
Calvin and Elanor Dager
Lynn Cronyn
In memory
William Davenport
Ashley Miller '04
In memory
Deborah T. Davis '70
Robin Baldwin
In memory
David Dentler
Maurice Rapp '09 
In honor 
Tom Derstine
Mr. and Mrs. James Clemens
In memory
Theresa and Frederick deRuyter
Carol deRuyter
In memory
Chelsea Destefano '14
Dennis and Ellen Destefano 
In honor
Alexander Diegel
Ms. Sherri Kimmel
In honor
Marcus and Mayne Diehl
William and Shirley Ellsworth
In memory
Bob and Sue Dolan
Robert and Dana Little
In honor
Dr. J. Thomas Dwyer
Alberta B. Ericson
In memory
Dr. & Mrs. Harold Ebersole
Jeffrey H. '77 and Beth A. '79 Ebersole P'05 P'09
In honor
The Education Department
Angela Carins
In honor
Elizabethtown College Education Department
Jessica Miller
In honor
Matthew Ellis
Jonathan Flood
In memory
Ashley and Emma
Jenna Mattox
In honor
Veronica Endrizzi
Mr. and Mrs. Gregory Gutekunst
In memory
John H. Engle '36
Dr. John E. Engle
In memory
Esther Evans
Benjamin Greenawalt
In memory
G.N. Falkenstein
Rev. Donald E. '60 and Rev. Marie A. '57 Willoughby
In memory
Adam Moore and Kyle Farkas
Colin Lynch
In honor
Liz Felcone
Michael Felcone and Jane Curran
In honor
R

onald Felty

Mr. Daniel Miller
In memory
Professor Kurt DeGoede
David and Betty Ferruzza
In honor
Irwin and Naomi Frantz
Mrs. Dorothey Dix
In memory
Robert Freedman
Matthew Freedman
In honor
H. Jere Frey
Jay R. Frey
In memory
H. Jere Frey
Jay R. Frey
In honor 
Barbara Gailant
Anne G. Freeland
In memory
Henry M. Garber
Margaret Garber
In memory
Jerry Garland '59
Jennie '96 and W. Kent Barnds
In honor
Robert Garrett '49
Jennie '96 and W. Kent Barnds
In memory
Bruce and Vicki Godshall
Jennifer Pacelli
In honor
Allison Gorman-Young
Beverly Sollenberger
In memory
In honor of Kathy, Eddie, Louis, and Grandkids
Salvatore L. '57 and Kathryn G. '56 Paone
In honor
Grandparents
Tracy Jacobs
In memory
Joyce Greenawalt
David and Renie Beidleman
In memory
William Greenly
Ruth Prattis
In honor
Dillon Gaul
Judith Gaul
In honor
Joseph G. Habecker '67
John L. Habecker '67 
In memory
Frederick Habicht, Jr.
Mrs. Yetive Habicht
In honor
Geoff and Martha Halberstadt

Jason Halbderstadt

In honor
Glenn Hamme
Joyce Hamm
In memory
Christopher Hartman
Mr. and Mrs. Gary J. Hartman
In honor
Barbara Layton Harttraft
Heather Harttraft
In memory
Barbara Harttraft
Susan and James O'Neil
In memory
Christine Helmandollar
Arthur Weisffield and Virginia Barbender
In honor
Katy D. Herb, Granddaughter
William K. Gordon P'98
In memory
Louis Herr
Mr. Thomas Stouffer
In honor
Mr. and Mrs. F. Robert Herron
Franklin and Susan Herron
In memory
Jacob Hershman
A. James Bomberger
In memory
Allegra Hess
Anna Coleman Rodichok
In honor
Brian Hess
Mr. and Mrs. Charles Hess
In honor
Dean Jim Hilton
Brian R. Sipe
In honor
Larry Hollingshead
Sue Docherty
In memory
William Horst
Mary Horst
In memory
Vida Huber
Harold E. Huber
In memory
Alyssa Irish
John and Yvonne Irish
In honor
Thomas and Jane Irwin
Mr. and Mrs. Douglas Schonour
In memory
Robert Ittleson
Pauline Ittleson
In memory
Kevin Jacoby
Jeffery and Katherine Jacoby
In honor
Francis and Dominic Juliano
Stephen Juliano
In honor
Francis and Dominic Julian
Kevin Smith
In honor
Alanna Justice
Mr. and Mrs. Earl Justice
In honor
Andrea Karns '04
Mr. and Mrs. D. Scott Karns
In honor
Eugene Kearns
Donald and Rose Sullivan
In memory
Michae; Kearns
Donald and Rose Sullivan
In memory
Mary Ann Keesey
Richard Keesey
In memory
Terry and Dorothey Kessler
Michelle Rushanan
In honor
James Kipp
Jay and Judith Gibble
In memory
Matthew Klempa
Mr. and Mrs. John Klempa
In honor
Krista Klukan
Stacy Klukan
In honor
Donald Kraybill
Katherine Kellog-Williams
In honor
Robin Kreiser
Glenn and Marge Crum
In honor
Sister Rebecca La Point
Debbie Peterson
In honor 
Ellen Lapkiewicz
Robert and Colleen Lapkiewicz
In honor
David Lasky
Theresa Forrest
In honor
Michael Lehane
Mr. and Mrs. Michael Lehane
In honor
Roy and Maretha Lehman
Rev. Dallas D. Lehman
In memory
Jodi Lewis
Patricia B Jackson
In honor 
Mr. and Mrs. Guy Lewis
Jonathan Lewis
In honor
Robert and Carmelita Lewis
Deborah Lewis
In honor
Alvin R. and Helen R. Linebar
Beth J. Rudy
In memory
Erin Long '97
Mr. and Mrs. Dennis Murphy
In honor
Henry Long
Robert and Carol Bitner
In honor
Nicole Lorber
Joseph and Margaret Lorber
In honor
Nicole Lorber
Mr. and Mrs. Thomas Lorber
In honor
Molly MacGray
Deborah MacGray
In honor
Jennifer Malik
George and Theresa Malik
In honor
Carl and Dorcas Mann
Bruce and Rebecca Copeland
In memory
Thomas Marino
Martin and Deborah Marino
In honor
W. Donald Martin
Eileen Martin
In memory
Amanda McCaffery
Kristin and Lance McCaffery
In honor
John McDonald
Jacqueline Nunn
In memory
 Edgar Meibohm
Emily Woltmann
 In memory
 Jean Meibohm
 Emily Woltman
 In honor
 Samuel Meizen
Joseph Meizen
In memory
Sandy Metzler
Emily Smith
In honor
John and Bethany Miller
Audrey Miller
In honor
Robert Miller
Joyce Miller
In memory
John and Bethany Miller
Audrey Miller
In honor
Robert and Susan Mitchell
Mr. and Mrs. Willard Cupit
In honor
Robert Morton
Diane Solan
In memory
Emily Mountain
Mr. and Mrs. Brian Mountain
In honor
Richard Mumford
Gene and Brenda Stuckey
In honor
Anna Murray
Mr. and Mrs. Alfred Murray
In honor
Charles and Edith Ness
Donna Freeland
In memory
Mr. and Mrs. Robert Newlin
Franklin and Susan Herron
In memory
Stanley and Elizabeth Neyer
Kathryn Neyer
In memory
Stanley Nyer
Mark G. Brubaker, CPA
In memory
Alyssa Ann Paranto
Mr. and Mrs. Russell Shiveler
In honor
Parents 
Fr. David L. Danneker
In memory
Erika Lynn Pederson
Mr. and Mrs. Peder E. Pedersen
In honor
Nicole Thomas Peters
Mr. and Mrs. Jeffery Thomas
In honor
Dr. and Mrs. Spencer Phillips
Barbara Valavanes
In honor
Dr. Frank Polanowski
Jennie W. '96 and W. Kent Barnds
In honor
H. Marshal Pomroy
Mark G Brubaker 
In honor 
Joanne Potter
Mr. and Mrs. Thomas Potter
In honor
David Presti
Nancy Patrick
In memory
Dalton Reapsome
Mr. and Mrs. Jed A. Reapsome
In honor
Christopher Reed
Grant Gegwich and Elizabeth Romaine
In memory
Carolyn Rhoads
George Rhoads
In memory
Kathryn Rhyne and David, Julia and Madeleine
Barbara McCluskey
In honor
Joseph H Rider (great uncle)
Barbara A Murphy
In memory
Sharan Rinehart
Sally A. Kaltreider
In honor
R. Daniel Robinson
JoAnn R. Brooks
In memory
Dan Robinson
Gary and Suzette Johnson
In memory
Woody Rothenberger
Nancy Patrick
In memory
Jill Bowser Sarnee
Dr. and Mrs. John Bowser
In honor
Mary Sarver
Jodi Musser
In memory
Shirley Deichert
Theodore and Betty Long
In memory
Woodrow & Carolyn Schonour
Douglas & Alice Irwin Schonour
In memory
Reba Sebelist
Theresa Winder
In memory
Tom Semanek III '09
Mr. and Mrs. Thomas J. Samanek
In honor
Michael Sevareid
Jay Miffoluf and Lori Myers
In memory
Michael Sevareid
Randolph Trostle
In memory
Michael Sevareid
Coleen and Justin Covington
In memory
Michael Sevareid
H. Andrew and Deborah Sagar
In memory
Michael Sevareid
Victoria M Sedicum
In memory
Michael Sevareid
Heather O'Toole
In memory
Michael Sevaried
H. Marshall and Marilyn Pomroy
In memory
Michael Sevareid
Dr. David & Jessica Hamel
In memory
Michael Sevareid
Dr. Richard R. Crocker
In memory
Michael Sevaried
Mrs. Leanna L. '01 and Mr. William G. Mesier III
In memory
Michael Sevaried
Jeremy and Amanda Sevaried
In memory
Michael Sevarid
Kelly Jackson
In memory
Michael Sevaried from Donegal Democrats

Mary Gildea

In memory
Michael Sevaried

Narcotics Anonymous World Services, Inc. 

In memory
Michael Sevaried

James and Susan Hilton 

In memory
Jane Sheetz '49
LaRue M. Helm
In memory
Jane Sheetz
Daniel Miller
In memory
F. Paul Shenk
The Shenk Family Foundation
In memory
Paula Skolnik
Martin and Kay Skolnik
In honor
Heather Slifko
Ms. Claire Slifko
In honor
Mallory Slusser
Mr. and Mrs. Richard Slusser
In honor
Ed Small
Milton and Edith McFalls
In memory
Julie L. Smith 
Ted and Glenda Meckley
In honor 
Charlie Smith
Catherine Bate-Smith
In memory
Victoria Snyder
Mr. and Mrs. David Snyder
In honor
James and Carrie Speros
Spencer Speros
In memory
Elizabeth Spina
Mr. and Mrs. Thomas Spina
In honor
Etown College Dining Services
David and Diane Salmon
In honor
John Starzer
Richard and Patricia Grant
In memory
Benjamin Steinberg
Grace Lefever
In honor
Richard Stone
Krista Hazen
In honor
Ekron and Ellen Stover
Warren and Linda White
In memory
Paul Taschner
Teri Rooney
In memory
Corey Thomas
Mr. and Mrs. Jeffery Thomas
In honor
Michael P. Torre
Robert and Susan Torre
In honor
Katherine Tripp
Ronald and Debra Tripp
In honor
Dr. Randy Trostle
Jennie W. '96 and W. Kent Barnds
In honor
Jared Trotti
Mr. and Mrs. David Lisk
In memory
Lauren Tustin
Mr. and Mrs. Richard Tustin, Jr.
In honor
All Veterans who graduated from Elizabethtown College
David and Diane Salmon
In honor
June Warfel
Melissa Warfel
In honor
Jesse Waters
David and Betty Ferruzza
In honor
Paul Weaver '68
Amanda Meiler
In honor
Verna Wetzel
Melissa Blasick
In honor
Lois Ann Whitacre '56
Rev. Daniel Whitacre
In memory
Rachel Jones Williams
Sarah Blackbord
In memory
Rachel Williams
Brandon and Caroline Fiedler
In memory
Rev. Alan L. Whitacre
Christopher and Beth Knauer
In memory
Ross Withrow
Ms. Joan Greenfield
In honor
John W. Wolf '56
Susan D. Wolf
In memory
Glenn and Carol Worley
Marcia L. Sewell
In  honor
Joseph Wunderlich
David and Betty Ferruzza
In honor
Desiree Yeager
Michael and Donnamarie Yeager
In honor
James L.M. Yingst
Edwin Sieber
In memory
Joseph Zaccano
Lucinda Guyler
In memory
Jesse Ziegler
Barton and Kathie Ziegler
In memory
Earl and Vivian Ziegler
Karen Ungemach
In honor