Student-Directed Learning Communities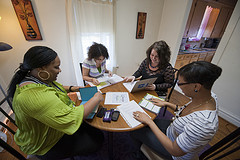 Student Directed Learning Communities (SDLCs) exist to develop engaged student leaders who are committed to a life of creating positive change through community, education, and service.
SDLCs were established at Elizabethtown College in 1992 in accordance with the College's commitment to "Educate for Service." Elizabethtown College is a community of learners dedicated to educating students intellectually, socially, aesthetically, and ethically for lives of service and leadership as citizens of the world. Admittance into the SDLC program is awarded to third- and fourth-year students who are committed to exemplifying the College motto through specific service projects in the local and global community.
Students in the SDLC program will live in houses of 3-5 students who live, learn, and serve together throughout the entire academic year. Each house will commit to a shared community-based learning experience related to a specific theme or topic of study that is chosen by the SDLC members. House projects and themes should be able to be connected to the students' academic coursework in their program of study. Houses are awarded during the Spring semester for the following academic year after an application and interview process.  SDLC members participate in regular reflection and evaluation throughout the year as part of the learning process. 
SDLC residents are responsible for their own cooking, cleaning, and house management details. Optional meal plans are available. SDLCs are considered premium housing. Please visit the Business Office Website for more information regarding housing costs.
Traditional residence halls offer similar  Living Learning Communities  for students of any level.
---
 2015-2016 SDLCs
Applying for an SDLC
The 2016-2017 SDLC APPLICATION is currently CLOSED.  It will be available on February 1, 2016.
2016-2017 SDLC Application Timeline
November 11, 2015: Information Session at 7:00pm in Hoover 212
February 1, 2016: Applications available online
February 26, 2016: Applications due by 5:00 PM
March 7-16, 2016: Interviews
March 21, 2016: Results Announced 
Please Note: 
All students must have business office accounts paid in full by March 1 to register for a lottery number and participate in the housing selection process. All SDLC applicants MUST register for a lottery number.