Student-Directed Learning Communities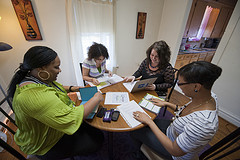 Established in 1992, the Student Directed Learning Communities (SDLC) are housing opportunities within the College-owned homes along the perimeter of the campus. They offer small groups of upper class students the opportunity to create a unique, self-directed living environment, centered on a common theme, issue, or interest through which the group is expected to share and enrich the campus community. This exemplifies the College's motto, "Educate for Service."
The SDLCs are awarded in the spring semester through a very selective application process. All programs undergo a review and reapplication process on a yearly basis. Please feel free to contact any of the programs to become involved in program activities. Residents are responsible for their own cooking, cleaning, and house management details. Optional meal plans are available.
---
Please read the 2016-2017 SDLC Guidelines for more information on SDLCs and the application process.
The 2016-2017 SDLC APPLICATION is CLOSED.  
Please Note: All students must have business office accounts paid in full by March 1 to register for a lottery number and participate in the housing selection process. This includes SDLC applicants.
SDLCs are considered premium housing. Please visit the Business Office Website for more information.
Coming Soon: Timeline for the 2016 - 2017 SDLC Application Process
---
 2015-2016 SDLCs
Residence halls offer similar
Living Learning Communities
for students of any level.