About SMVC
Mission Statement



"To equip leaders for ministry in a regionally based, Christ centered, culturally relevant context in ways that bear witness to the beliefs, heritage, and practices of the Church of the Brethren."
Begun in 1993, the Susquehanna Valley Ministry Center is a ministry partnership of the Atlantic Northeast, Southern PA, Middle PA, Western PA, and Mid-Atlantic Districts, along with the Brethren Academy for Ministerial Leadership and Bethany Theological Seminary. SVMC provides training in regionally based settings for persons exploring the call to ministry and/or lay leadership. Working from a solid commitment to core Anabaptist and Pietist understandings within the Church of the Brethren heritage, we provide training in biblical studies, shepherding skills, peace and justice perspectives, theology, evangelism, and a host of subjects that help persons prepare for ministry in the church today. Ministry training occurs at both the graduate and academy levels.
The graduate courses are offered by Bethany Theological Seminary which is accredited by the Association of Theological Schools in the United States and Canada (ATS) and the Higher Learning Commission of the North Central Association of Colleges and Secondary Schools (HLC). Courses for Training in Ministry (TRIM) and Academy Certified Training System (ACTS) are certified by the Brethren Academy for Ministerial Leadership.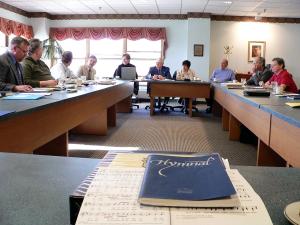 Bethany Theological Seminary graduate courses offered at the Susquehanna Valley Ministry Center (SVMC) provide a Brethren contest for theological education. Students interested in a Masters of Divinity degree (MDIV), continuing education, or a specific course to meet district ordination requirements are served by Bethany through SVMC. Those seeking a Masters of divinity degree who are unable to relocate to Richmond, Indiana, can take courses online through Bethany's Connections program or off-site, including SVMC and at several nearby ATS accredited seminaries.
Enrollment for ACTS and TRIM courses is processed at the Susquehanna Valley Ministry Center office in coordination with the Brethren Academy for Ministry Leadership. Enrollment for graduate courses is processed through Bethany Theological Seminary.
An ACTS Certificate will be granted by the Brethren Academy for Ministerial Leadership to non-degree students who take certificate level programs offered in the partner districts. TRIM students and EFSM students are welcome in all certificate-level courses. Graduate courses are occasionally open to TRIM students.
SVMC also offers TAL (TRIM Academy Level) courses. The TRIM program is overseen by the Brethren Academy for Ministerial Leadership and is coordinated by Marilyn Lerch.
Learning in Context
Students learn in several geographical contexts. Courses are taught in church settings and Brethren-related institutions.
ACTS courses are usually offered simultaneously at local Church of the Brethren congregations in the five partnering districts.
TAL courses are offered at Elizabethtown College or Juniata College.
Seminary courses are taught at Elizabethtown College, and Juniata College.