RACC Dual Admission
Elizabethtown College and Reading Area Community College (RACC) offer a dual admission program, allowing RACC students to transfer their credits towards a bachelor's degree from Elizabethtown College.
Students in the program begin their college career at RACC and transfer their credits directly to any of Elizabethtown College's 56 majors and more than 80 minors and concentrations. While enrolled at RACC, dual admission students have access to academic, financial aid and career advising at Elizabethtown College, along with the use of library resources and other on-campus facilities.
Accepted students are also able to enroll in courses at Elizabethtown College that are not offered at RACC, but are required for the completion of the Elizabethtown College bachelor's degree. Tuition for up to two of these courses will be waived.
In accordance with the Elizabethtown College policy concerning Transfer Applicants, up to 64 credits of college course work will be accepted in transfer to Elizabethtown College. This does not include AP, CLEP, IB, etc.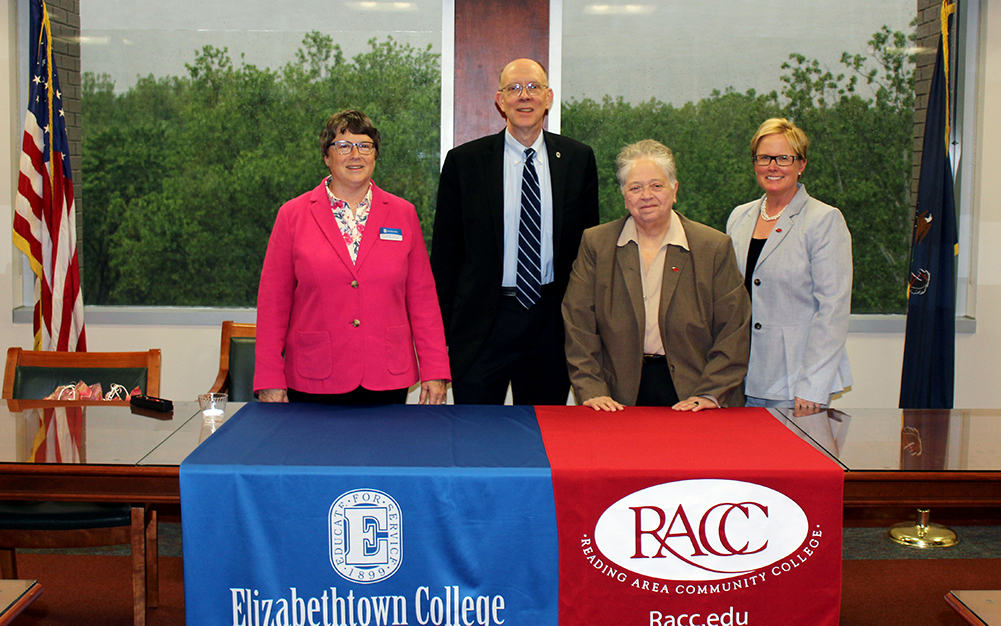 Read more about the agreement signing.
How To Apply
Students can apply for the dual admission program by completing the RACC/Elizabethtown College Application for Dual Admission. Applications can be submitted as early as the student's senior year of high school.
Prior to the completion of 30 transferable credits, students must declare their interest in the dual admission program by completing and submitting the application below.  For students already attending RACC, please contact the Transfer Services Office immediately for guidance in entering the program.
Select the course sequence required for the corresponding major at Elizabethtown College.
Complete the Common Application by August 1 for fall entrance and by December 1 for spring entrance.
*Students interested in majoring in Music, Music Education or Music Therapy will be required to attend an audition for their respective program.
NOTE: Transfer students are not eligible to apply to the Occupational Therapy program (Bachelor of Science in Health and Occupation).
Admission to Elizabethtown College, whether through the dual admission program or not, is selective. A decision of admission will be based on a full and formal review of the transfer's application.
Next Steps
Advising sheets will be provided to students, outlining the course sequence a student should take for their two years at RACC.
Elizabethtown College will notify students at the time of dual admission of all entrance prerequisites for their chosen major.
At the end of each semester, RACC will send a copy of the student's transcript to Elizabethtown College. These will be evaluated for the purpose of advising the student on course selection for their next semester.
Students who have been accepted into the Dual Admission Program must maintain continuous enrollment and meet all Elizabethtown College admissions requirements, including GPA for their intended major, at the time of matriculation to Elizabethtown College.
Students will receive a scheduling packet and official admissions letter from Elizabethtown College during their final semester at RACC.
Once Elizabethtown College has received the final transcript from RACC, a final official transcript evaluation will be completed prior to the student's matriculation at Elizabethtown College.
Scholarships
Following coursework completion at RACC, matriculated students at Elizabethtown College can be considered for merit-based scholarships.
|   | Cumulative RACC GPA | Merit Scholarship Awarded by Elizabethtown College | 2019-2020 Scholarship Amounts |
| --- | --- | --- | --- |
|   | 2.50 - 2.99 | Dean's Scholarship | $10,000 |
|   | 3.00 - 3.59 | Founders Scholarship | $12,000 |
|   | 3.60 - 4.00 | Presidential Scholarship | $16,000 |
FAQs
Am I eligible for financial aid?
Students will be provided with financial aid information for both institutions. Full consideration for Elizabethtown College aid and the option to apply for on-campus housing will be given upon matriculation to Elizabethtown College. RACC students are not eligible for housing until matriculation at Elizabethtown College.
Can I change my major?
Students may change their RACC or Elizabethtown College major at any time; however, they will be required to meet the entrance requirements for the new major at the time of change. While enrolled in the Dual Admission Program, students must notify both institutions of any change in major to ensure that they meet any prerequisites for the new program.
Find Out More
Still have QUESTIONS?
Feel free to send an email to: apply@etown.edu or call us at (717)361-1400
Or contact Gretchen Camp, Associate Director of Admissions and Coordinator of Transfer Recruitment at: 717-361-1164 or campg@etown.edu