What To Do On The Weekends
Elizabethtown College may be nestled among peaceful farmlands in Lancaster County, Pennsylvania, but our active campus community ensures that there's always plenty to do when you're not studying! Take a short walk from campus and you'll find eateries, coffee shops and stores that make up the small-town community of Elizabethtown. If you're looking to branch out a little further, Hershey, Lancaster and Harrisburg can all be reached by a short car ride or by train. Less than two miles from our campus is the Amtrak station, with frequent trains to Philadelphia, New York City and Washington D.C.
Participate In Organized Campus Activities
Our Office of Students Activities (OSA) organizes on-campus activities and events throughout the academic year. Whether you want to challenge your friends to a sing-off at a karaoke night, create a new piece of art for your dorm room, watch the latest movies or attend a lecture by a prominent speaker, you're sure to find something fun to do in between classes. If you're looking to venture further afield but don't have a car, that's no problem. OSA also organizes transportation for trips throughout the year. In recent years, our students have visited Hershey Park, New York City during the holidays, Hershey Bears hockey games, the King of Prussia Mall, and the Baltimore National Aquarium.
Shop 'Til You Drop
When you need to hit the shops, you'll find plenty of options within a 40-minute radius of the College. The Tanger Outlets at both Hershey and Lancaster, along with the Rockvale Outlets in Lancaster, feature dozens of clothing, shoe and accessory stores and are all within 25-35 minutes of campus. The Park City Mall in Lancaster, only 25 minutes away, is home to well-known stores and a number of dining options – it's the perfect choice if you're looking to spend a day enjoying some retail therapy with friends or family.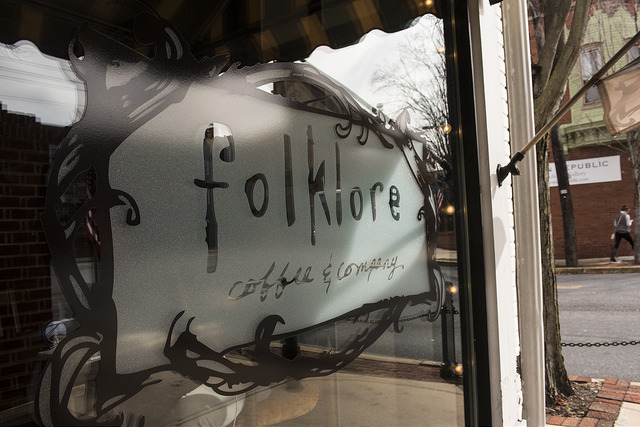 Grab A Bite
Folklore Coffee & Co., just a short walk from campus, is a student favorite here at Elizabethtown College. You can almost always find our Blue Jays studying or hanging out with friends over a cup of coffee or enjoying a homemade salad or sandwich. T.J. Rockwell's is another popular local choice for Etown students and their families, featuring an affordable tavern-style menu and an outdoor deck that's perfect for spring and summer dining. If you like to have plenty of options, you'll also find a variety of restaurants in town offering burritos, Italian ice, sushi, Chinese, pizza and more.
Explore The Lancaster Countryside
Lancaster County is known for its Amish community, rolling hills and farmers markets. Elizabethtown College is perfectly situated in this picturesque location and our students enjoy the benefits of living in close proximity to the orchards, vineyards and farmlands that make up the county. When you're looking for locally-grown produce, the Masonic Village Farm Market is a 10-minute drive from campus and a great place to pick up fruit, vegetables and dairy products. Green Dragon in nearby Ephrata is also home to a large indoor/outdoor market, featuring over 400 local vendors selling produce, crafts and more. If you want to shop local, Lancaster County makes it easy for you!
Visit A Nearby Attraction
The world-famous Hershey's Chocolate World and Hersheypark amusement park are only 25 minutes from campus, giving our students plenty of sweet entertainment, exciting rides and delicious treats. If arts and culture are more your style, Lancaster's First Friday and Harrisburg's Third in the Burg are for you. These monthly events showcase local food and entertainment including art galleries, musical and theater performances, and special dining options at neighborhood restaurants.
Enjoy The Great Outdoors
When you need a break from studying and want to get some fresh air, there are a number of trails close to campus for you to stretch your legs. The Chickies Rock Overlook, just 20 minutes away, is a great spot for taking photos, fishing, horseback riding, mountain biking, hiking, or even cross-country skiing along the Conewago Recreation Trail. The Northwest Lancaster County River Trail also offers a beautiful scenic hiking and biking option, just 12 minutes from campus. Rails to Trails runs right through the heart of Lancaster County, with several state parks and protected game lands for you to enjoy within minutes of campus. If the wild isn't really your scene but you still want to enjoy some outdoors time, Adventure Sports in Hershey is home to go-karting, outdoor laser tag, miniature golf, bumper boats, batting cages and a driving range. It's free admission and free parking, so fits well into a student-friendly budget!
Attend A Sporting Event
Calling all sports-lovers – there are number of local, professional teams that you can support during your time at Etown. For baseball fans, there's the opportunity to see future major league stars at FNB Field with the Harrisburg Senators, who are affiliated with the Washington Nationals. You can also enjoy more minor league action with the Lancaster Barnstormers, who play at Clipper Magazine Stadium, just 30 minutes from campus. Hockey fans, you're only a half-hour drive away from the Giant Center, home of the Hershey Bears. The Harrisburg City Islanders are our professional soccer team, playing in the USL Eastern Conference, and also play at FNB Field, while our local semi-pro soccer team, the Harrisburg Heat, can be seen at the Harrisburg Farm Complex arena.
Explore Our Local Community
Elizabethtown College sits perfectly between bustling cities and serene countryside, providing our students with plenty of opportunities to explore activities and environments that suit them best. Want to know if Etown is right for you? Contact us today to schedule a tour of campus and visit the surrounding area to see everything that Elizabethtown and Lancaster County has to offer!