Sustainability at Elizabethtown
Our campus is green all year-round.
Elizabethtown College cares about the environment. Our green efforts range from things as simple as placing recycling bins across campus to more unique initiatives as making notebooks out of cereal boxes and turning leftovers into electricity. Additionally, we buy from local farmers and even tend to an on-campus garden.
To learn more about campus-wide sustainability efforts, visit the Facilities Management website.
Here's a look at how some other departments across campus reduce, reuse, recycle – and rethink the way they do things.
The staff of Print Services cares about forests. We are pleased to announce that we now offer white copy paper that contains 100% post-consumer waste (PCW). As of July 2012 all white copy paper supplied by Print Services will either be certified by the Forest Stewardship Council (FSC) or contain 100% post-consumer waste. Print Services provides more white copy paper than any other paper, but due to initiatives by groups like the Elizabethtown College Environment Group (ECEG), we have reduced the number of cases of white copy paper ordered by 10 percent three years in a row.
Print Services also has partnered with ECEG to produce Green Notebooks, which are made from donated empty dry-goods boxes, 100% recycled paper and recyclable spines. Proceeds from the sale of Green Notebooks help support environmental initiatives on campus.
Print Services also recycles and reuses paper. Any paper that is printed on one side only and not confidential can be turned in notepads. All used paper not made into notepads is recycled in Print Services.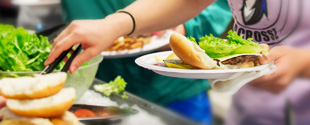 The Dining Services Office, in conjunction with Facilities Management, has implemented many energy-efficient initiatives. In 2010, its efforts to "turn waste into energy" attracted much attention from the local media.The College partnered with Somat Company of Lancaster and Mount Joy, and farmer Mike Brubaker, to turn organic waste from the dining facilities into electricity. The result was an 80 percent reduction in water consumption and waste hauling charges were cut in half.
Other dining services efforts include:
Dining Services tends to a garden which produce fruits and veggies that are served within the operation (it is located on the path to the Bowers Writers House)
The exhaust hood systems located above the cooking equipment are on sensors that power them up and down as needed, according to use of the equipment (similar to light that go off and on when someone walks by the sensor.) This saves in our electrical usage
Dining Services purchases from locally based companies such as Turkey Hill Dairy, John Gross & Company (our campus' main supplier from Mechanicsburg), Herr Snack Foods, and also some small local shops like Spence Candies in E-town
Participation in the various recycling programs initiated by Facilities Management (glass, plastics, cardboard)
Etown's Sustainability News:
An Appetite for Sustainability
From garden fresh veggies to a certain orange root variety baked into an E-town tradition, the College's Dining Services operation stretches well beyond the Baugher Student Center, where the Marketplace, Jay's Nest and Blue Bean Café are housed. An organic garden tucked in a quiet campus cranny provides an assortment of fresh produce. Catering Services creates, for gatherings of all sizes, an array of culinary delights—from finger foods to feasts. The Bird Feeder, a late-night food truck, roams residence hall parking lots...  Finish Reading about Dining Services Appetite for Sustainability