Bachelor of Science in Biotechnology
This exciting major is at the forefront of biomedical research, genetic engineering and social ethics. The Biotechnology major at Elizabethtown College has been specifically designed for our students who wish to continue either on to graduate school or pursue a career as a research associate in a research-based academic institution or in a biotechnology company.
This program represents the compilation of feedback gathered from over 100 hospitals, graduate institutions, academic research facilities, and large and small biotech companies. Combining all of this information with the latest in teaching methodology and research, the Biotechnology major offers you the cutting edge intersection of scientific research and theory. Whether you think your next step is the work force, or graduate school, our Biotechnology program graduates are recruited and accepted to prestigious companies and schools nation-wide!
Using Advanced Technology to Solve Biological Problems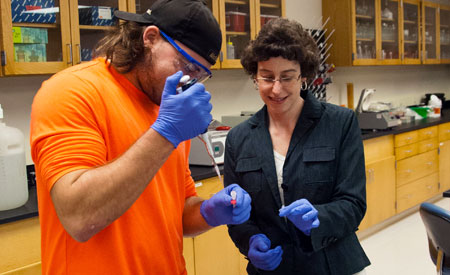 The problem-based learning methodology allows for student research in the classroom laboratory, doing independent research projects, and in established internships. Our curriculum prepares you for biological research careers utilizing new methodologies of microbiology and cellular and molecular biology. Emphasizing problem-based learning, internships and integration with the core curriculum, the major also provides you with a unique learning experience, stressing ethical use of technology, lifelong learning, and development of leadership skills.
Applying Classroom Principles in the Real World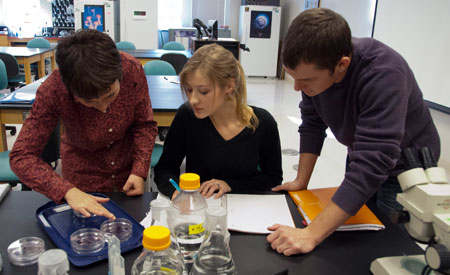 In addition to exploring our on-campus labs like the biotechnology or cadaver lab, you'll take a variety of courses in biology including genetics, cell biology, experimental design in biology, and physiology. Additionally, you'll have the opportunity to complete faculty-supervised research, present your findings at regional and national conferences, and participate in internships with local companies and organizations to both build your relationships with potential employers, and your resume in the process.
Opportunities Beyond the Classroom
While as a student you'll experience rigorous course work, you'll also have many opportunities for outside of the classroom learning. Many of our students elect to study abroad during their time at Etown, some even conduct independent research through external or college-supported grants. Whether you want to study abroad during your time at college, join special interest clubs on campus, or support local community organizations through skill-based volunteering, our students enjoy the flexibility to take part in the best that Etown has to offer!