Scholarships and Awards
Recognition of talent and hard work encourages all of our students to strive for excellence and to explore new forms of expression. Each year, the Department of Art and Design awards tuition scholarships for artistic achievement to majors in Fine Art or Graphic Design.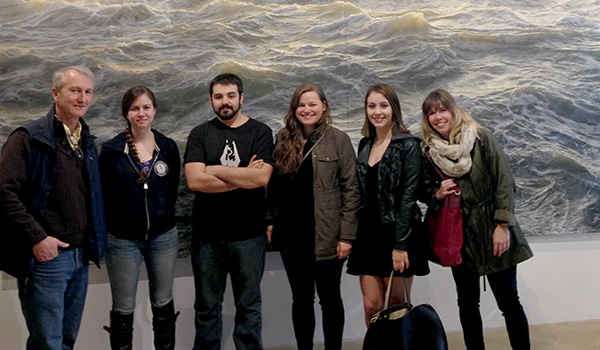 Three scholarships are awarded annually for artistic excellence: the Joan Prentice Charlton Scholarship, Roy Ream Scholarship, and the Inspiration Fund for Art History. Students also have the opportunity to work as department studio assistants by preparing class studio demonstrations, designing exhibition postcards and catalogues, and installing art exhibitions on campus. A variety of internships are also available in local galleries, museums and art centers, as well as on campus in the Office of Marketing and Communications and Print Services.
The Inspiration Fund for Art History
The Inspiration Fund for Art History was established by an Elizabethtown College Alumni to promote and support the study of art history. Grants are given to students to pursue exceptional projects in the History of Art for Honors theses, conferences or publications. The Inspiration Fund also subsidizes internships at art museums and galleries and provides funds for travel.
Projects funded by the Inspiration Fund include:
2019: Hannah Ciocco, research grant: Remembering King: A Dispute in Collective Public Memory, documentary film.
2016: Graduating Seniors Class Trip to New York City: The Whitney Museum of American Art and Chelsea galleries.
2015: Architectural Studies Class Trip to Fallingwater, designed by Frank Lloyd Wright in 1935/
2014: Modernism Class Trip to Philadelphia Museum: the Barnes Foundation, Rodin Museum and Philadelphia Museum of Art/
2012-13: Alyssa Vasaturo, research grant: Pennsylvania Modernists: Charles Demuth (1883-1935) and Andy Warhol (1928-1987)/
2011-12 Samantha Hugg: research grant: The Precisionist, short story based on the life of Charles Demuth (1883-1935).
Joan Prentice Charlton Scholarship
Joan Prentice Charlton Scholarship: Awarded to an exceptional incoming student intending to major in Fine Art.
To apply, submit the following by Dropbox here:
10 examples of your works of art in digital files (JPEG) formatted to 1024 pixels in the longest direction at 72 dpi and labeled as so: smith_jane_one
Your name, contact information and list of digital files with title, medium and dimensions (Word or pdf)
One-page statement of your current goals in pursuing a career in art (Word or pdf)
Deadline March 1.
Notification by March 15.
For more information please contact Professor Milt Friedly at friedlmd@etown.edu.
Inspiration Award for Excellence in Art History
Elizabeth Zonarich, '21, Receives Award for Excellence in Art History
Zonarich Received The 2020 Inspiration Award for Excellence in Art History
Elizabeth Zonarich, '21, received the 2020 Inspiration Award for Excellence in Art History in recognition of her Honors-in-the Discipline project comparing the public health campaigns during the 1918 Influenza pandemic and the COVID-19 Pandemic. Her paper, "The Transformation of Visual Messaging to Convey Health Information in the Time of Pandemics," studied the effectiveness of visual media in promoting disease prevention as well as artists' depictions of the suffering caused by the illness. "Lizzie" double-majored in Communications and in Graphic Design and minored in Art History. Her Honors thesis was mentored by Dr. Patricia Likos Ricci, Professor of the History of Art, and Dr. Katherine Hughes, Associate Professor of Communications. "Lizzie" graduated in December 2020 and is currently enrolled in the Master's Degree program in Design Management and Communications at Georgetown University.