Major or Minor in History
The history faculty at Elizabethtown College teach courses covering numerous historical periods and global regions. In addition to regularly scheduled sections, we also offer independent studies and teach special topics that meet our students' interests. With everything from recent U.S. history to the history of pre-modern Asia, students have ample opportunity to explore nearly every era of the human past.
A bachelor of arts in history prepares students for careers in teaching, government service, business and so many others, or for further study in graduate programs in history, law, museum studies, library science, theology, or related fields.
Why Study History?
History is a great option to pair with a double major or a minor. As a history major or minor, you'll have the opportunity to craft your course of study around topics that interest you, combining subjects to form a unique historical perspective. If you are considering a career as an attorney, you may want to double major in Legal Studies or join the Pre-Law Advising Program. Students interested in teaching should speak with the Education faculty to join their Social Studies Education major. History also pairs well with other areas of study such as Art, English, Business, or Political Science as second majors or minors.
As a history major I learned to communicate effectively, think critically, and conduct research – skills that I now use on a daily basis. My professors made learning exciting and they pushed me to look beyond my own opinions to consider other possibilities. As a result, I feel confident in my abilities and ready to excel.
Alyssa Vasaturo '14
Life After Etown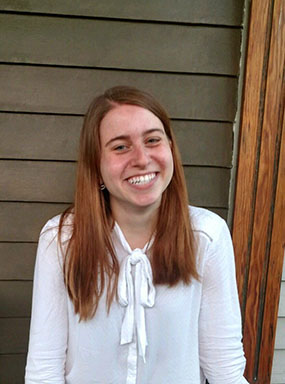 Gwen Fries '16
Editorial assistant, massachusetts historical society
The best thing about Etown is undoubtedly the faculty, especially the history professors. The size of the department allows you to form relationships with each of the professors. We really got to interact with them in class, and I knew their doors were always open to me. I probably doubled the amount of education I received just by how much time I spent in office hours. 
As a history major in Pennsylvania, there is never any shortage of places to visit—sites where history was made. Our campus is located near Gettysburg and Washington D.C. and offers annual visits to historic sites and museums. Our professors use these resources to provide students context for their classroom learning and to deepen their skills through original research. 
Within the department, there are opportunities to intern at various historic sites and to present your research at professional conferences during your four years with us. Beyond the "local," don't forget to consider study abroad options. Our majors have benefitted from a semester or even a year of international study in locations such as England, Germany, China and Greece.
History Minor and Other Opportunities
A minor in History is a great way to explore all that the Department of History has to offer and allows you to gain new perspectives and learn about many different topics. A minor in History can help develop your understanding of how history has developed and how it has impacted the way we live today. You'll be able to apply this understanding to your major, by learning about the ways that history has influenced industries and helped to shape the world. This minor requires successful completion of six courses:
One course must be taken in two of the following three groups:
United States History to 1877 or United States History Since 1877
History of Pre-Modern Asia or History of Modern Asia
Western Civilization I or Western Civilization II
Four History electives:
No more than one course may be at the 100-level. At least two courses must be at the 300-level. Enrollment for 300- and 400-level courses limited to students with sophomore status or above.
Are you interested in museums, archives or historic preservation? Then a certificate in Public Heritage Studies is a great option for you! Although the certificate is available to students in any major, it is designed to complement your history degree. The certificate consists of 10 credits, and includes an internship at a relevant historic site. A Public Heritage Studies Certificate lays the groundwork for advanced study and subsequent career opportunities in museum, archives, and historic preservation.