Why study a foreign language?
The benefits to learning a foreign language are virtually endless. As the world becomes more interdependent in its economics and politics, the person who is competent in another language and comfortable in another culture is in more demand. The skills you master as you communicate in another language -- capacities for analysis, memory, interpretation, multicultural sensitivity -- transfer easily to any field or occupation. Your proficiency in a foreign language will enhance your opportunities for employment in such fields as education, international business, global communications, public relations and corporate media, law enforcement and environmental science.
From the Department of Modern Languages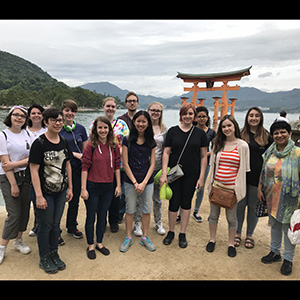 Japan-United States Friendship Commission awards trip grant
Enables Students to make May Term journey
Mahua Bhattacharya, associate professor of Japanese, arranges an annual trip to Japan during the May Term for Elizabethtown College students. Highlights of the trip include historic sites, 3-11 disaster-affected regions and the experience of Japanese culture. In recent years the price for the trip has increased, making it difficult for interested students to attend. To address this, Bhattacharya applied for a grant from the Japan-United States Friendship Commission (JUSFC) to cover many of the trip expenses. From her stirring application, the JUSFC deemed the trip worthy of its support and granted the full $33,000 she had requested. This grant made it possible for 13 Elizabethtown College students to attend this year's trip at roughly half the cost of previous years.
"Faculty in Humanities areas don't typically get such large grants, as individuals, so this is wonderful."
 The Department of Modern Languages at Etown offers three language majors:
Request Information About Modern Languages
at Etown
Flexible Enough to Study Multiple Fields
Study one language or two, or even double major! The majority of our majors double-major or minor in another discipline such as Education, International Business, International Studies, Political Science, Communications or History. Modern Languages enhances these majors nicely, as more and more industries have far-reaching objectives.
Study Abroad for a Full Year
Thrive in another culture when you spend a year studying abroad! This will not only give you the chance to practice your language skills, but also to build your socio-cultural awareness, writing, reading and listening skills. While you are studying abroad, you will also take in the scenery and historic and cultural landmarks, and get to experience life in another country! All of your financial aid from Etown College accompanies you to help keep costs manageable.
Opportunities for Language Immersion on Campus
Student employment positions as student assistants and language tutors in the Center for Student Success are available to Modern Language majors. In addition, the Center for Global Understanding and Peacebuilding, the Office of Study Abroad, Community Living, and the Office of International Students and Scholars host programming of international interest, and the Center for Civic and Community Engagement offers volunteer opportunities such as ESL tutoring.
Experienced Faculty
Our full-time faculty members have considerable professional and teaching experience. Their fields of interest include literature, culture, film, bilingual education, teacher education, romance philology, literary translation, foreign literature pedagogy, and language teaching methodology. Our faculty are actively involved in professional organizations, and regularly present papers at conferences and publish work in their respective fields.
100% of students studying a Modern Language program who have applied for the prestigious Fulbright Scholarship have been chosen for the award.
Our Graduates Succeed
Modern Language graduates pursue a variety of career paths. Our alumni span a variety of fields, working as teachers, professors or legal assistants, or in numerous industries such as sales and manufacturing. Many have joined organizations such as the Peace Corps or Teach for America. Our students have also enrolled in graduate studies at schools such as George Washington University, Pepperdine University, the University of Pennsylvania, and the Graduate School for International Education. Our alumni also include winners of the prestigious Fulbright Scholarship.