Major or Minor in Japanese at Elizabethtown College
The Japanese language major and minor programs at Elizabethtown College fill a niche in the academic programs available for students in the Mid-Atlantic region. While most institutions embed their language instruction in their Asian Studies or East Asian Studies programs, we are distinctive in being able to offer a major and a minor that emphasize comprehensive, proficiency based instruction in the Japanese language. Elizabethtown College is also distinctive in recommending a year-long study abroad experience in one of our well-known study abroad sites that include Nihon University in Tokyo and Kansai Gaidai. We are also distinctive in how we use the Japanese Language Proficiency Test (JLPT), which is the assessment tool used by Japanese institutions for measuring non-native ability in the language.
Our Japanese major and minor are products of student enthusiasm and our College's commitment to non-Western Cultural Heritage education. All Etown College students are required to take at least one non-Western Cultural Heritage class during their four years here. Japanese majors are ahead of the game with an entire major dedicated to exploring the culture and language of Japan. Besides our academic programs, we also have many extra-curricular activities that include field trips to Shofuso in Philadelphia, Mitsuwa in New Jersey, Nihongo table, and cultural workshops on calligraphy, etc.
Can I major in Japanese  at Etown if I've never studied Japanese before?
Yes, you can! We aim to develop competence in Japanese through a series of eight language courses and a year-long study abroad in Japan. We offer four years of Japanese instruction that emphasizes all the skills of speaking, listening, writing and reading. Our students are also able to double major in a variety of disciplines, such as international business, political science, computer science, professional writing, graphic design, and engineering. We also offer electives in Japanese culture, art and aesthetics, literature, and popular culture which also fufill the requirements of an Asian Studies minor or the individualized major in Asian Studies.
What is the JLPT?
The JLPT or Japanese-Language Proficiency Test is an evaluation of non-native Japanese speakers. A JLPT certificate opens doors to Japanese students in job searches, graduate school applications, and other advantages. Through college proficiency testing based on the JLPT model, our students graduate prepared to pass the official language proficiency exam.
From the Department of Modern Languages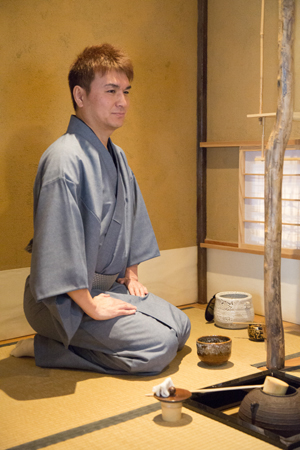 Nobu Takahashi brings centuries-old tradition to Elizabethtown College
Grant helps Japanese professor infuse ancient culture into program.
Since the 9th century, masters have passed along the practice of chanoyu, the spiritual practice of the formal Japanese tea ceremony. In recent generations, however, fewer and fewer take the time to learn the art. Growing up in Japan, Nobu Takahashi, associate professor of Japanese and Asian Studies, appreciated the traditional art forms of origami, Shodo calligraphy, Ikebna flower arranging and tea. With the assistance of an educational grant, Takahashi has begun exploring the precise choreography associated with serving the bitter matcha green tea and wagashi bean paste sweets and, each year, the Japanese program takes students to Philadelphia to witness a traditional tea ceremony.

"The ceremony started as a samurai thing. It taught how to behave, sit and be respectful in society."
Japanese & Fine Arts Alumna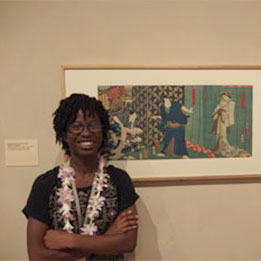 Monique D'Almeida
Current Job Title: Graduate Assistant for Global Art History courses at the University of Hawai'i at Manōa
While at Etown, Monique enjoyed the opportunities to develop new skills such as language roundtables to practice her Japanese, or job and internship fairs for networking. She would encourage all students not to take your time at Etown for granted. Be involved as much as possible and make as memories as possible.
Spanish & Japanese Alumna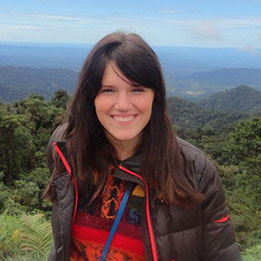 Julia Carboni
Currently a Master's Candidate for Intercultural Communication at the University of Pennsylvania Graduate School of Education
The requirement to study abroad taught Julia to embrace new experiences, understand different cultures, and to overcome obstacles like no other experience. Julia says her academic advisors' support followed even after graduation as she pursued her graduate degree. She credits her success to their support and encouragement along the way.
What do you study as a Japanese student?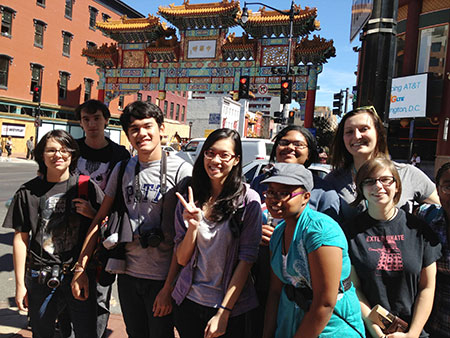 Japanese majors at Etown take eight levels of Japanese with an additional year-long Senior Research Project. All Japanese majors at Etown study abroad for an entire year, or two semesters, setting them apart from students at other schools with limited experience abroad. Japanese minors are only required to take six levels of Japanese with the option of studying abroad. Students also have the option of studying Japanese culture in depth from courses that are offered in English such as 'Introduction to Japanese pop culture" (an FYS course); "Anime to Zen: Introduction to Japanese Society, Business and Culture" (a GWR course); "Murasaki to Murakami: Introduction to Japanese Literature in English"; and "Introduction to Japanese Art and Aesthetics."
Can I still study abroad in Japan if I'm not a Japanese Major?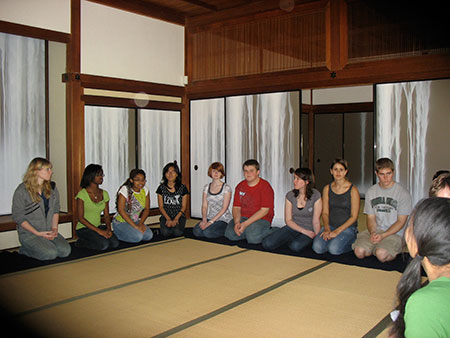 Of course! Japanese minors can enjoy amazing study abroad experiences in Japan just like Japanese majors. Students minoring in Japanese can study abroad for a full semester, or they can choose from a 3-week May Term trip to Japan where they go to some of most important travel sites in Japan like Kyoto, Hiroshima, Nikko and others near Tokyo. We offer students in a variety of disciplines the opportunity to study abroad with our immense number of short term study abroad trips we offer all over the world.
Wondering about Studying Abroad?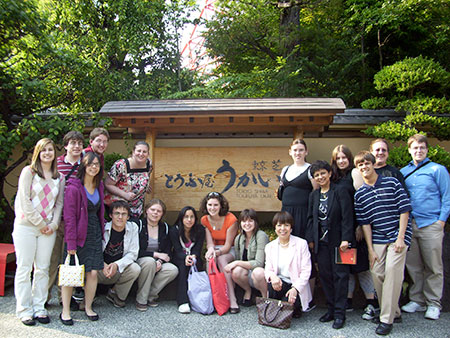 Studying abroad with Japanese is easy. The major requires that all students study abroad for one full year or two semesters. Students have the option of studying in four sites in Japan: three in Tokyo, including the prestigious Nihon University, or in Kansai Gaidai University in Osaka, Japan. We recognize that many of our Japanese students are double majors, so these students can petition to shorten their study abroad to one semester.
Opportunities for domestic cultural experiences and immersion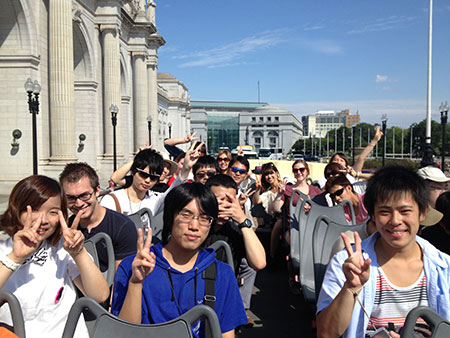 The Department of Modern Languages plans a variety of trips and activities for both US students who are learning Japanese and Japanese exchange students who are studying in the United States. We plan trips to local Japanese restaurants in Harrisburg and Lancaster and to museums and talks in nearby cities such as Philadelphia, and Washington DC.
As a student, you will have the opportunity to participate in a wide variety of events and activities such as joining one or more of our student organizations, attending or helping with Jaycon, our annual anime convention here on campus, and participating in a traditional Japanese Tea Ceremony. We conduct one major field trip to the Cherry Blossom Festival in Washington DC each spring, and one to the Japanese supermarket Mitsuwa each fall as well.