The Criminal Justice Major at Elizabethtown College
The Criminal Justice major was introduced in 2018, with the first cohort of nine students entering the program in the Fall, 2019. Prior to the major, the College offered a Criminal Justice "concentration" within the Sociology/Anthropology major. Today, Criminal Justice is a stand-alone major within the newly formed School of Public Service that includes majors in Sociology, Political Science, and Public Health. As a major within this new school, students will have the opportunity to major in Criminal Justice while enrolling in related courses such as legal studies, public policy, government, and law. The breadth and the depth of this new major prepare students to be employed in CJ related fields with skills that set them apart from graduates of other programs or to enter a graduate degree program in a related field.
What is unique about Criminal Justice at Elizabethtown College?
In the summer of 2019, the Criminal Justice program, under the guidance of Professor Conrad Kanagy, joined the Lancaster County Re-entry Coalition as a partner among nearly forty government and non-profit agencies that focus on the needs of returning citizens (those leaving prison to re-enter their communities). These agencies address issues of housing, employment, legal aid, addictions, family needs, faith and spirituality, health, and more.
This unique partnership has created a network of resources for our students and has given them access to internships, research opportunities, and prospective employers. This association with the LCRC has made our program a partner with one of Pennyslvania's leading coalitions to address the needs of returning citizens. The timing of this partnership is important since federal and state criminal justice system reforms are gaining momentum, resulting in the acceleration of inmate release across the country. Unfortunately, most communities are not prepared to manage the integration of these citizens back into their communities. But students in our Criminal Justice system will be ready to address the needs for ongoing reform in the criminal justice system and to address the needs of returning citizens.
The focus of our major on reform and citizen release, at a time when the nation as a whole is focused in this direction, creates a unique opportunity for our students to graduate ready to meet the new needs of the communities in which they live.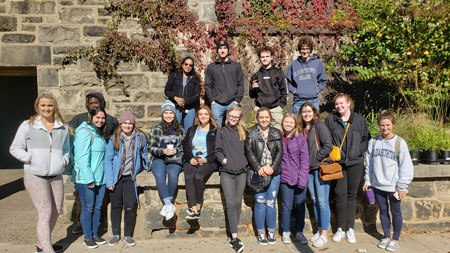 Students from the "Criminology" course visiting the Eastern State Penitentiary in Philadelphia — an annual field trip that highlights the cost and impact of mass incarcertation over the past three decades and provides a historical perspective on the criminal justice system in the U.S.
Diverse Criminal Justice Courses
Our curriculum focuses on courses in Sociology, Political Science, and Social Work, in addition to their Criminal Justice courses. In addition to the course listings below, new courses are currently being created for instruction in the Fall, 2020 including "Recidivism, Reform and Re-entry" and "Restorative Justice within the Criminal Justice System." The unique focus of the major on criminal justice reform is consistent with the College's historic values of justice and peacemaking.
In addition, students who major in Criminal Justice will enroll in our two-semester research sequence that prepares them to evaluate data, write reports, document primary sources, and prepare state of the art presentations for employers, public audiences and graduate programs. This sequence is nationally known for its excellence in preparing students with a set of research and writing skills that will make them competent on Day One of their employment or graduate experience.
As a Criminal Justice major, you'll have the opportunity to take courses such as:
AN 363 - Forensic Anthropology
PS 211 - Political Psychology
REL 103 – Religion and Violence
SO 217 - U.S. Criminal Justice System
SO 220 – Race and Ethnic Relations
SO 352 – Juvenile Law and Justice
SW 366 - Addiction and Society
Professional Experience Guaranteed
Our Criminal Justice curriculum requires students to complete at least one internship within the field. Internships encourage students to explore specific career interests, network with professionals and build their resumes. Internships also give students the opportunity to see how their coursework applies to real-world situations.
Criminal Justice Outcomes
After completing our Criminal Justice degree in Pennsylvania, students will be ready to enter a variety of careers in several industries. Our program prepares you for careers in:
Corrections
Government Agencies
Homeland Security
Law Enforcement
Security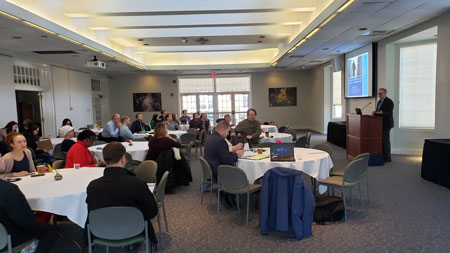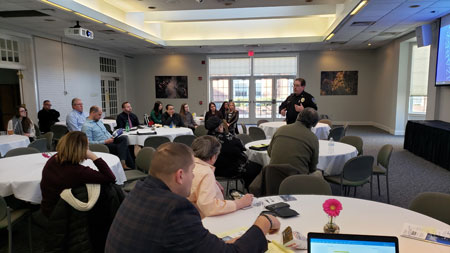 The Department of Sociology sponsored a workshop with local government and non-profit partners of the Lancaster County Re-entry Coalition who gathered on campus in January, 2020 to hear Dr. Derek Kreager from the Penn State Criminal Justice Research Center share his work on opioid addiction and recovery efforts. Chief of Police Ed Cunninghman who teaches in the Criminal Justice program also shared his opioid reform program that is being adopted by other police departments.