Decision-Making Through Data
Data Science focuses on the organization, storage, and analysis of large sets of data. Elizabethown College's Data Science program places a strong emphasis on the ability to communicate insightful results to a broad range of audiences in order to prepare you for careers in a variety of different fields. The demand for skills in data science has increased dramatically, making job candidates with a Data Science bachelor's degree particularly appealing to employers.
As a Data Science major, you'll take foundational courses in computer science, mathematics and statistics, as well as courses that involve a variety of supervised and unsupervised machine learning techniques.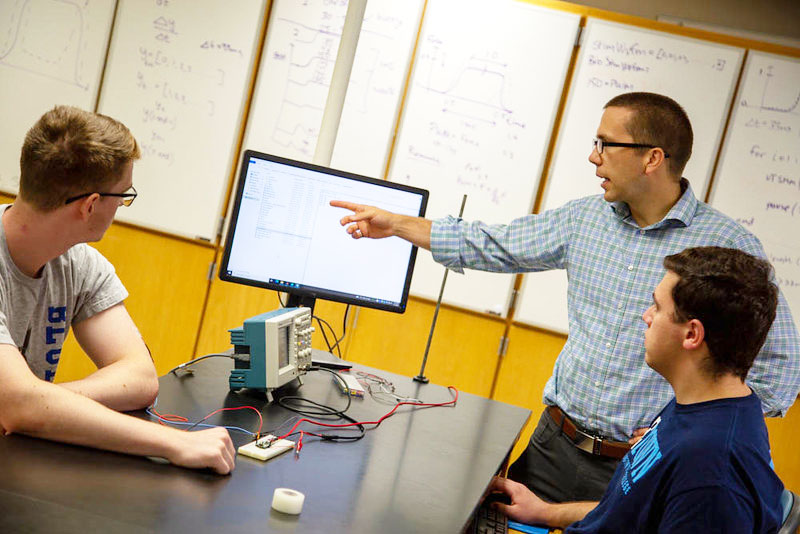 What can I do with a degree in Data Science?
With a Data Science bachelor's degree, you'll be prepared to extract, synthesize, and interpret data in a business or governmental setting as a data analyst, data administrator, data scientist or statistician. While data science is still a new and emerging career field, employers are increasingly recognizing the value of professionals with this expertise. The median salary for data scientists is $100,910 according to U.S. News & World Report.
Practical Skills for real-world solutions
Our program is focused on providing practical skills. Our students benefit from real-world learning experiences within their coursework. As a senior, you'll take a Data Science capstone course where you'll apply the skills you've learned to solve real-world problems. You'll receive hands-on learning as you strategize with real businesses and nonprofits outside of the College. Throughout the capstone, you'll be challenged as you test your knowledge and practice your ability to communicate your interpretations to executives.
Preparation for the future
A few of the many companies where our students have been hired for jobs or internships in Pennsylvania include Cargas Systems, Trifecta Technologies, Raytheon, Lockheed Martin, Pratt & Whitney and Phoenix Contact. On the national level, our students have secured jobs or internships at some of the most competitive companies and organizations, such as Amazon, Google, the National Security Agency (NSA), NASA and NCIS. Our department has nearly 100% job placement for our students immediately after graduation.
Professional Development outside the classroom
The Etown Computer Science (CS) Club is a student-led group that meets two hours each week for a number of activities. The CS Club hosts technical talks, resume preparation and mock interview sessions, and game nights in addition to providing a place for students to come together to work on their own projects. Members of the CS Club practice programming problems and send teams to compete in the annual ACM International Collegiate Programming Contest as well as regional programming competitions.  
Data Analytics Minor
Our Data Analytics minor is designed to provide students with an overview of big data, one of the most prominent, in-demand and growing fields. You will gain the ability to manage, process, analyze, and interpret data through taking a variety of courses, across several fields, in preparation for a career in a business environment. Our Data Analytics minor provides a unique curriculum that integrates courses from the business, computer science, and math departments, allowing you to gain a well-rounded perspective on the applications of data analytics.
READY TO BECOME A BLUE JAY?