Across
campus
News & notes about great things happening on campus.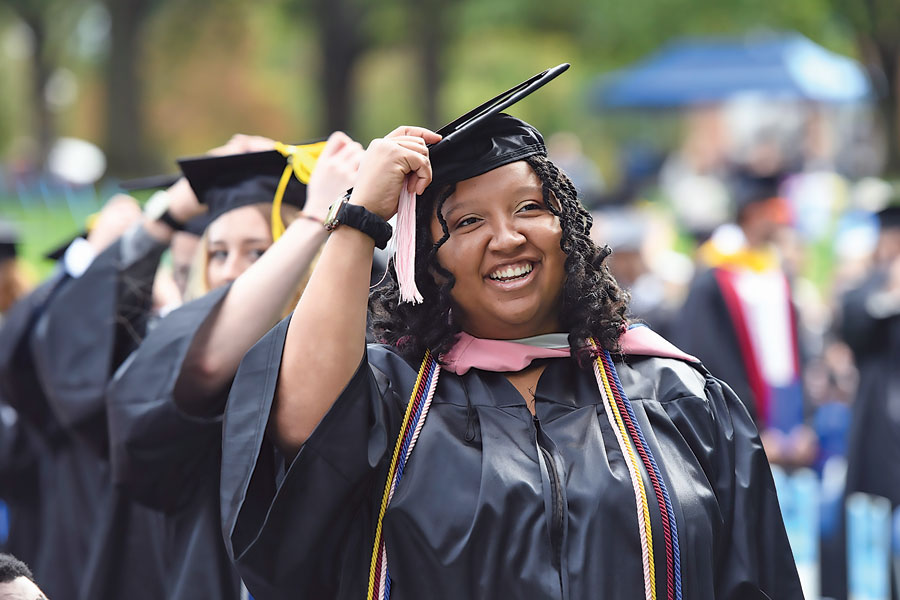 Commencement 2020
The Class of 2020 was honored during the 2021 Homecoming & Family Weekend on Sunday, Oct. 17, held with the institution's traditional exercises in The Dell. It was a special day for graduates and families who were finally able to share the momentous occasion since commencement was postponed for the Class of 2020 due to the COVID-19 pandemic.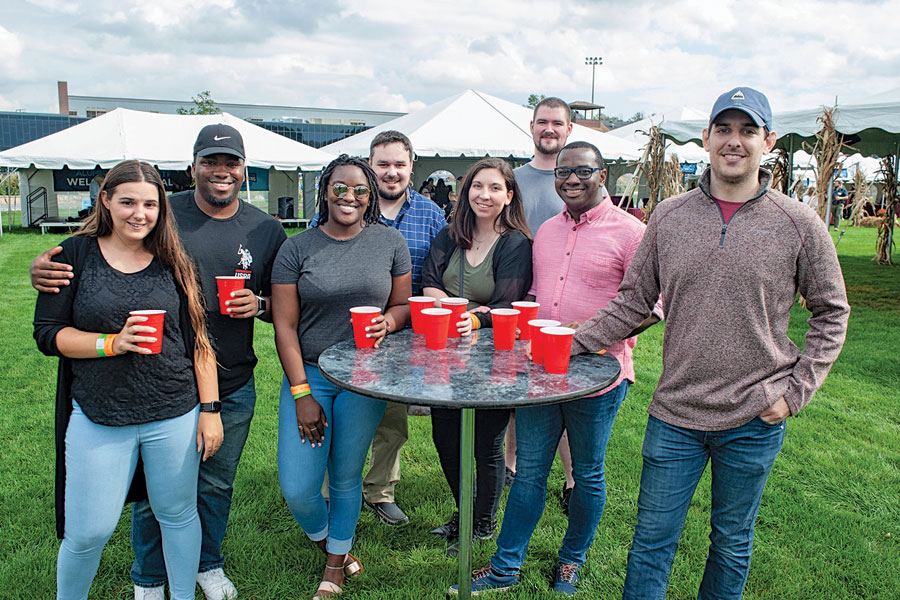 2021 Homecoming & Family Weekend
Elizabethtown College welcomed thousands of alumni and families who traveled from 22 states for the 2021 Homecoming & Family Weekend. It was a wonderful weekend for alumni and friends of the institution to reconnect and enjoy Blue Jay traditions after a year of postponed gatherings.
Awards & Achievements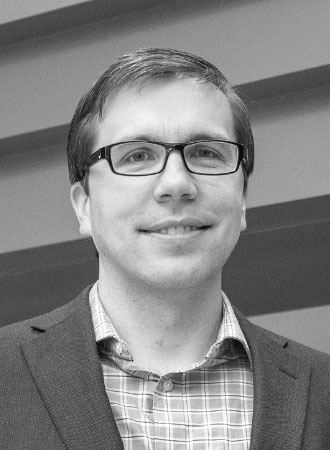 Mark Brinton
Assistant Professor of Engineering & Physics, received a Faculty Travel Award from the Biomedical Engineering Division of ASEE. As a result of this award, Dr. Brinton attended the annual meeting for ASEE over the summer, where he learned from and networked with leaders in engineering education from across the United States and Canada.

"Attending the conference has connected me to a community of support as I seek to improve my engineering education research and present my findings at future professional meetings," said Brinton.
OYA DURSUN-ÖZKANCA
Director of the Honors Program and Professor of Political Science and International Studies, was on sabbatical for the fall 2021 semester, serving as a Visiting Scholar at Harvard University's Weatherhead Center for International Affairs.
Dr. Dursun-Özkanca's research in this prestigious position focused on regional peace and stability in the Eastern Mediterranean.
"This research fosters theoretical debate on emerging regional competition and intra-alliance opposition, holds policy relevance, and appeals to broad audiences due to both an increased spotlight the Eastern Mediterranean region receives in the media and the policymaking world, and the changes in the international and regional balance of power," said Dursun-Özkanca, who was named the inaugural recipient of the Kreider Prize for Teaching Excellence in 2015.
During her time at Harvard, Dursun-Özkanca also worked on her third solo-authored book manuscript. Dursun-Özkanca's first solo-authored book, "Turkey–West Relations: The Politics of Intra-alliance Opposition," was published in 2019, while her second book, "The Nexus Between Security Sector Governance/Reform and Sustainable Development Goal-16," was published earlier in 2021.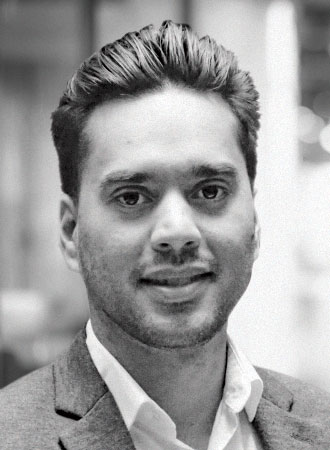 JEAN BATISTA ABREU
Assistant Professor of Engineering & Physics, received the 2021 Ferdinand P. Beer and E. Russel Johnston, Jr. Outstanding New Mechanics Educator Award. This award is given annually by the Mechanics Division of the American Society for Engineering Education (ASEE) to recognize early-career faculty who demonstrate a strong commitment to teaching with evidence of exceptional contributions to engineering mechanics education.
Dr. Batista Abreu was presented the award at the virtual Mechanics Division Awards event, which was held as part of the 2021 ASEE Virtual Conference. In addition to this year's virtual recognition, an in-person recognition will take place at the 2022 ASEE Annual Conference, during the Mechanics Division Banquet.
These latest accolades continue an impressive tradition of Etown Engineering faculty being recognized at the annual education conference, as three additional Blue Jay professors won competitive awards at the ASEE in recent years.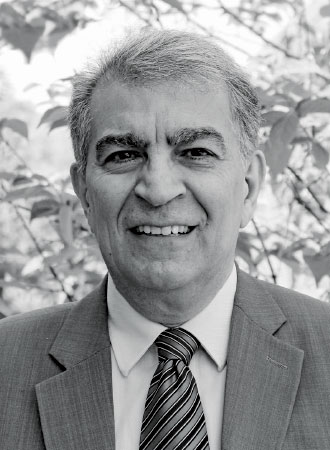 Hossein Varamini
Turnbull- Jamieson Chair and Professor of Finance and International Business, Director of International Business, has been named the recipient of the 2020-21 Polanowski Prize for Excellence in Faculty-Student Advising and Mentorship. The Professional Development Committee chose Dr. Varamini from nominations submitted by members of the Elizabethtown College community including students, faculty, staff, and alumni.
The selection committee noted that Dr. Varamini's positive impact on Elizabethtown College students through his mentoring and advising deserves recognition and celebration.
Judy Beck Ericksen
Associate Professor of Occupational Therapy, has been named the recipient of the 2020-21 Kreider Prize for Teaching Excellence.
Nomination letters submitted by alumni, students, faculty, and staff described Dr. Ericksen as a great listener who takes time to get to know her students holistically. She builds trust with her students, allowing them to feel heard and valued. In addition to her patient listening, students and alumni described her support and encouragement and its impact on their lives, stating, "She sees the potential in students and knows exactly what to do and say to access that potential." Dr. Ericksen's primary clinical background is in school-based practice/pediatrics and mental health.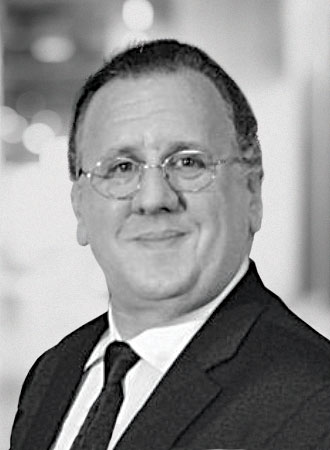 Jeffery Long
Carl W. Zeigler Professor of Religious Studies, has been named the recipient of the 2020-21 Ranck Prize for Research Excellence. The Professional Development Committee chose Dr. Long from nominations submitted by faculty peers.
Dr. Long is commended for his outstanding scholarship record, including the authorship of three books, two of which were published in 2020, "Hinduism in America: A Convergence of Worlds" and the second edition of "Historical Dictionary of Hinduism." He also has written several scholarly articles, editorials, and blogs and edited or coedited several volumes on Hinduism. He has also been invited to speak at a number of prestigious venues, including the University of Chicago, Yale University, Princeton University, and an interfaith conference in New Delhi.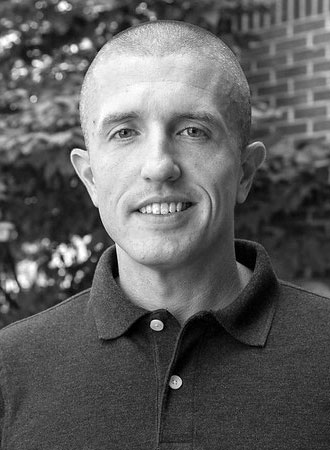 Jeffrey A. Rood
Professor of Chemistry and Department Chair, is the recipient of the Honors Program Outstanding Professor Award.
"He is a thoughtful and intelligent teacher who clearly cares about what he teaches, and it shows during his class time," remarked the Student Council. "He is considerate of his students' time and understands how to work to meet every students' varying needs."
Rood shared, "I'm honored to receive the Outstanding Professor Award and thankful to the Honors Council for thinking of me for this recognition. Working with our students is the best part of my job, and I am grateful to have had the opportunity to engage with outstanding students in the Honors Program in various ways over the years."
He teaches coursework primarily in introductory and inorganic chemistry and currently serves as chair of the Department of Chemistry & Biochemistry.
Bringing the Campus Together Through Books
THE EDUCATION DEPARTMENT'S BOOK CLUB IS OPEN TO ALL MEMBERS OF THE BLUE JAY COMMUNITY AND THE PUBLIC.
Book clubs are a great social setting for friends, colleagues, or even complete strangers to come together over a common topic. They provide a structured space for dialogue on a given subject and an opportunity for people to learn more about others through their views, opinions, and understanding of literature.

As a former middle school and high school literature teacher, assistant professor of education Kathryn Caprino knows the doors discussing books can open up. When she arrived at Etown, she worked to get a book club about middle-grade texts organized in her department. The book club has had many iterations, from face-to-face meetings to online chats.

In 2020, when the pandemic emerged, Caprino thought of a way to expand the book club beyond students in the Education Department. She wanted students outside of her department, staff, faculty, and alumni to join. She also wanted to include more titles written for adults.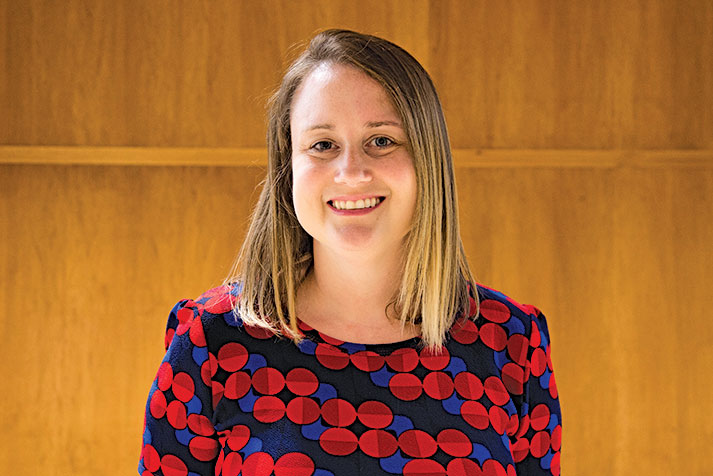 "The whole idea of the Etown College Reads Book Club is to create
a community for book lovers at Etown."
—KATHRYN CAPRINO,
ASSISTANT PROFESSOR OF EDUCATION
"The whole idea of the club is to create a community for book lovers at Etown," Caprino said. "We love that our education students participate, but we would also like to expand the group and create a reading community across campus and beyond."

The club became open to the community in October 2020 and welcomes faculty, staff, students, and alumni. Caprino announces the featured book selection and invites anyone interested to come together for a discussion on Zoom.

Caprino also has expanded the book club to Twitter. With this innovative twist, readers can share their thoughts in real time or keep the discussion going outside of the Zoom meet-ups using the hashtag #EtownCollegeReads.

"Especially in a time when our campus and the world feels so disconnected by the global pandemic, this is a small way of bringing our community together," Caprino says.
To join Etown College Reads, visit us on Twitter with #EtownCollegeReads, or email us.
The gift
Of Life
Kristin Kurjiaka '18 met Professor of Social Work Dr. Peggy McFarland in her sophomore year at Elizabethtown College while taking Peggy's Introduction to Social Work course. The class made such a deep impact on Kristin that she soon after decided to switch her major from Music Therapy to Social Work.

"From the first class, I knew that Social Work would be a good fit for my interests," Kristin explained. "Looking at the code of ethics we use and the importance of social justice and advocacy, it really aligned well with my own values and my own interests."

Peggy went on to become Kristin's faculty advisor and mentor, and the two grew an even closer mentorship during the summer before Kristin's senior year when she began interning at Elizabethtown Community Housing and Outreach Services (ECHOS). Peggy, who helped spearhead the formation of ECHOS in 2016, serves on the board of directors for the social services center that assists individuals and families in need of stability. The two continued to grow a friendship, crossing paths during another one of Kristin's internships at the retirement community, Masonic Village, located in Elizabethtown and where Peggy also worked as a PRN social worker.

"We found that we had many of the same values and goals for our lives as social workers," Peggy said. "Kristin is one of the most gifted social work students I have ever met. Our relationship changed from her being my student to being my friend."

Following 27 years of service at the College, Peggy retired from Etown's Social Work Department in 2017 due to the fatigue she was experiencing from her early stages of kidney failure. She was in need of a transplant — no simple task — considering that the national waitlist contains around 93,000 people and that it takes an average of five to eight years to receive a kidney.

When Kristin learned of her former Etown professor, advisor, and mentor's situation, she immediately began researching the process of becoming a living donor.

"She certainly didn't ask for anyone's kidney, but it's something that I had thought about before, but not seriously because I didn't know anyone who needed one," Kristin explained. "When I told her that I would be willing to donate to her, I don't think she believed me at first, but I said to her, 'No, Peggy, seriously. I will get tested to donate a kidney.'"

She spent the next several days looking into the procedure and consulting with her family about the potentially life-changing decision. Kristin researched the process and learned that her O blood type made her a universal donor for kidneys, overcoming one of a long line of hurdles in determining if she was a viable candidate. Soon after discovering this, Kristin made the decision that she wanted to be tested.

Kristin's extensive testing process began in the summer of 2019 and included countless EKGs, CAT scans, bloodwork, and meetings with psychiatrists, nephrologists, and, fittingly, many visits with social workers.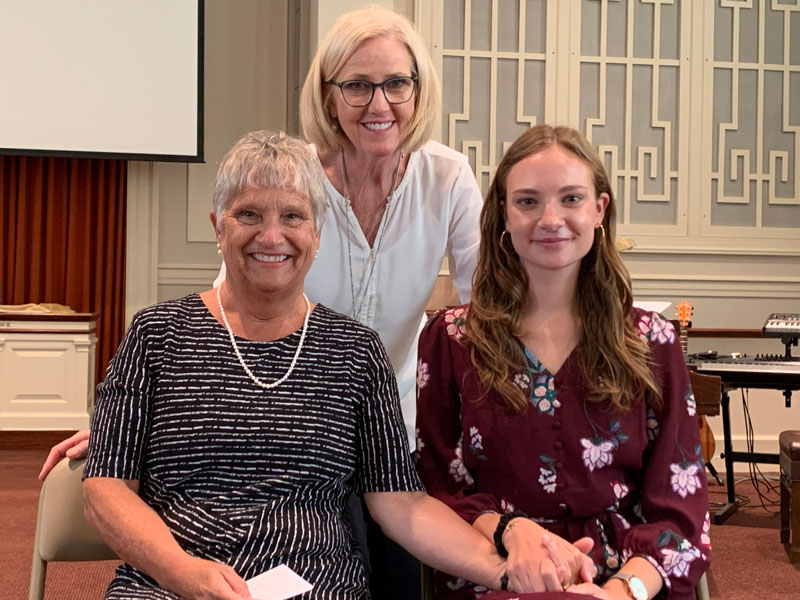 "That's really what she gave me, she gave me the gift of life. We'll be connected forever. Our families have become close as we shared this experience together. I see Kristin as my special angel."
— PEGGY MCFARLAND, RETIRED ELIZABETHTOWN COLLEGE SOCIAL WORK PROFESSOR
"There was a lot of educating on the process, the risks, everything that's involved, to make sure that you truly want to go through with this," Kristin said. "I think because I'm young and because Peggy and I aren't blood-related that they just wanted to make sure I know what I'm doing, I know the risks, and I'm able to make this decision."

In spring 2021, Peggy's numbers dropped low enough that it was determined she would need dialysis without a transplant. The surgery was scheduled for July 15, 2021, at the Hospital of the University of Pennsylvania.

"We literally walked up together to the hospital, and it was just amazing," Peggy said. "No one could believe that she had been my student and that this young person was donating her kidney."

Kristin underwent robotic laparoscopic surgery, which is considered less invasive, and was released within a few days. She suffered initial bouts with fatigue during her recovery process, and it took some time for her breathing to improve enough for long-distance walks. However, Kristin feels mostly back to normal and expects to be fully recovered by the one-year mark.

"It was nice having someone to recover with," Kristin said. "That's pretty unusual. Typically, if you have surgery, you're on your own. But we were able to have weekly phone calls, give each other updates on how we're doing and how the recovery is going, share our scar stories, and motivate each other to keep exercising."

Peggy has experienced a lengthy recovery that has included the need to take 28 pills a day, along with five injections of insulin when she returned from the hospital. She jokingly hoped that along with Kristin's organ, she would also receive some of her high IQ from the transplant. Given Kristin's academic accomplishments, including a Master's of Social Work (MSW) degree from Columbia University and her current position as an adjunct faculty member in Etown's Social Work Department, Peggy's wishful thinking is understandable.

In the end, Peggy is incredibly grateful for the gift of a longer life that Kristin gave her.

"When I think about Kristin, I think, 'How do you thank someone for the gift of life?,'" Peggy said. "That's really what she gave me, she gave me the gift of life. We'll be connected forever. Our families have become close as we shared this experience together. I see Kristin as my special angel."

"If I had everything to do over, I wouldn't have changed anything," Kristin said. "I think donating my kidney is a small sacrifice to give to increase someone's quantity and quality of life. I know that Peggy has a lot more to give to the world."

The two are interested in eventually sharing their story by speaking to community groups and encouraging the public to explore the possibility of becoming a living donor.

"We're hoping to get involved with outreach to try to make people more aware of the need," Peggy explained. "Kristin can talk about her experience and how it worked for her, and I can talk about the fact that I'm alive because of Kristin."

"We just think that we would make a great team," Peggy said.
Introducing
etown's human performance laboratory
the region's first public HPL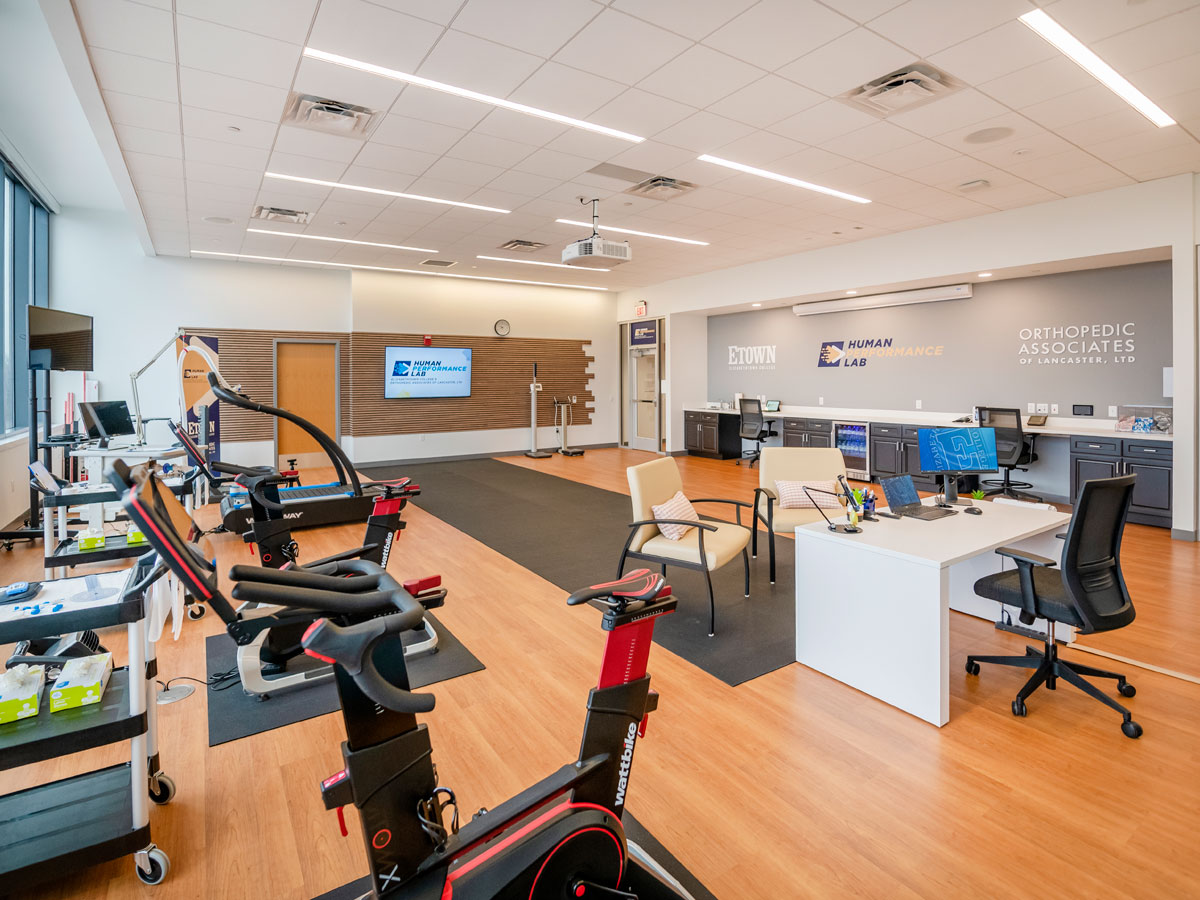 Elizabethtown College and Orthopedic Associates of Lancaster, LTD (OAL) launched a Human Performance Laboratory (HPL) located in the Bowers Center for Sports, Fitness & Well-Being on Etown's campus in the fall of 2021. The HPL serves as a dynamic space for sports medicine and exercise science testing, evaluation, and performance and is open to the public. Through personalized attention, comprehensive analysis, and a customized pathway to personal improvement, the HPL is fully equipped with the expertise from highly trained professionals utilizing state-of-the-art equipment to evaluate every aspect of a client's health and well-being. Elizabethtown College students in the institution's Exercise Science program will conduct classes and research in the HPL for experiential learning opportunities to enhance the educational process.
the value of
Etown
PRESIDENT BETTY RIDER DISCUSSES TRANSITIONAL LEADERSHIP, GROWTH, OPPORTUNITY, AND THE COLLEGE'S FIVE-YEAR STRATEGIC PLAN.
In January 2022, Elizabeth "Betty" A. Rider was named transitional president by the board of trustees following the announcement that Cecilia M. McCormick, J.D., was resigning to focus on her family and well-being.

"We chose the term 'transitional president' to communicate President Rider's role over the next 18 months as furthering the momentum and outstanding accomplishments we've already achieved at the institution over the last three years," Elizabethtown College Board of Trustees Chairman Ed Lovelidge '82 said.

It was a natural fit for the longtime Provost and Senior Vice President for Academic Affairs (SVPAA). President Rider brings more than 30 years of institutional knowledge to the role and is a graduate of Gettysburg College and Vanderbilt University, and completed Harvard's Institute for Educational Management.
"We are reaching a pivotal moment at the institution as we celebrate tremendous growth and success and launch our new five-year strategic plan with its focus on dynamic and relevant education for all learners, inclusive excellence, and sustainable growth."

— ELIZABETH "BETTY" A. RIDER
Rider was a member of the Senior Leadership Team that has helped to lead as the institution's enrollment increased by more than 10 percent for two consecutive years; launched the institution's new marketing and branding; opened the Bowers Center for Sports, Fitness & Well-Being facility; and created strategic initiatives toward developing long-term financial stability.

As provost and SVPAA, President Rider specifically restructured academic programs, formed the creation of Schools at the institution, established new five-year programs in Physician Assistant (PA) Studies, Registered Nurse to Bachelor of Science in Nursing (RN to BSN), and expanded the College's renowned Occupational Therapy (OT) program.

Over the past year and a half, Rider has led the academic side of the house with other engaged campus leaders to collaborate in a joint effort to boldly pave the way for the creation of the community's new five-year strategic plan, which was adopted late last fall by the board of trustees.
The
Four Pillars

of etown's strategic plan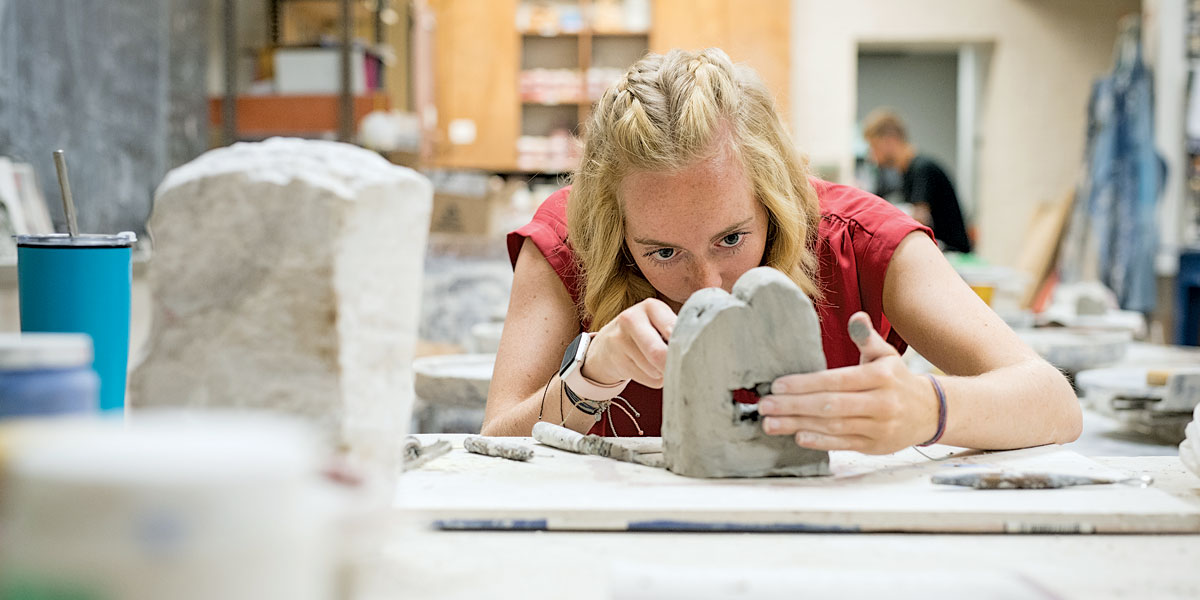 1. DYNAMIC AND RELEVANT EDUCATION
Promote a dynamic academic environment to support outstanding student outcomes that develop lifelong reflective learners and socially responsible citizens who bring value to their community and workplace.

Example: Answer workforce needs and, at the same time, build human beings to their highest potential to contribute to the local community.

By developing a core curriculum that capitalizes on the transferrable skills of Etown's liberal arts foundation, the strategic plan has goals to offer students optimal opportunities to shape their careers through impactful work here in our local community and out in the world.

Through this focus on academics, the College intends to launch new or expanded programs that better meet student and employer demand, including more accelerated degree program offerings and the option of micro credentialing to increase professional development opportunities.

Innovative, dynamic, and advanced pathways will be developed to help Etown students excel by providing a more holistic game plan toward career options. The College will also aim to offer more hands-on, experiential learning opportunities on- and off-campus to enhance students' professional skills and lifelong knowledge.
To increase the equity and accessibility of an Etown education, the plan proposes determining an appropriate mix of course learning modalities—online, on-campus, and hybrid—to suit students' changing needs. The College also seeks to enroll more students from non-traditional geographical markets and marginalized communities, as well as first-generation learners.
"I am excited to work closely with the Senior Leadership Team, the board, the faculty, students, and staff to continue to elevate the mission of the College and its academic excellence."
— BETTY RIDER, PRESIDENT
The end goal of an Etown education is a fulfilling and stimulating job that contributes to the global citizenry. To achieve this mission, the Career Development Center will expand it external focus on strong corporate and organizational partnerships and improved processes to increase postgraduation placement rates. The College also aims to increase its six-year graduation rate to 80 percent by 2026.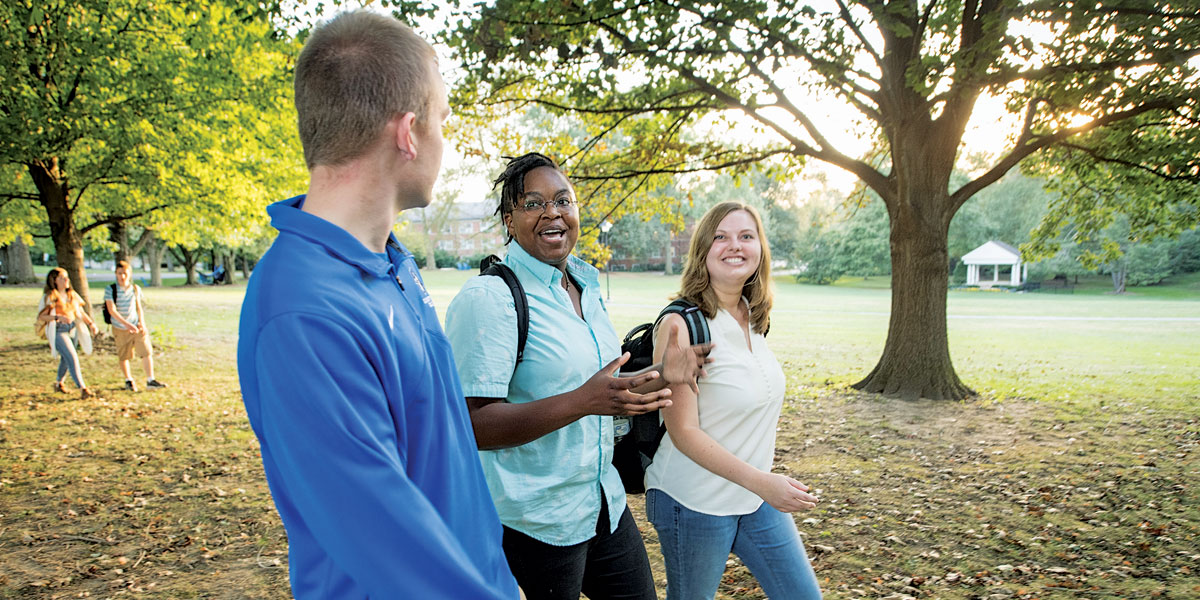 2. INCLUSIVE EXCELLENCE
Create a culturally vibrant campus community that values diversity, equity, and inclusion (DEI), where all community members achieve a sense of belonging.

Example: Achieve a set system of policies, practices, and processes to be better aligned with equity and belonging in all our decision- making at the institution.

To become a living example of a socially just institution, the new strategic plan aims to integrate equity, inclusivity, and diversity initiatives into all dimensions of the College. This starts by implementing a three-year plan to ensure each major has a DEI component. In addition, the College intends to define diverse, equitable, accessible, and justice (DEAJ) learning outcomes for activities both in and out of the classroom, as well as create an annual DEAJ professional development program for employees and student leaders.

To foster a genuine sense of belonging throughout the Etown community, the strategic plan intends to establish affinity groups for faculty and staff, as well as launch DEI assessments to determine needed services and support for community members with underrepresented identities.
"I am excited by opportunities to imagine the Etown experience in new ways, deepening the strengths of our education and openning new opportunities and new learning communities."
— KEVIN SHORNER-JOHNSON
DEAN, SCHOOL OF ARTS AND HUMANITIES
The College will further dedicate itself to increasing the representation and retention of historically marginalized groups among students and employees through the development of new pipeline and mentorship programs for BIPOC (Black, Indigenous, and People of Color) students. The Office of DEI and Human Resources will also collaborate on developing more equity-minded hiring processes and training to work toward aligning Etown's BIPOC faculty and staff numbers with BIPOC student numbers by fall 2026.

An important part of inclusion at Etown is allyship. Through DEAJ training and certificate programs, increased cultural events and campus programs, and the establishment of a Coordinated Community Response Team focused on sexual violence and stalking, the College seeks to collaborate with underrepresented communities so that we may work together to make meaningful social change.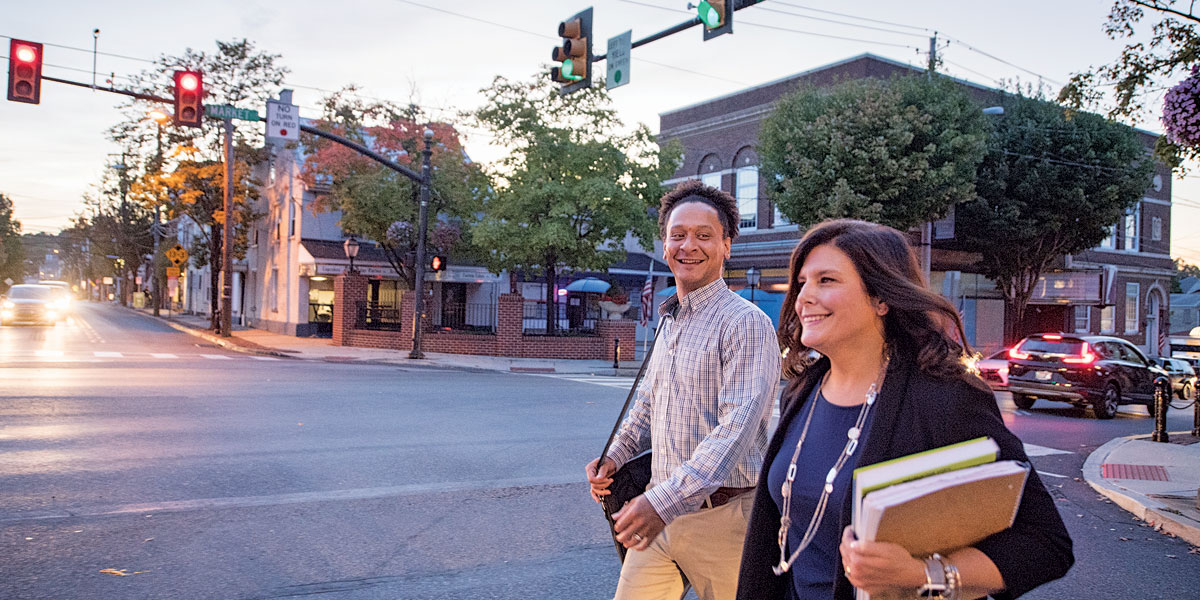 3. ANCHOR AND PARTNER INSTITUTION
Strengthen surrounding communities by building capacity and maximizing partnerships to create significant economic and social impact.

Examples: Develop strategic partnerships and an institute to better society. Build a college town.

Etown's campus motto, Educate for Service, drives our mission that is built on serving others in positive ways. The new strategic plan solidifies the College's aim to become the destination of choice for those seeking future careers with deep positive impact and a lifetime of engaged citizenship through experiential learning.

The plan strives to connect Etown more deeply to our surrounding community by spearheading activities that provide for economic and community development in Elizabethtown, uniting us as one vibrant college community.
To become a leading institution engaged in high-impact projects to better serve our world, the plan proposes creating a dedicated social impact institute by combining existing programs and centers with new resources. To further advance Etown's role as a leader in the region, the strategic plan seeks to boost economic growth in the area and encourage family-run companies.
"It is my hope to have the Etown campus and surrounding community collaborating on community and civic engagement and form a relationship that benefits both the community and the campus. We can do so much more together!"
— JAVITA THOMPSON
DIRECTOR, CENTER FOR COMMUNITY & CIVIC ENGAGEMENT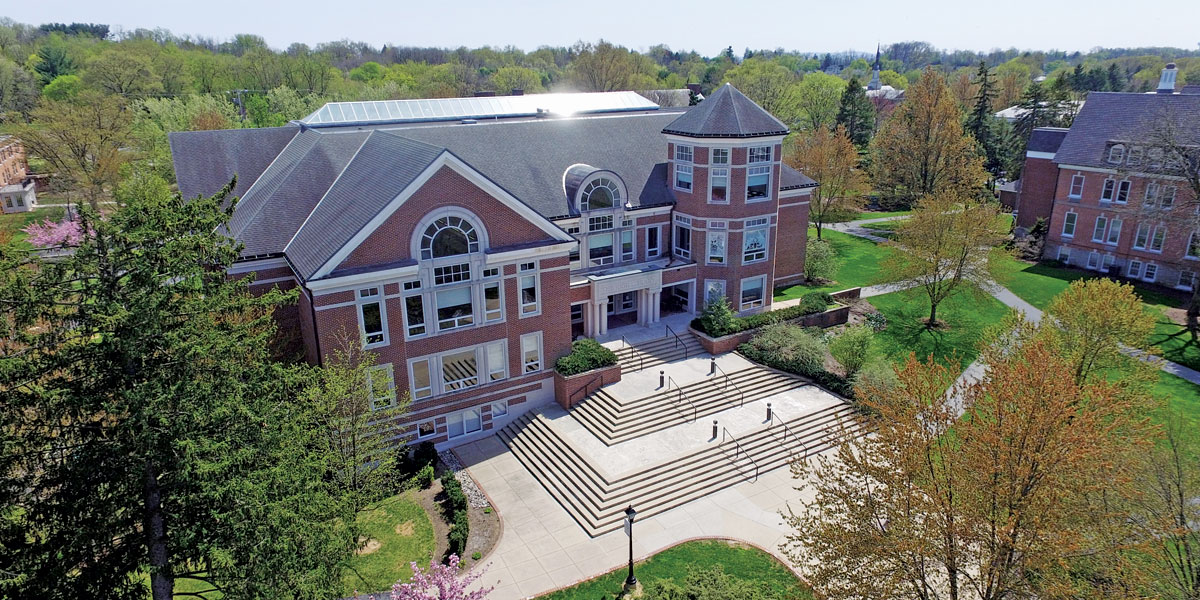 4. SUSTAINABLE GROWTH
Transform the financial model to become a thriving institution by leveraging core strengths, building capacity, and embracing growth initiatives.

Examples: Create a healthier fiscal future. Build a highly talented workforce and strengthen workplace/professional skills to advance the institution.

The plan seeks to grow additional revenue by 2026 through alternative means, such as facility rentals, new programs, and increased philanthropic support. Another aspect of financial stability is the optimization of the College's finances through ongoing financial performance reviews across all units, modifying budget carryover policies to incentivize frugality, and strengthening stewardship over campus infrastructure.
By making its budget go farther, the College can use additional funds where they matter the most: in attracting, retaining, and cultivating high-performing faculty and staff as a first-choice employer. The strategic plan aims to improve employee compensation, update personnel policies such as tenure and promotion models to ensure equity, and improve employee benefits with a focus on health and well-being.
"This plan crafts a path to take what we have always done well–provide a transformative education–and brings us together with our community to create dynamic change on and off-campus."
— SUSAN MAPP
ASSOCIATE PROVOST FOR INSTITUTIONAL EFFECTIVENESS AND INNOVATION
BE MORE INSPIRED CAMPAIGN SURPASSES GOAL, RAISES $74.5 MILLION
$74,536,799
Total cash pledged
33.2%
Alumni who supported the campaign
159
Total established endowments,
up from 79
1,751
Campaign volunteers
10
Facility campus
improvement projects
Independent higher education in the United States is highly dependent on the support of individuals who understand the importance of maintaining outstanding colleges like Elizabethtown College. This extraordinary effort by all demonstrates the dedication and commitment of community members at Etown and the support for our College's mission of providing a transformative educational experience that cultivates personal strengths and develops a passion for lifelong learning and purposeful work.
"It is only through the significant talent and dedication of a bright team of staff, volunteers, and donors that we achieved success in the Be More Inspired Campaign."
— DAVID BEIDLEMAN, VICE PRESIDENT FOR INSTITUTIONAL ADVANCEMENT
2021
impact report
Elizabethtown College alumni, parents, faculty, staff, and community partners create meaningful impacts on the lives of students through their continued support of academic programs, financial aid, and meeting the College's greatest needs. We are proud to highlight the difference you make on Elizabethtown College—for the present and the future.
$13.56M
A new record! You made a difference in students' lives through generous gifts and commitments during the 2020-21 academic year, which set a new record!
1,511
You are so dedicated! 1,511 donors have given to Etown consecutively for five years or more.
$6.5M
Gift from the estate of alumnus Jay A. Izenour '72 to endow the Jay A. Izenour and Karen L. Izenour Endowed Scholarship Fund. It is the second-largest gift in the College's history.
breakdown of 2021 gifts
$1.25M
The Elizabethtown College Fund met Etown's greatest needs, including scholarships and financial aid.
$1.6M
Supported specific initiatives to strengthen Etown's programs and activities.
187 Members
The J.G. Francis Society provides a source of strength for students and programs. Including Etown in your estate plans ensures your lasting legacy of support.
$74.5+M
The Be More Inspired Campaign exceeded campaign goals through your dedication and unwavering support to strengthen the Etown community.
$125,000 Grant
Elizabethtown College was awarded a $125,000 grant to promote justice, diversity, and career building on campus. Funded by the Lancaster County Community Foundation's BB&T now Truist Economic Growth Fund, the grant will support Pathways to Progress: Promoting Justice, Diversity, and Career Building.
24 Hours
On the Power of One Day, in just 24 hours, our Blue Jay community came together to raise nearly $500,000 from 1,801 donors — both new Power of One Day records!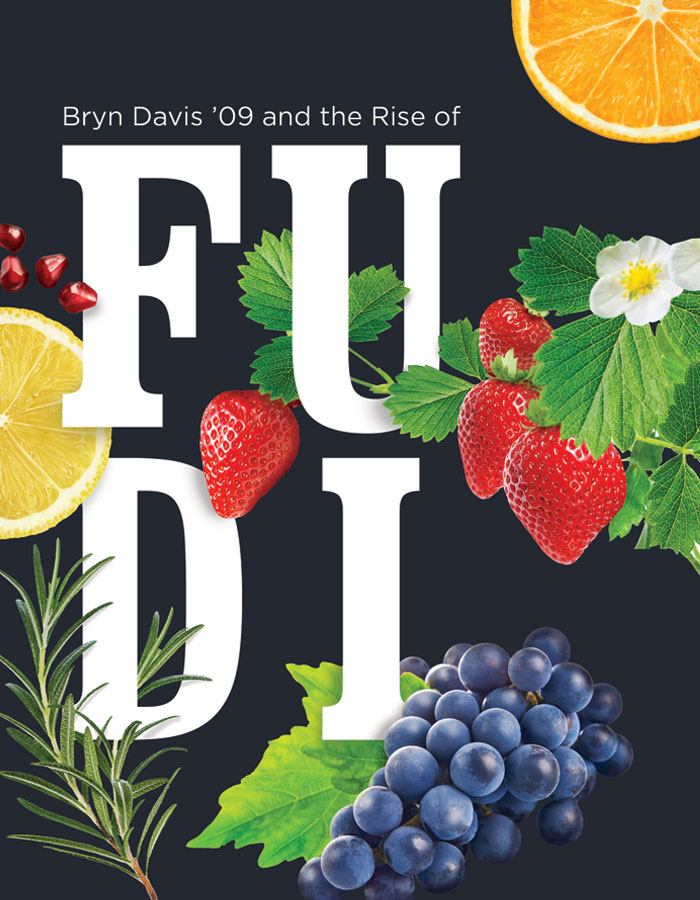 What do you do when you're a successful entrepreneur with more than a decade of experience developing and leading an emerging multi location eatery chain and a global pandemic paralyzes the industry for an extended period of time?

If you're alumnus Bryn Davis '09, you recognize potential opportunities and use them to your advantage.

Following his Etown graduation in 2009, Bryn set out with his Business Administration–Marketing degree, an abundance of grit, and a special dream to transform the fast food industry. Bryn's own journey with health and wellness — along with his vision that eating tasty and nutritious food should be both possible and convenient — led him to create BRYN + DANE'S fast-casual restaurants. What began with these ideals and an initial investment of $12,000 grew throughout the 2010s into a company with more than 100 people and three different locations throughout the Philadelphia region.
cue 2020.
Ripple effects from the global pandemic cascaded all throughout the restaurant industry and yielded inevitable and innumerable challenges. Yet, while Bryn was working hard to maintain BRYN + DANE'S, he also chose to use his trying time as an opportunity to refocus and develop a new and expanded vision.

That dream has become reality, as Bryn recently led his company into a new phase with the global launch of FUDI.

Still drawing upon the same core narrative of delivering good nutrition with simplicity, FUDI now also inspires the ideals of opportunity and access when it comes to its mission. In addition, FUDI features a 100% plant-based menu with no meat or products derived from animals, as well as a commitment to help address issues of food scarcity and food insecurity.
"FUDI features a 100% plant-based menu with no meat or products derived from animals, as well as a commitment to help address issues of food scarcity and food insecurity."

– BRYN DAVIS '09
FUDI's first official fast food restaurant opened in Entebbe, Uganda, in March, with four other locations opening throughout the Philadelphia area in the weeks that followed. Featuring both traditional restaurant facilities and "ghost kitchens"—warehouse locations that focus exclusively on delivery to high-density areas—Bryn's refocused vision is taking off in unconventional ways. And he's just getting started.

According to Davis, "Choosing to seek out opportunities during the pandemic enabled us to develop our ideas for a new food concept ecosystem and brand that is better defined by its values."

As Bryn considers the future of FUDI, he has an ambitious and aggressive vision for how this food concept ecosystem of future restaurants, ghost kitchens, farms, and coffee/tea trading can make a difference in the world. Yet, his connection to a familiar and defining element of the Etown experience as a guiding principle along the way is clear.

"The College's 'Educate for Service' motto was—and remains—very relevant in my life," said Davis. "Especially when it comes to how I want to continue building and leading a successful business that positively impacts the lives of others."
Investments in diversity
ETOWN RECEIVES $3.5 MILLION IN NEW COMMITMENTS TOWARD DIVERSITY, CULTURAL AND PERFORMING ARTS, STUDENT SCHOLARSHIPS
During the 2020-21 fiscal year, Elizabethtown College received $3.5 million dollars in cash and commitments toward diversity and inclusion efforts, cultural and performing arts, and student scholarships.

Joseph A. '76 and Nancy '79 DePippo have generously pledged over $1 million to support the establishment of a scholarship to benefit U.S. citizens of color who demonstrate financial need. The generous alumni met at the College before being married. Both represented the institution through integral roles serving on committees, and Nancy served as a board of trustees member from 1991-1998.

A donation of $1.56 million was made through the estate of late friend of the College, Joan Puchaty, to establish a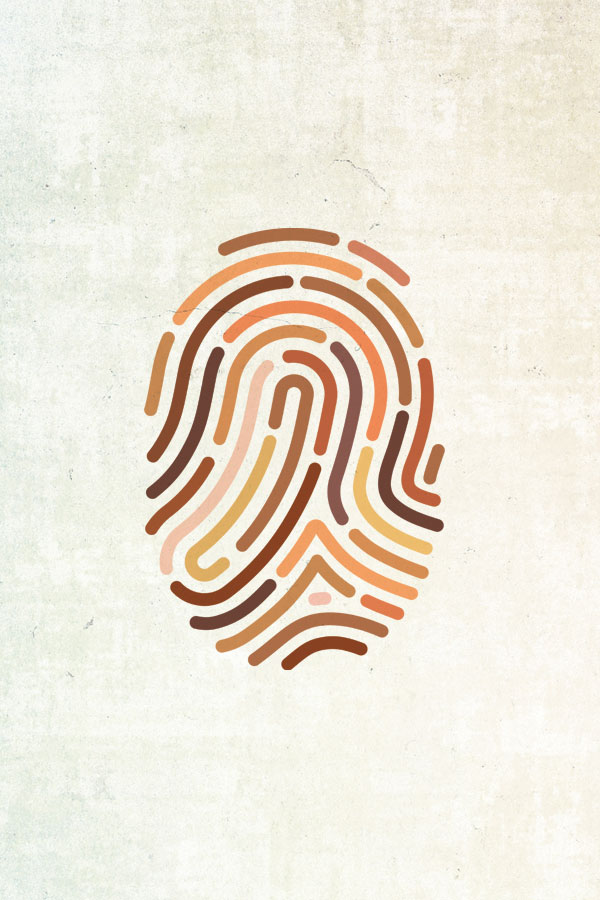 Charitable Remainder Annuity Trust, which will create an endowment in support of cultural and performing arts.

Alumnus Charles D.A. Wilson '69 gifted the College $750K. The funds will be used to establish the Leading the Way: The Wilson Symposium Fund, which aims to provide the campus community with enlightening keynote speakers, lectures, films, and musical performances.

"We are grateful to our generous donors who have invested in these important areas for our institution," David Beidleman, Vice President for Institutional Advancement, said. "Their commitment and support will make deep impacts on our students' academic and social experiences at Etown."
"We are grateful to our generous donors who have invested in these important areas for our institution. Their commitment and support will make deep impacts on our students' academic and social experiences at Etown."

— DAVID BEIDLEMAN, VICE PRESIDENT FOR INSTITUTIONAL ADVANCEMENT
women's basketball reaches a historic milestone
The Blue Jays became the second women's program in Division III to achieve 1,100 program wins. The team also advanced to the NCAA Division III tournament for the first time in more than 20 years. Congratulations, team, on a fantastic season!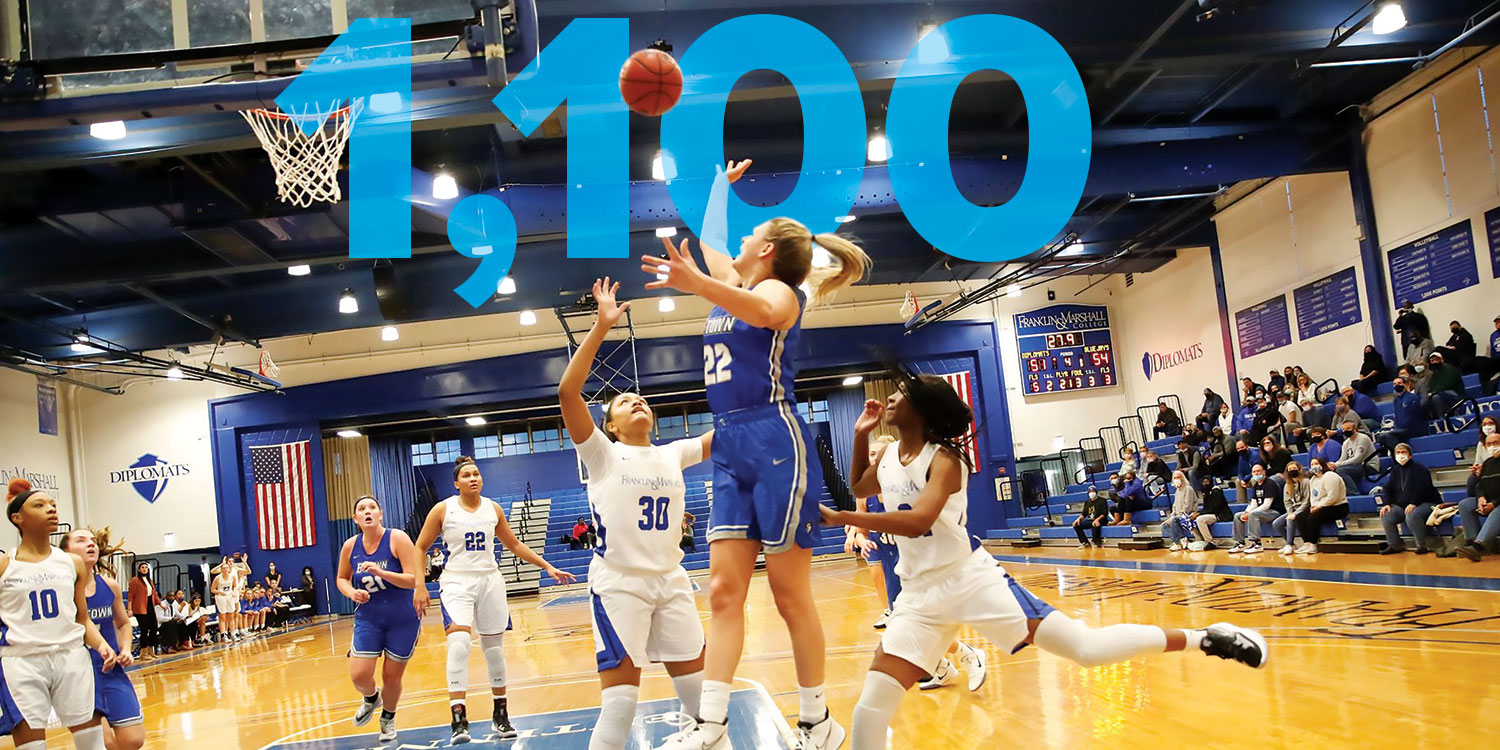 Athletics facilities
that change the game
THE ELIZABETHTOWN COLLEGE ATHLETIC DEPARTMENT HAS MADE NUMEROUS UPGRADES TO ITS FACILITIES TO IMPROVE THE STUDENT-ATHLETE EXPERIENCE.
Kathy Staib
Softball Coach Pursues New Opportunities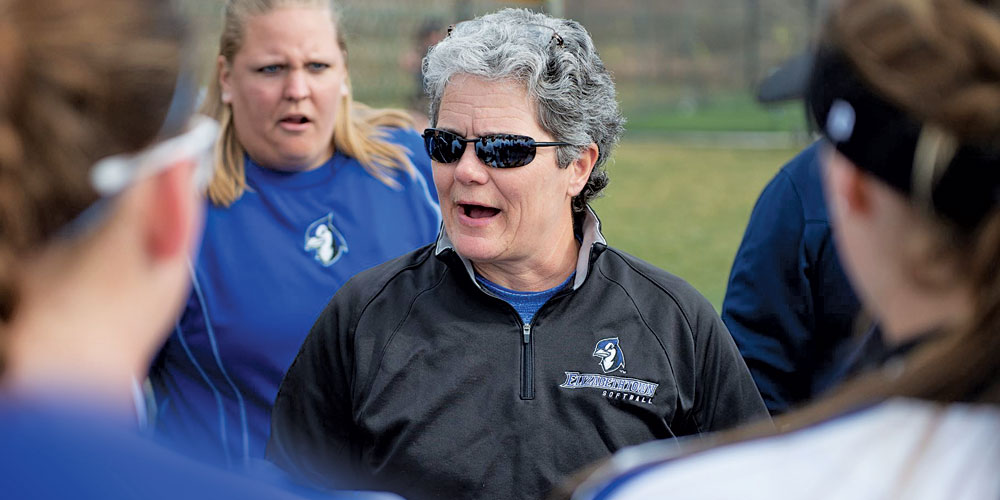 Respected on and off the field through 20 years of service to the College, Kathy Staib helped lead the Elizabethtown College women's softball team with dignity and passion. In fall 2021, Staib moved on from Etown to pursue new opportunities. The longest-tenured coach in program history, Staib is also the winningest coach in program history, compiling 219 wins overall. Thank you to Kathy Staib for her tremendous contributions to Etown! In December 2021, the College welcomed Bekah Slattery as the new head women's softball coach.
Skip Roderick
Celebrating 550 Career Wins
Elizabethtown College head men's soccer coach Arthur "Skip" Roderick '74 reached a monumental milestone in his legendary career this fall, tallying his 550th career win. Opening the 2021 season with wins over The College of New Jersey and Bridgewater College, Roderick became only the eighth coach across all NCAA divisions to reach 550 career wins. The team finished the season with a 9-6-2 record and earned a berth in the Landmark Conference Tournament for the sixth consecutive season. Few head coaches in the NCAA ranks can match the 38-year run of success that Roderick has enjoyed since taking over the Elizabethtown College men's soccer program in 1983. With a longevity in the sport
that spans parts of seven decades, Roderick is one of the most well-respected coaches in the nation. The Springfield, Pa., native has compiled a 554-164- 69 overall record. His 557 victories are eighth most in the collegiate game across all NCAA divisions and second in Division III. Roderick's .748 career winning percentage ranks 29th in all divisions and 10th among his Division III cohorts. Roderick has built men's soccer into a storied program, guiding 19 of his teams to the NCAA Division III Men's Soccer tournament, including 14 straight from 1983 to 1996. The 1989 team achieved ultimate success by winning the NCAA Division III National Championship, a 2-0 victory over Greensboro at Ira R. Herr Field.
Remembering Thomas Murray
Professor Of Biology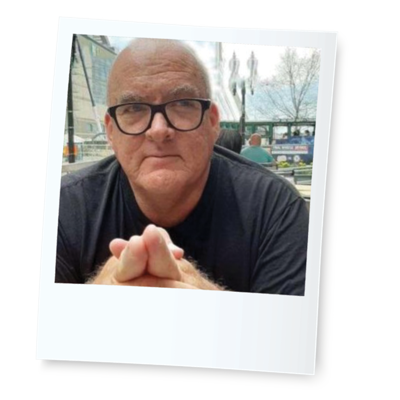 "We all learn in different ways. In a field like Environmental Science, it is important to learn not only the facts but how to apply them in the real world."
- tom murray
Elizabethtown College lost an important member, Thomas "Tom" Murray, on November 19, 2020.

Since 1994, Tom had been an integral part of the Elizabethtown College campus community. As Professor of Biology and the architect and longtime champion of the Environmental Science program, he made countless impacts on the lives of his students, colleagues, and alumni. Most importantly, Tom was a leader, mentor, and friend to all.
He taught a variety of courses throughout his career including Introductory Biology, Aquatic Ecology, Ecotoxicology, Marine Biology, and Introduction to Environmental Science (NPS with lab), and served as a First-Year Seminar instructor. A champion of undergraduate research, his work with students focused on the water quality of lakes and streams, including those in the Conewago Creek watershed. Tom truly embodied being an exceptional campus community citizen, having served on a majority of faculty or College councils and committees, and most recently had held the role as a member of the Professional Standards Committee and Judicial Council.
Tom had previously served as Biology Department chair assisting with the hiring of several current faculty members and mentoring new department chairs, offering his expertise and guidance. Tom and his colleagues truly became like family, and his bright presence will be deeply missed by so many people. Tom once shared when describing his courses, "We all learn in different ways. In a field like Environmental Science, it is important to learn not only the facts but how to apply them in the real world." It is an example of the important lifelong lessons that Tom shared that we can all apply to our own professional and personal experiences.
Contributors
President
Elizabeth A. Rider
Executive Editor
Keri Straub
Editor
Austin Crull
Creative Director
Wendy Sheaffer
Contributors
Ally Bonicker '23
Mark A. Claper '96
Wyatt Eaton '10
Lindsay Enochs '17
Zach Klinedinst '19
Casey McGarvey
Kaitlyn Miller '12 M'21
Kyle Rosen
Kathrin Havrilla-Sanchez
Brad Weltmer
Photographers
Eric Forberger
Jason Minick
Photos by staff or courtesy, except as otherwise noted.

Printed by Intellicor Communications.

Etown magazine is published on a consistent basis, with occasional special editions. The views expressed in this magazine do not necessarily reflect the policies or positions of the College. Visit etown.edu for more information about the College and its history.

Send feedback and story ideas to: magazine@etown.edu

Sustainability designed and printed to reflect Elizabethtown College's commitment to environmental stewardship.
Follow us.