Student-Directed Learning Communities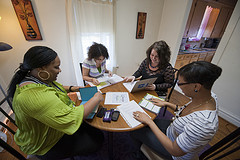 Established in 1992, the Student Directed Learning Communities (SDLC) are housing opportunities within the College-owned homes along the perimeter of the campus. They offer small groups of upper class students the opportunity to create a unique, self-directed living environment, centered on a common theme, issue, or interest through which the group is expected to share and enrich the campus community.
The SDLCs are awarded in the spring semester through a very selective application procedure coordinated by a committee of students faculty and staff. Residents are responsible for their own cooking, cleaning, and house management details. Optional meal plans are available.
---
THE 2014-2015 SDLC SELECTION PROCESS IS NOW CLOSED. Please Note: All students must have business office accounts paid in full by March 1 to register for a lottery number and participate in the housing selection process. This includes the SDLC applicants.
SDLC's are considered premium housing. Please visit the Business Office Website for more information.
---
The SDLC for the 2014-2015 year include:
Residence halls offer similar
Living Learning Communities
for students of any level.