Explore the Core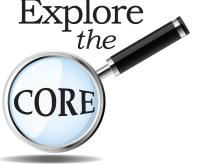 The Core Program at Elizabethtown College supports the academic goals outlined in our mission statement. No matter what your major is, the Core Program fosters intellectual growth. As you become exposed to other subject areas in the liberal arts and sciences, you will learn to connect dots across disciplines. In May 2011, CNN shared an editorial, "Why Liberal Arts Matter". This article gets to the heart of why a well-rounded liberal arts education is a solid foundation for any career.
Core Components
First Year Seminar (4 credits)
This interdisciplinary educational experience develops intellectual skills, critical thinking and writing skills and broadens definitions of learning. You'll learn multiple ways to acquire and integrate knowledge and information. With your FYS class, you'll often attend plays, talks, readings, films, exhibits, concerts, lectures and more – then discuss in weekly meetings with your class. During the registration for your First-Year Orientation, you will select your top choices for First-Year Seminar classes.
Areas of Understanding
The second part of the Core Program at Elizabethtown College is selecting courses from eight thematic areas:
Power of Language
Mathematics
Creative Expression
Western Cultural Heritage
Non-Western Cultural Heritage
Natural and Physical Sciences
Social Sciences
Humanities
Core Resources
To learn more about the Core program, visit the Core section of the College Catalog or speak to your First-Year advisor.