About the Social Work Program at Etown
Studying Social Work at Elizabethtown College means committing yourself to becoming an advocate for social change. Social workers help individuals, groups, and communities find solutions to problems in areas such as education, employment, health care, drug and alcohol abuse, child maltreatment, personal relationships, and aging. From your very first Social Work class, you are in the field working with people through service learning. At Etown, we show you how, you'll show the world.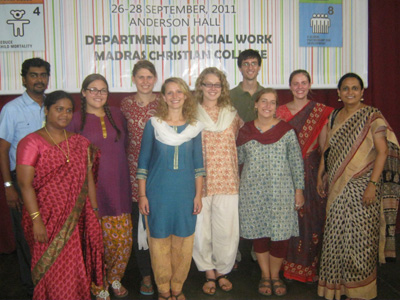 The Social Work degree program was first accredited in 1977. Our bachelor of social work  program (BSW) was one of the earliest programs to be accredited, and we have maintained continuous accreditation since then. Our students stay involved on campus and in the world by participating in numerous on campus Department clubs and activities, as well as international service and internship experiences.
We have maintained continuous accreditation since 1977, and we were one of the earliest BSW programs to be accredited.
According the Bureau of Labor Statistics, the need for social workers is expected to grow twice as fast as other occupations, especially in gerontology, health care, and substance abuse. Our students get field experience starting in their first year, and will ultimately graduate with over 700 hours in the field by graduation. This is almost twice as much as required by our accreditor, the Council on Social Work Education. This is a true advantage when it comes to applying for jobs post-graduation, as few applicants have the variety, and quantity of, experience that our graduates do.
We take to heart the College's motto of "Educate for Service." From students' very first social work class, they are working with people through service learning opportunities. In their junior year, students complete a 40-hour internship each semester where they shadow a social worker in an area of social work that they select. This allows our students to continue to get information about the different areas of social work, gain practical experience in the field, as well as network with professionals. These shadowing experiences can open up other doors for additional internships or jobs for our students.
Elizabethtown College offers both a Bachelor of Social Work (BSW) and Master of Social Work (MSW). Students can complete their degree in the traditional four years or have the option of applying to complete it on an accelerated three-year plan. That means if you qualify for advanced standing for your MSW, you could earn a bachelor's and master's degree in just four years!