Learning Zone
Learning Zone Mission Statement :
Our mission is to assist students working  toward achieving their academic goals, in an open and safe environment while demonstrating integrity, respect, confidentiality, and professionalism. The Learning Zone fosters a student-centered learning environment and provides academic and writing tutor support as well as professional academic coaching, by a coach certified in Learning Differences and Neurodiversity: Specialization in Executive Function. The coach can assist students in the areas of study skills, time management, and school/life balance.
Spring 2021 FINALS OPERATING UPDATE:
The Learning Zone physical office, BSC 226-239 is open as a quiet study area, but due to COVID restriction protocols, only 1 person in a rooms at a time.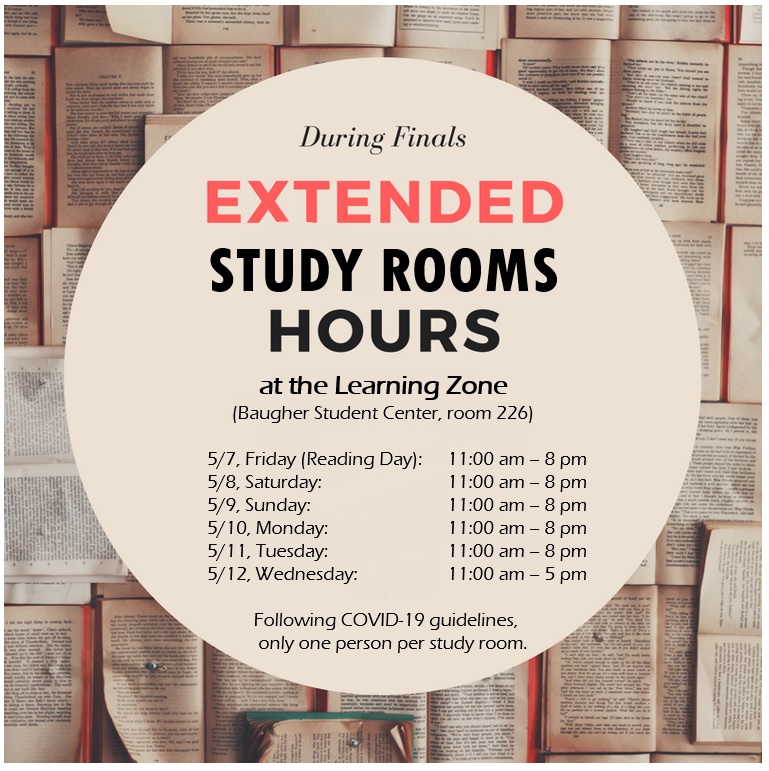 The Learning Zone does not actively set up tutoring sessions during finals week (from 5/7 – 5/12). However, if you have worked with a tutor during the semester, you may contact them directly to see if they are available to set up a tutoring session during finals week
Tutors and students will still have a choice of choosing on-campus tutoring sessions following COVID-19 safety guidelines or tutoring sessions through Zoom.    
Location: Baugher Student Center 226-239                             
Email: learningZone@etown.edu                                                                     
Phone: (717) 361-1185 or (717) 361-1549 
Hours of operation: 
Monday - Thursday: 9 am - 10 pm, 
Friday: 9 am - 5 pm  
Sunday: 3 pm - 10 pm