Peace and Conflict Transformation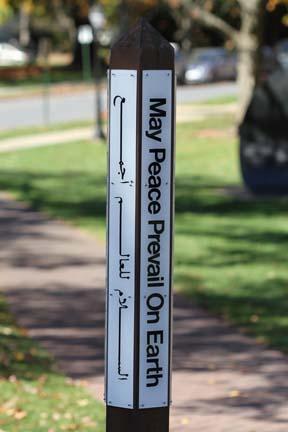 Founded by the Church of the Brethren in 1899, Elizabethtown College is imbued with the spirit of peacemaking. The Peace Studies Association is a clearinghouse linking us to other colleges and universities having similar commitments. Our commitment to peace and justice concerns is manifested in our own academic programs, such as our Peace and Conflict Studies minor, programming conducted by The Young Center for Anabaptist and Pietist Studies, as well as in external groups whose work resonates with our own, such as the Peace Action Network of Lancaster, New Community Project and the Elizabethtown College Alumni Peace Fellowship.
The development of the Peace and Conflict Transformation arm of the Center for Global Understanding and Peacemaking helps to promote the causes of peace and justice locally, nationally and internationally. Speakers and field trips are some of the ways in which this initiative is practiced. Organizations like the Brethren Volunteer Service (BVS) and the Lancaster Interchurch Peace Witness group (LIPW) are natural linkages for the Center's work.