The Jay Truck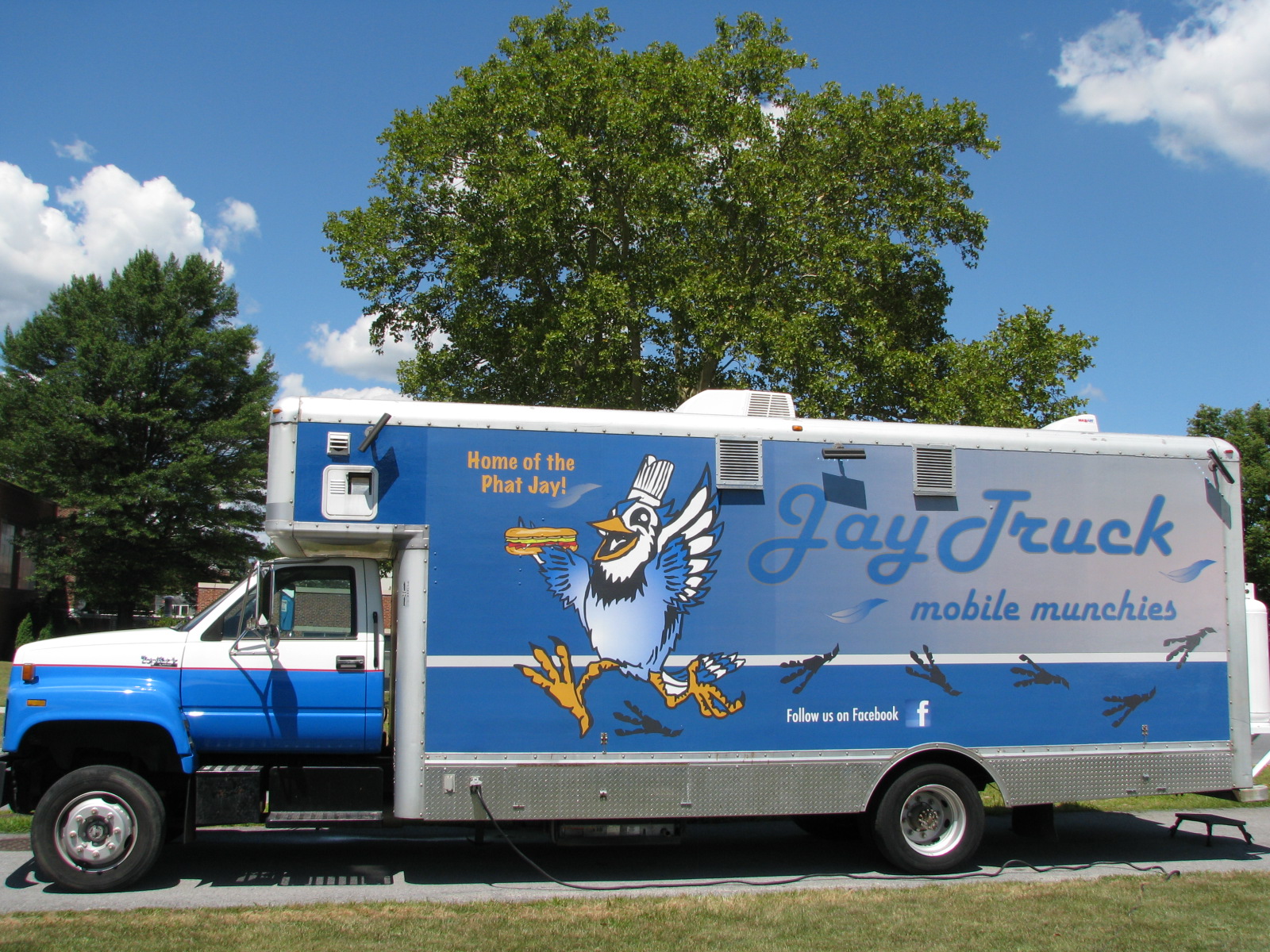 Late-night study session hunger pangs? Elizabethtown College offers students an after-hours dining option. The Jay Truck is our late-night food truck -- a roaming mobile concession stand; its menu and location changes weekly -- see below for the locations for this week. And be sure to look for the Jay Truck at various sporting events across campus!!
Like our Facebook page at www.facebook.com/The.Jay.Truck for the latest news, location changes, etc.
HOURS: 10 p.m. to 2 a.m. Friday and Saturday
PAYMENT METHODS: Cash, Jay Bucks, and student/staff charge
Jay Truck Locations
The Jay Truck IS COMING BACK!!  Starting Friday, March 17th - be sure to stop to say welcome back!
Jay Truck Menu
| REGULAR MENU ITEMS | PRICES |
| --- | --- |
| The "Moon Burger" - Veggie burger with lettuce, tomato, onion, and cucumbers served on a steak roll | $5.00 |
| The "Beefy Egg Jay ' - Cheese steak and an egg served with bacon crumbles on a bagel | $5.75 |
| "Cheese Steak Sliders" - delicious chopped steak and cheese on a fresh slider roll | $5.75 (for 3) |
| The "Phat" Jay - sub roll packed with chicken tenders, cheese sticks, French fries, cheese sauce and marinara sauce. | $6.75 |
| The Country Smash Burger - 1/2 pound of lean ground beef with American Cheese, lettuce and tomato served on a Country roll | $5.75 |
| The Edgar Allen Po' Boy Sandwich - grilled Black Forest ham with melted American cheese, Jalapeno ranch dressing, Romaine lettuce, tomato and onion all served on a pretzel roll | $6.00 |
| Buffalo Chicken Balls | $5.75 |
| Grilled turkey, bacon and melted muenster cheese on a pretzel roll | $6.25 |
| Chicken Tenders | $4.25 |
| Cheese Sticks | $4.25 |
| Truck Fries | $4.25 |