Why Study English at Elizabethtown College?
As an English major at Elizabethtown College, you have three concentrations to choose from: literature, professional writing, and secondary education. The English curriculum affords you the flexibility to enhance your intellectual interests and career options by choosing to take additional courses, pursue a minor, or even double major. You can also study abroad and take advantage of our many internship opportunities and extracurricular activities.  
English Professional Writing Major
Write and be Read
Our English degree program offers students interested in feature or creative writing opportunities to see their name in print. A number of our majors are editors or writers for our campus newspaper, The Etownian; the campus literary magazine, Fine Print; or the student yearbook, The Conestogan.
Not to mention, there are many other on and off campus opportunities to intern or work somewhere you can develop your writing portfolio and gain valuable professional experience. A robust writing portfolio is a big advantage for our graduates as they search for their first job with their English major in Pennsylvania, and beyond.
Find an Alumni Mentor
More than 80 English department alumni volunteer as student mentors, offering career advice and sharing professional connections with current students. Each year our department hosts an alumni banquet -- an excellent opportunity for our majors to meet and mingle with former students who are now enjoying successful careers.
Often times, our students know they want to write professionally, but are unsure of where to start, and our alumni mentors are able to guide them by sharing experience and offering practical advice. Concerned with job opportunities post-graduation? Don't be--just ask our alumni base with over a 90% employment rate.  
Request Information About English at Etown
From the Department of English

Theatre, English grad asks 'how can I help'
Offers a voice for those who can't speak for themselves
Kara DeFrias '97 ends up at the top of every industry in which she works: Super Bowl production, women's World Cup press operations, Oscars' production, first class of White House Presidential Innovation Fellows, President Barack Obama's tech SWAT team and director of experience design for Vice President Joe Biden--driving the digital strategy and UX for the Cancer Moonshot initiative. Today DeFrias works at Intuit and owns Teal Carrot, a consultancy in San Diego, California, where she moved in 1999. Through it all, she said, the service mindset instilled at Elizabethtown College has stuck with her. For the past 18 years she has done pro bono work, usually for small women-owned, LGBT-friendly businesses.
"Service is not a class they teach you at Etown. It's not something they make you do. It's part of the ethos, and you take it with you when you go. At my core, it's part of who I am."
From the Department of English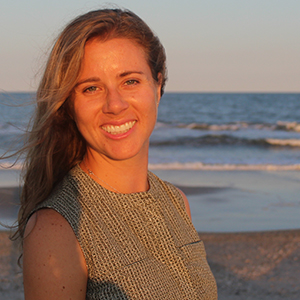 Lecturer in English finds connection to creative non-fiction
First-year writing program teacher shares how writing helps sort out the chaos in our heads.
Erica M. Dolson loves reading and writing, but she did not discover creative non-fiction until she was in college. Since then, she's been a reporter for the (Harrisburg, Pennsylvania) Patriot-News and the (Carlisle, Pennsylvania) Sentinel; she's working on a book-length manuscript about Down syndrome and family and has had some of her own personal essays appear online. Her most recent piece, "Character Study," was published by a relatively new venue for personal narrative, which had requested submissions on the workplace. The online journal is aptly named "The Chaos," which, for Dolson, is what writing is all about. She shares this passion and outlook on writing with her students.
"It's a way of sorting out the things we think about and can't get out of our heads. Writing is a way to make sense of it."
From the Department of English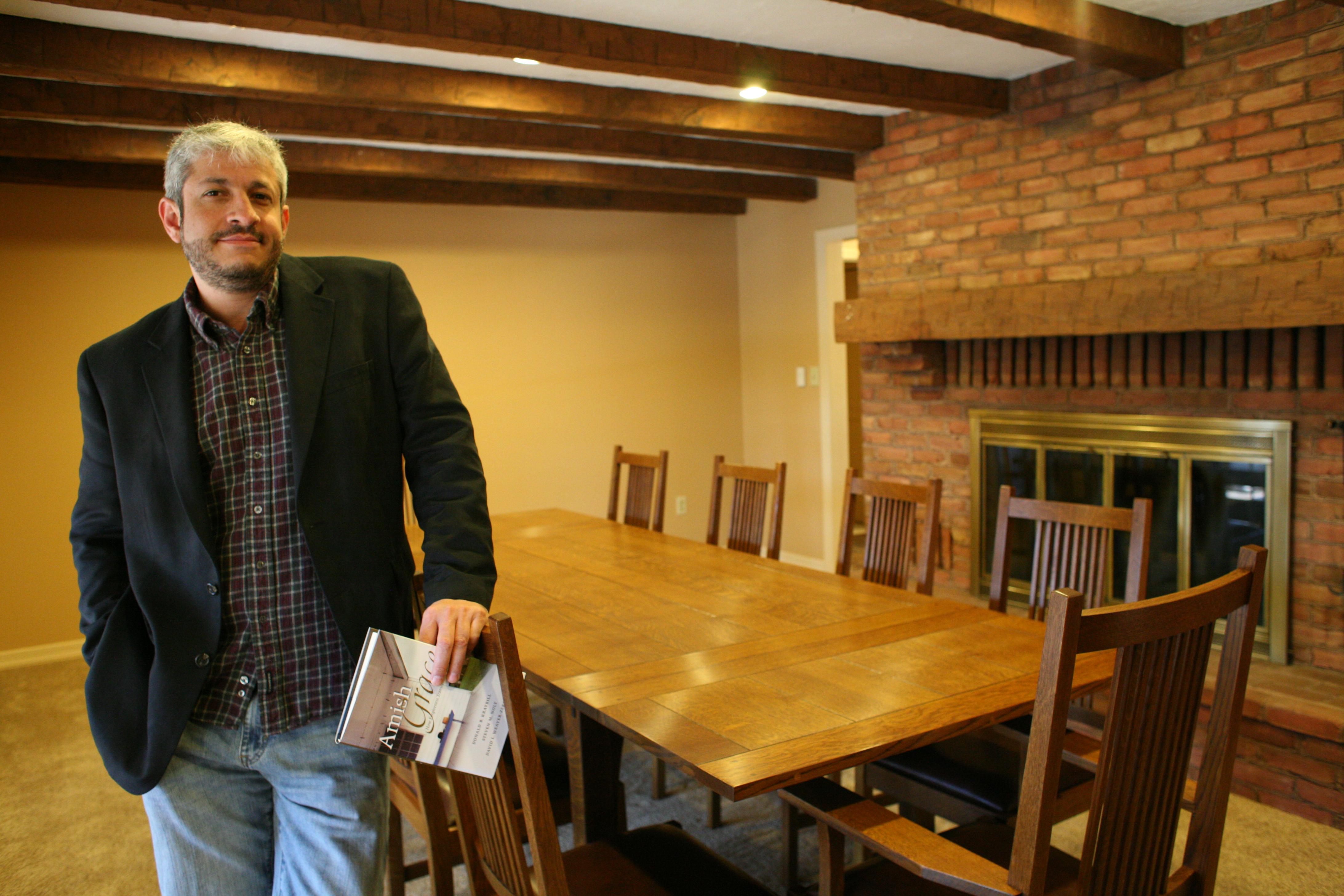 Jesse Waters
Director of Bowers Writers House and lecturer in English.
With the understanding that interdisciplinary learning is essential for creativity and critical thinking in the workplace and with the 100th anniversary of World War I in mind Jesse Waters brought together guest lecturers from across campus to approach this singular subject from the viewpoint of their individual disciplines. Unique in its structure, the course teaches the obvious connection to history, but also shares the interpretations from a music, chemistry religious studies professors among others. This method brings students toward a new awareness of meaningful connections that exist among the disciplines. "I have always been a big believer that a liberal arts education should be interdisciplinary. … There is an interrelatedness to everything in liberal arts. Even as a student, I saw connections in different subjects to other classes."
From the Department of English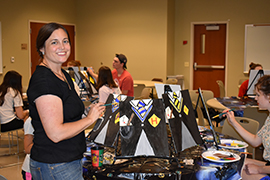 Real-life connection inspires Harry Potter research
Visiting assistant professor of english gives lecture during library's harry potter october
In a wing of the High Library, Tara Moore presented her lecture titled, "Dangerous Depictions of Adoption in the World of Harry Potter" as part of the events taking place in celebration of the series' 20 year anniversary in the United States. The basis of the talk was how adoption is depicted in J.K. Rowling's fictional world—from Hogwarts in the United Kingdom to Ilvermorny in the United States. Moore discussed how Potter is depicted as a mentally healthy boy despite how his adopted family treated him. She also discussed the Pottermore tale of the wizarding school Ilvermorny and its founders—Isolt and her new family. Overall, Rowling was discussed as portraying the subject of adoption very poorly. Students actively engaged in the lecture and had questions for Moore after her lecture concluded.
"I have two biological daughters and one adopted daughter. …It's easier to analyze the topic if it connects to your own life."
English Literature Alum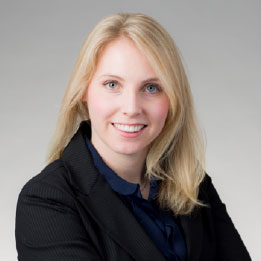 Molly Campbell '08
Current job title: Associate in the Complex Commercial Litigation Group of Reed Smith, LLP with a focus on Business Corporate Disputes
Molly said, "I couldn't have chosen a better one to go into the legal field" when referring to her chosen major. She feels that the emphasis on writing was the key to her success in law school. While the other skills such as analyzing writing aided her with analyzing documents, and her improvisation skills developed with Mad Cow Improv has come in handy when she needs to think on her feet in the court room these days. Her minor in Spanish has not gone unused either when communicating with clients.
Open Doors to Career Opportunities
Our close proximity to large metropolitan hubs like Harrisburg, Philadelphia, New York, Washington, D.C., and Baltimore allows our students to form connections with industry professionals, or even take internships at what could become full-time jobs.
Among our department graduates have been writers for syndicated television news programs and national magazines, award-winning sports journalists, music and film reviewers, as well as the creators of successful online magazines, web content writers, and many other careers which draw upon a strong work ethic, social skills for team projects, and outstanding communication skills. Some department alumni have also chosen to return to the classroom to teach at the high school level. Etown English majors graduate with a wide variety of opportunities before them; opportunities they have grasped with distinction.
Introducing the TESOL Certificate
Do you want to make a difference in another person's life? You can! Families in the Elizabethtown Community and all around the world are committing to learn the English language. We are pleased to announce that a new undergraduate certificate in Teaching English as a Second or Other Language (TESOL) has been added beginning in fall 2017. The certificate program is comprised mostly of two-credit courses, making it easy to add to your current major, and the entire certificate only requires 10 additional credit hours of coursework.