Big School Opportunities
with a Small School Environment.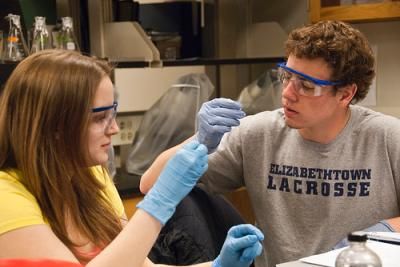 The Department of Biology offers a strong, research-grounded curriculum with opportunities to pursue studies in a wide variety of biology-related fields. Small class sizes, hands-on laboratory experiences, fieldwork and undergraduate research opportunities prepare you for the world beyond college, whether you are interested in pursuing graduate school, medical school or finding a rewarding job.
Three degree options offer you a strong foundation in Biological Sciences in your area of interest:
Bachelor of Science in Biology with four concentrations to target your career aspirations :


Minor in Biology
Students may elect to pursue an academic minor in addition to their major. Minors allow the student to acquire depth of knowledge in an area of secondary interest outside the major. The Biology minor offers course options from which a student can gain an overall view of the discipline of Biology.
 Distinctions
Alumni have pursued advanced degrees at Harvard, Cornell, Tufts, Johns Hopkins, the University of Virginia and the University of Pennsylvania, to name just a few
Hands-on training, cutting-edge instrumentation and independent study opportunities
Affiliations with other universities allow you to pursue your professional degree while still at Elizabethtown
Dissect a human cadaver in our state-of-the-art lab
Have papers published in respected scientific journals and present your research in oral and poster formats at professional conferences
Alumni include Rhodes Scholar, Goldwater Scholars, Howard Hughes fellows and NCCA Post-graduate Scholars
Numerous opportunities for laboratory research and studies in the field, locally and abroad.
Why Study Biology at E-town? Learn more...