Summer Scholarship, Creative Arts and Research Program
The Summer Scholarship, Creative Arts and Research Program has been created to support independent student research under the sponsorship of a faculty mentor. The program is a non-credit experiential learning program designed to enhance professional skills and provide a competitive advantage to participating students in the pursuit of career opportunities and graduate studies. At the same time, participating faculty scholars and researchers will benefit from student involvement in support of professional scholarship and research agendas.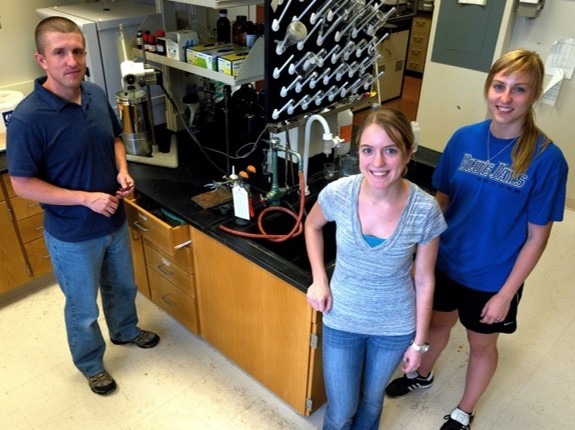 For participating in the program, students will receive a training stipend, room and board for the duration of their projects (from 3 to 10 weeks), and a professional experience as part of a scholarship/research community. They will also benefit from highly personalized mentoring from active researchers and scholars.
SCARP has been approved as a supervised research option that fulfills one of the two required Signature Learning Experiences (SLE) for Elizabethtown College students. Read more about SCARP and other Signature Learning Experiences here.
2015 SCARP Program Abstracts 
Application Process 
Applications for participation must be submitted by Faculty Sponsors/Mentors. An on-line application is available at
 https://jayweb.etown.edu/ICS/Faculty/Online_Forms/Sponsored_Research/SCARP.jnz
As part of the application, a short proposal must be uploaded. The Proposal Template provides guidance for preparing the proposals.  
We are no longer accepting applications for 2015 summer SCARP projects. Final Selection decisions for submitted proposals will be announced by February 20, 2015. Check back in November 2015 for information on applying for summer SCARP 2016. 
 Program Requirements
Faculty Responsibilities:
Agree to Sponsor/Mentor one (or more) students on a specific project
Collaborate with student(s) to develop the project proposal and submit as part of the on-line application
Complete Human Subject Protection or IACUC Training if IRB or IACUC application is needed
Complete project as described in proposal and award letter
Define (with student input) student learning outcomes, assess student performance on those outcomes and submit results to the Office of Sponsored Research by August 14, 2015.
Disclose any intellectual property created from the project to the Office of Sponsored Research and Programs
 Student Requirements:
Recruit a faculty sponsor/mentor and collaborate to submit a project proposal
Complete project as described in proposal and award letter
Complete Responsible Conduct of Research Training before final stipend payment is released
Complete Human Subject Protection or IACUC Training if IRB or IACUC application is needed
Certify level of effort documentation
Disclose any intellectual property created from the project to the Office of Sponsored Research and Programs