Why study abroad?
Studying abroad while in college is beneficial for a number of reasons. Only around 10% of college graduates report spending a semester studying abroad, which makes study abroad one of the most unique experiences you can engage in while at school. Beyond a resume builder however, cross-cultural experiences are one of the most enriching experiences you can engage in.
From learning another language and living in a culture fundamentally different from your own, to experiencing the  struggle to understand and immerse yourself in daily life, cross-cultural experiences expose you to new ways of thinking and challenge preconceived notions of "normal". Studying abroad and participating in cross-cultural experiences challenges you to think critically about the world around you, critically evaluate your privilege and opportunity, and presents you with experiences our alumni have cited as a catalyst for change and inspiration in their lives.
As a part of our Signature Learning Experiences, our students have the opportunity to spend semesters abroad, or participate in shorter, faculty-led, cross-cultural trips. As both a personal and academic endeavor, students are given the opportunity to apply skills and ideas from their academic departments while continuing to learn outside of the classroom. 
Learn More About Our Study Abroad Programs!
Departments in Action:
Whether you're a student new to the campus, or in your final semesters with Etown College, you'll have the chance to engage with cross cultural experiences both as a member of your academic department, and an individual seeking to further your own knowledge and passions.
Here are just some of the ways students from departments across campus have gotten involved:
Recharging the Gambia: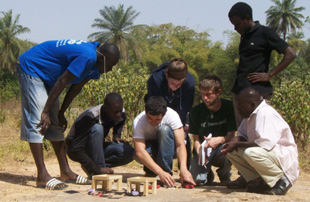 Students from the Department of Engineering and Physics enrolled in a co-curricular, project-based course and are working to provide affordable, solar-powered cell phone chargers to residents of an area devoid of readily available power outlets. Meanwhile, students from the Department of Business created a sustainable social business plan that will, ultimately, be turned over to a local Gambian nonprofit to bring the product to market.
Venturing to Vietnam: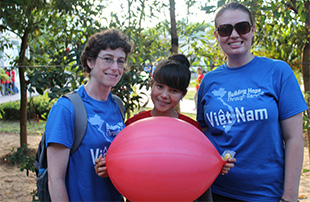 Every two years, students and faculty of Etown College venture across the globe to Vietnam. From students in the Department of Social Work applying principals of community relations, to students in the Department of Psychology applying their foundations of human development, the experiences gained abroad working with orphaned youth and the elderly present opportunities for learning that can't take place in the classroom.