An integral focus of our curriculum is our signature attribute of social justice. We focus our instruction on advocacy for equity, civic engagement, global citizenship, and international/comparative perspectives. We know that an understanding of, and scholarship in, social justice curriculum enriches classrooms and makes for better educators. Our education faculty are experts in these fields, conducting, presenting, and publishing their own research, as well as facilitating opportunities for student scholarship.
Explore a Diverse World with Etown College
Discover classrooms around the world as an Education major. We strongly encourage our students to study abroad during their time with us. There are numerous benefits to experiencing life in another culture, especially those directly relevant to your area of study—such as a Spanish Education majors studying in South America, or a future history teacher spending a semester in Greece. Only 10% of all college graduates have studied abroad, which makes education abroad an advantage when applying to jobs after graduation.
Most recently, students in ED 372 - Peace Education and Integrated Schools in Northern Ireland and the United States – went to Belfast during the May term 2018 to study, research, and meet with stakeholders involved in the integrated and shared education movements. Students also experienced some of the important heritage sites involved in the Troubles. The trip was documented on Twitter at #Ecedforpeace.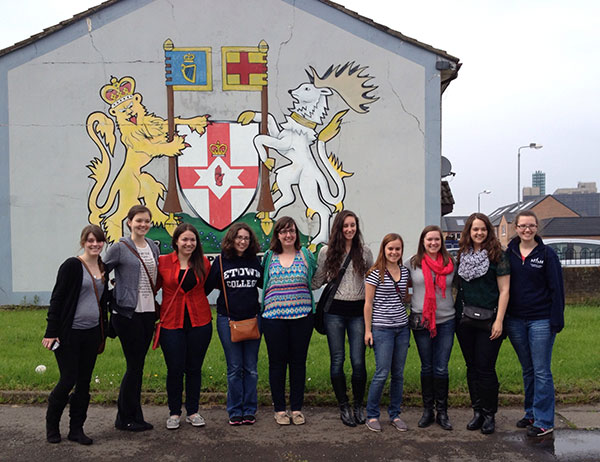 Our students during a trip to Northern Ireland
Poverty Simulation
The Poverty Simulation is a profoundly moving experience. It provokes thought, emotion and insightful conversation about the realities of poverty and how communities and supporting systems need to work cooperatively to address problems. Most importantly, it moves people to get involved and make a difference! 
The Community Action Program (CAP) of Lancaster County's poverty simulation is a series of role playing scenarios that give participants the opportunity to learn about the realities of poverty and its effects. People adopt a new persona and a family profile that they must live with for the duration of the exercise. They must navigate through daily tasks that many of us take for granted. During four, 15-minute "weeks", those assigned adult roles try to maintain their home, feed their families, send their children to school, and maintain utility services while trying to navigate local support and resources. Through simulations, our students are better equipped to aid students and families who may be navigating similar issues.
The Common Read: Establishing a Foundation of Social Justice
Education students enrolled in their first semester at Etown College will begin to explore the department's social justice initiative through a common book selection. The Department's common book for 2022-23 is Canaries Reflect on the Mine: Dropouts' Stories of Schooling by Jeanne Cameron. 
Readers see schooling and early school leaving through the eyes of high school dropouts themselves. Cameron's work "challenges conventional wisdom about dropouts, and shows how the experiences and needs of those who leave school early and those who persist to graduation are more similar than different. Collectively, these young people's stories evoke a canary-in-the-mine metaphor, one where the canaries exit and the miners remain. They implore us to see the dropout crisis as a symptom of the alienating and dehumanizing school practices advanced by No Child Left Behind and Race to the Top. More importantly, they offer a vision for schooling that lovingly embraces and extends all students' experiences, enriches their biographies, and celebrates and supports each of their talents and purposes with equal passion". (IAP, 2017)
The Anna Reese Tempest Distinguished Educator Lecture Series
The Anna Reese Tempest Distinguished Educator Lecture Series began in memory of Anna Reese Tempest, a graduate of Elizabethtown College Class of 1934, who was dedicated to teaching foreign languages to high school students in the public education system. The fund brings well-respected speakers to campus to provide current education students with exposure to thought-provoking ideas and practices in the field.