Staff and Contact Info
Mailing Address:
Elizabethtown College
Financial Aid Office
One Alpha Drive
Elizabethtown PA 17022
Main Contact:
(phone) 717-361-1404
(fax) 717-361-1514
The Financial Aid Office at Elizabethtown is always here to serve student and families. Our office brings together many years of experience from all areas of financial aid. We strongly encourage students and families to contact our office whenever they feel they need our assistance - that is why we are here! Some of our services include: providing current information and resources, budgeting assistance, debt management, and general assistance in financing a college education. Appointments may be scheduled between the hours of 9:00 am to 4:00 pm. Our office is located in Zug Hall, Room 208.
Meet the Staff
Melodie R. Jackson
Director of Financial Aid
jacksonmr@etown.edu
B.S. York College of PA
I joined Elizabethtown in 2015. I have over 18 years of experience administering student financial aid. I hold a bachelor's degree in Accounting and I am currently pursuing a M.Ed. degree, specializing in At-Risk & Diverse Learners. I reside in Maryland with my husband and son.
Christopher Mowl
Associate Director of Financial Aid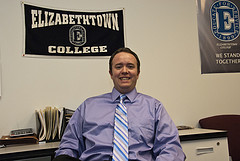 mowlc@etown.edu
B.A. West Virginia University
I have been with the Financial Aid Office at Elizabethtown since October of 2008. I was previously employed as a student loan representative at American Education Services. I graduated from West Virginia University in 2002 with a Bachelor's Degree. I enjoy reading, love history, and am a dedicated Civil War History buff. I also enjoy playing ice hockey and golf. I currently reside in Middletown with my wife and daughter.
Billy Dunkel
Assistant Director of Financial Aid
dunkelw@etown.edu
B.S. University of West Florida
I have over 12 years of Financial Aid experience and came to Elizabethtown in June 2015 from Johns Hopkins University where I was the Senior Assistant Director. I enjoy working with students and their families to help them understand their financial aid options and navigate the process.
I currently live in York with my wife and son. I enjoy spending time with my family, reading, golf, and being outdoors.
Kerrie Brancato
Financial Aid Counselor
brancatok@etown.edu
B.A. Shippensburg University
M.A. Messiah College
I joined Elizabethtown College in March 2016. Previously I was employed at Harrisburg Area Community College working in the Financial Aid office. My interests include ultimate frisbee, sports (Baltimore Ravens and Orioles), movies and photography.
Darcey Mills
Financial Aid Assistant
millsd@etown.edu
A.A. Harry S Truman College
I joined Elizabethtown College in March of 2016. I was previously employed by the City Colleges of Chicago as part of the Admissions and Advising team. I currently reside in York, PA.
Sally Lindsey
Administrative Assistant
lindsesr@etown.edu
A.S. Goldey-Beacom College
I've been employed in the Financial Aid Office at Elizabethtown College since 1990. I received an associate's degree from Goldey-Beacom College in Wilmington, DE.