Keynote Speaker: Donald Kraybill
Monday, April 20 at 7:30 p.m.
Leffler Chapel and Performance Center
The Scholarship and Creative Arts Days committee is pleased to announce this year's keynote speaker, Dr. Donald Kraybill.
TICKETED EVENT - Tickets will be available beginning March 9. They are free of cost and may be ordered by calling the SCAD ticket hotline, (717)-361-4771.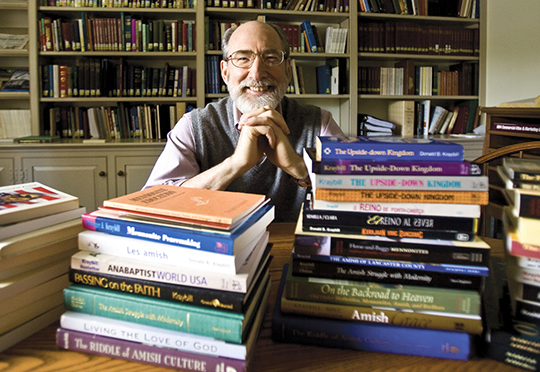 About the Event
Professor Donald Kraybill's lecture will describe the scholarly methods he used to solve the Amish riddle: how does a tradition-laden group—one that rejects television, public grid electricity, car ownership, high school, and Social Security—not only survive, but thrive in high-tech, hypermodern America? In Lancaster County and countrywide, the Amish population doubles every 18 to 20 years. Kraybill will also unpack some smaller Amish riddles: Why do Amish people reject car ownership yet readily hire outsiders to provide "taxi service" for them? How do eighth-grade-educated Amish youth learn the entrepreneurial skills to create and operate multimillion dollar companies? And why do Amish teenagers, who enjoy the freedoms of Rumspringa, eventually decide to join such a restrictive, peculiar group? Using visual and audio clips, Professor Kraybill will show how solving perplexing social conundrums requires multidisciplinary research, multiple data sources, comparative analysis, and theoretical concepts. A book-signing will follow the presentation.
About Donald Kraybill
Donald Kraybill began teaching sociology at Elizabethtown College in January 1971, some forty-four years ago. For a number of years he also chaired the sociology-anthropology-social work department. Assisted by a colleague at Gettysburg College, Kraybill established the mid-Atlantic Undergraduate Social Research Conference, which first met at Elizabethtown College in 1980 and this spring will meet at Villanova University. When the Young Center for Anabaptist and Pietist Studies opened in 1989, Kraybill served as its director until 1996, when he became the first provost of Messiah College. Six years later he returned to Elizabethtown College as distinguished professor and senior fellow in the Young Center. After returning to Elizabethtown, Kraybill served as acting provost for a year, and later as acting director of the Young Center from 2006 to 2007. In 2000, Kraybill received a Centennial Award for Distinguished Service to Elizabethtown College.
Kraybill's first book, published in 1976, was a critical assessment of American civil religion. In 1978 his Upside Down Kingdom received the National Religious Book Award. Kraybill has written, coauthored, or edited more than two dozen books as well as dozens of journal articles and essays. Several of his books have been translated into a total of nine languages. The National Endowment for the Humanities has funded his research numerous times, and he has served on three NEH panels to evaluate peer proposals.
When ten girls in an Amish schoolhouse were shot at Nickel Mines in 2006, Professor Kraybill fielded hundreds of national and international media queries. His coauthored book Amish Grace: How Forgiveness Transcended Tragedy became the definitive book on the story. It was followed by the widely viewed film Amish Grace. Kraybill also collaborated with the producers of The Amish, a two-hour documentary by American Experience that aired on PBS in February 2012, a few days after its first screening in Leffler Auditorium. The Amish had the highest number of viewers of any American Experience episode in nine years. In 2013 Kraybill, with coauthors Steven Nolt and Karen Johnson-Weiner, published The Amish, a companion book to the film and the first comprehensive overview of the Amish in North America since 1963. In 2012 Kraybill assisted the US Department of Justice in prosecuting 16 Amish defendants in Ohio convicted of beard-cutting attacks. He served as the only expert witness at the trial and later wrote Renegade Amish: Hate Crimes, Beard Cutting, and the Trial of the Bergholz Barbers which Johns Hopkins University Press published in 2014.
Professor Kraybill is the acquisitions editor for Young Center Books in Anabaptist and Pietist Studies published by Johns Hopkins University Press. Since it began in 2006, the series has published 19 titles.
For more information on Kraybill's Amish studies please visit his website.