Get Creative: Program Cover Contest
Submit your design by .pdf to scad@etown.edu. Submissions deadline March 1.

Each year, we invite students to enter photography and artwork as part of the program cover contest.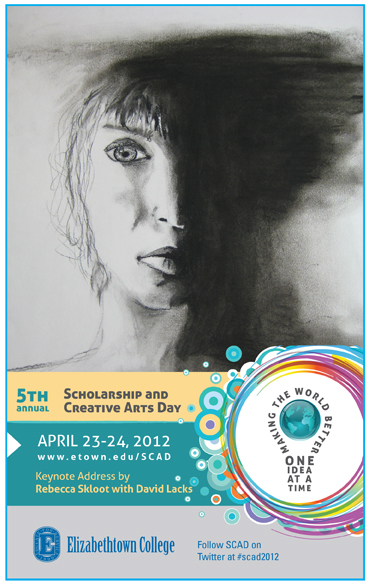 Congratulations to Taylor Luckenbill '15, winner of the 2012 Scholarship and Creative Arts Day program cover contest! Luckenbill, who is majoring in Theatre and Religious Studies, submitted a drawing which features dark and light.
"In class, we were encouraged to play with value and texture in our artwork. In this particular piece, I wanted to show a clear difference of dark and light, thin lines and thick lines, and detail and no detail. SCAD is a great opportunity for students to showcase their many talents that may not be seen as conventional. It shows that we, as a student body, are diverse in our talents." - Luckenbill
The Scholarship and Creative Arts Day Committee also congratulates Gina Galardi, senior, Psychology major, who was recognized with an honorable mention for the cover contest.