Why Minor in Religious Studies?
Religious Studies is the academic discipline that focuses upon the study of religion. This discipline is pursued from a variety of perspectives—both religious and secular—and utilizes the methods of a wide range of fields that includes philosophy, theology, history, anthropology, archaeology, comparative literature, linguistics, psychology, and sociology. Courses in Religious Studies at Elizabethtown College tap into all of these perspectives and disciplines. Elizabethtown College offers a major and minor in Religious Studies and Interfaith Leadership studies. Unlike most college-level Religious Studies program, our program enables students to study ancient languages, such as Hebrew, Latin, and Sanskrit. This has enabled our students to place out of language requirements in graduate school, or to place at a higher level than their peers.
Request Information About Religious Studies
at Etown
From the Department of Religious Studies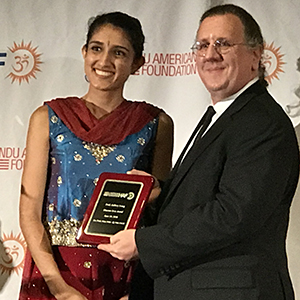 Religion, Asian studies professor 'overwhelmed' by award
Jeffery Long honored by Hindu American Foundation
Jeffery Long was honored recently with the Hindu American Foundation's Dharma Seva award for his advocacy work for a more accurate representation of Hinduism in middle school and high school textbooks. When students reach college, he wants them to have a legitimate understanding of Hindu traditions. Many of the textbooks are filled with inaccuracies and distortions, due to a lack of input from the Hindu community, making the depictions unrecognizable to practicing Hindus. The award, given at a gala dinner in Washington, D.C., is the result of a decade of passionate volunteer work.
"Translated Dharma means duty or truth; Seva means service. So the award is for service to truth." – Jeffery Long
Etown Leads the Nation in Interfaith Leadership Studies
Did you know that we have the only major in the country dedicated to interfaith leadership and understanding? See this piece from the New York Times on our program!